Indonesian reformasi activist Mugiyanto has been deported following his arrival at the Kuala Lumpur International Airport II (KLIA2) today.
This was disclosed by Bersih in a tweet.
"BREAKING: Panelis forum #YellowMania malam ini, Sdr Mugiyanto ditahan di KLIA2 dan dihantar pulang. @saifuddinabd @Ambiga_S, (#YellowMania Forum panelist Mugiyanto detained at [email protected] and deported)" read the tweet.
Pakatan Harapan secretary Saifuddin Abdulah, who was mentioned in the Bersih tweet, asked, "Atas alasan apa dia diperlakukan demikian (On what grounds was he treated as such)?" in his tweeted response.
Mugiyanto was slated to speak at the #YellowMania forum organised by the electoral reform NGO titled "People's movement can bring change" at the Kuala Lumpur and Selangor Chinese Assembly Hall (KLSCAH) tonight.
Bersih chairperson Maria Chin Abdullah called the deportation childish.
"This is proof of the BN government leadership's voracity to stop the right to protest and speak out. They should be ashamed of this immature and short sighted act," Maria said in a statement today.
She added that despite being deported, Mugiyanto would still speak at the forum tonight, through Skype.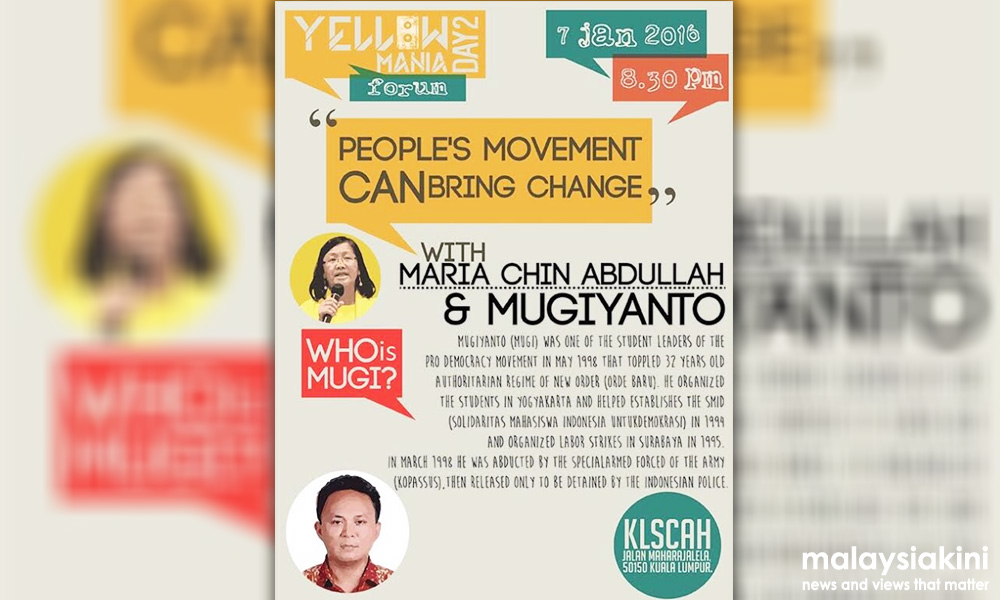 However, Maria expressed concern that the authorities may disrupt the event at the KLSCAH.
Mugiyanto, who was a student leader during the anti-Suharto reform movement in 1998, helped organise student resistance and action against Suharto's 'orde baru' regime.
Mugiyanto is recognised by the Indonesian Commission for Missing Persons and Victims of Violence (Kontras) as one out of nine individuals who survived kidnapping attempts linked to the Indonesian military under Suharto's rule.
According to data from Kontras, a total of 23 activists were kidnapped during the period between 1997 and 1998, with one of them found dead and 13 others still missing until today.
Meanwhile, Indonesia's ambassador to Malaysia Herman Prayitno told Malaysiakini that the embassy has yet to be officially informed of Mugiyanto's deportation.
"Whenever our citizens have been deported, we would normally receive an official notification letter.
"So far we have yet to be informed. We will contact the Malaysian Immigration Department to find out the reasons for Mugiyanto's deportation," Herman said when contacted.