Stern action will be taken against people who use social media to instill hatred towards the institutions of government, said Communications and Multimedia Minister Salleh Said Keruak.
He said this was among the decisions adopted at the inaugural meeting of the recently-formed special committee to tackle abuse of the social media which he chairs.
Attorney-general Mohamed Apandi Ali and inspector-general of police Khalid Abu Bakar also attended the meeting, he said at the soft launch of the fifth Malaysia Social Media Week 2016 at Limkokwing University of Creative Technology in Cyberjaya today.
The other members of the committee are Minister in the Prime Minister's Department Azalina Othman Said, Communications and Multimedia Ministry secretary general Sharifah Zarah Syed Ahmad and Malaysian Communications and Multimedia Commission (MCMC) chairperson Halim Shafie.
"The meeting agreed that stern action will be taken against those who use social media for the purpose of defaming, abusing or inciting others to belittle the position of or instill hatred towards the institutions of government," Salleh said.
He said the committee had also agreed that the Royal Malaysia Police would lead in the investigation along with the MCMC.
Avoid unnecessary social media havoc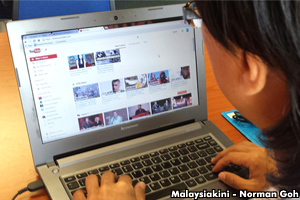 "The attorney-general has assigned a dedicated deputy public prosecutor for this purpose and will utilise every available law to ensure that those responsible will be brought to justice soonest possible," he said.
Salleh said the formation of the special monitoring committee should not be misinterpreted because it was done with the best intention of protecting public interest.
"It is a safeguard and preemptive measure to avoid the social media from causing unnecessary havoc by spreading lies, hatred and religious extremism, among others," he said.
He said the government was also very keen to raise people's awareness of the dangers that lie in the world of internet as crime was on the rise.
"More Malaysians are succumbing to online scams and losing millions of their hard-earned money to cyber criminals.
"In this respect, the government fully supports the establishment of the Malaysia Digital Innovation Centre," he said.
The fifth Malaysia Social Media Week is slated for March 7 to 13 in Kuala Lumpur .
- Bernama