Former Batu Kawan Umno division leader Khairuddin Abu Hassan has lodged a police report against attorney-general Mohamed Apandi Ali for possible abuse of power.
He lodged the report at the Dang Wangi police station this afternoon, a copy of which he uploaded in his Facebook posting.
Khairuddin said he has asked the police to conduct an investigation on Apandi for possible abuse of power, criminal negligence, twisting of facts, preventing public officer from performing duty, and carry out an independent, transparent and comprehensive probe on the RM2.6 billion donation.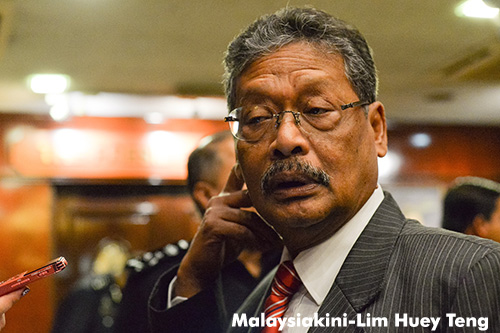 "Apandi ( photo ) should give a comprehensive explanation to the people, particularly in laying the basics and the basis for the Malaysian Anti-Corruption Commission (MACC) investigations.
"Apandi as the AG cannot make a general statement without explaining in detail the result of the MACC investigations sent to his office," he added.
Khairuddin, who has been a vocal critic of Prime Minister Najib Abdul Razak, said a detailed answer is needed to ensure the credibility of the AG's Chambers in the eyes of the public, especially when the present government under Najib is having a crisis of confidence.
He had previously lodged various reports in Malaysia, Singapore, Hong Kong, Switzerland and United Kingdom against Najib's pet project 1MDB.
As a result of his reports, he along with his lawyer Matthias Chang, were charged with allegedly sabotaging the financial institutions of the country.
In another Facebook posting yesterday, Khairuddin posed a series of questions for Apandi, particularly whether the AG can instruct the MACC to close the case.