MP SPEAKS Attorney-general Mohamed Apandi Ali has inadvertently exposed a damning transfer, amounting to RM27 million by SRC International, to the Prime Minister Najib Abdul Razak during his press conference last week.
This took place when Apandi held up several documents to emphasise the fact that his office had carried out thorough investigations during the press conference.
One of the charts clearly shows that SRC International transferred RM35 million to Putra Perdana Construction Sdn Bhd, which then transferred RM34.99 million to Permai Binaraya Sdn Bhd, which then put RM27 million into Najib's private bank account ending with "880". All this took place on July 8, 2014.
From the sum transferred to Permai Binaraya, RM5 million was also channelled to Putra Perdana Development Sdn Bhd a week later, on July 14, 2014.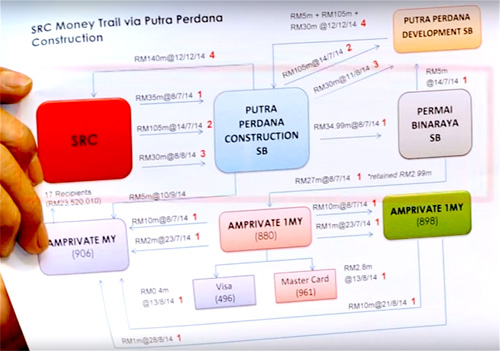 The chart ( photo ) further disclosed separate transactions, where SRC International transferred RM105 million and RM30 million, on July 14, 2014, and Aug 8, 2014, respectively to Putra Perdana Construction. These sums were immediately channelled to Putra Perdana Development.
Hence, Putra Perdana Development was the ultimate recipient of RM140 million from SRC International, the wholly-owned subsidiary of the Finance Ministry. Putra Perdana Construction, Putra Perdana Development and Permai Binaraya are all subsidiaries of Putrajaya Perdana Bhd.
The Finance Ministry has failed to explain why RM140 million was transferred to Putrajaya Perdana group of companies when SRC International has reported that its business was to invest in "natural resources and energy sectors" overseas.
What is Putrajaya Perdana?
Putrajaya Perdana was previously acquired by Jho Low's vehicle, Abu Dhabi Kuwait Malaysia Investment Corporation (ADKMIC), before being sold to then Sarawak chief minister Abdul Taib Mahmud's UBG Bhd, all of which took place in 2007. Taib in turn sold a majority stake in UBG to ADKMIC in January 2008.
Petrosaudi International Ltd (Seychelles) then acquired UBG for RM1.4 billion, which was partially funded by a US$500 million loan by 1Malaysia Development Bhd (1MDB) to Petrosaudi in September 2010.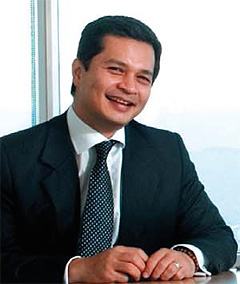 At that point of time, Jho Low's right hand man, Nik Faisal Ariff Nik Kamil ( photo ) was not only the executive director of investments for UBG; he was also at the same time chief investment officer of 1MDB. Incidentally, Nik Faisal later became the managing director of SRC International after it was set up in 2012.
Putrajaya Perdana was reportedly subsequently sold to Cendana Destini Sdn Bhd in September 2012.
However, the true ownership of Putrajaya Perdana is unclear as the company's record in the Companies Commission had its shareholding held under a nominee account in AmSec Nominees (Tempatan) Sdn Bhd.
Tabung Haji acquired 30 percent
It has been reported in the media that Lembaga Urusan Tabung Haji (TH) acquired 30 percent of Putrajaya Perdana in November 2014.
TH chief financial officer Rozaida Omar was appointed to the board of Putrajaya Perdana on Nov 2, 2014, while the chairman of TH, Abdul Azeez Abdul Rahim, was appointed the chairman of Putrajaya Perdana on Jan 2, 2015.
Incidentally, the chief executive officer of TH, Ismee Ismail, is also a director of 1MDB since its inception.
It should be noted that TH has taken the investment, involving an undisclosed sum, in Putrajaya Perdana, despite the fact that Putrajaya Perdana has failed to submit its annual audited accounts to the Companies Commission since December 2013.
Soon after the 30 percent acquisition by TH, Putra Perdana Development refunded the RM140 million to Putra Perdana Construction, which in turn refunded the money to SRC International on Dec 12, 2014.
Web of intrigue
The inadvertent exposé by Apandi uncovered a whole web of intrigue involving a myriad of companies related in one way or another to 1MDB and Jho Low. It further raised new and unanswered questions over the entire episode.
Why did SRC International advance RM140 million to Putra Perdana? Who authorised the advances? Why did TH acquire 30 percent of Putrajaya Perdana and how much did they pay for the stake? Who is or are the ultimate owners of Putrajaya Perdana?
Most crucially, did TH bail out Putrajaya Perdana to enable the latter to repay the RM140 million advance to SRC International? Tabung Haji, SRC International, Najib as finance minister and Apandi cannot all feign ignorance over the entire ugly scandal.
---
TONY PUA is the MP for Petaling Jaya Utara and DAP publicity chief.