Former PetroSaudi International employee Xavier Andre Justo is suing The Edge Media Group owner Tong Kooi Ong and two others in the High Court in Singapore.
Justo is suing for damages, saying he never received the US$2 million he and The Edge Media Group had agreed upon for two data storage drives that he had handed over in the presence of Tong in February last year.
"He (Justo) wants the items - which contain data about global oil services firm PetroSaudi and its business partner 1Malaysia Development Bhd (1MDB) - to be returned and for any copies to be destroyed, according to court documents filed last November," Singapore's The Straits Times reported today.
Tong denied this claim and said Justo is not entitled to the items as he was "widely reported to have confessed to have stolen the data from PetroSaudi", according to defence papers filed by Tong's lawyer Doris Chia.
Tong argued that there are no reasonable grounds for Justo's allegations, and a pre-trial conference is due this week.
Justo was reported last year to have provided the documents behind the leaks that led to claims of the misappropriation of billions of ringgit from 1MDB, which is the brainchild of Prime Minister Najib Abdul Razak.
He purportedly stole the information from PetroSaudi and he is now serving a three-year jail term in Thailand for attempted extortion and blackmail of his former employer.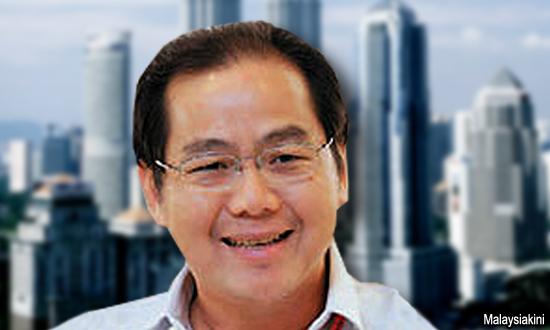 Despite the denial by Tong ( photo ), Justo claimed that the deal between them was inked partly in a document titled "Sale of Justo Property IT Software", that was affirmed by himself and Tong.
"He also cited WhatsApp exchanges between Mr Tong, two other people and himself as evidence, as well as meetings in Bangkok and Singapore between himself and Tong and/or others.
"These allegedly included two meetings with Ms Clare Rewcastle-Brown, the owner and editor of the Sarawak Report , in a Bangkok hotel in 2014," The Straits Times reported.
Justo, who is represented by lawyer Suresh Damodara, is also seeking to obtain the names and particulars of anyone who had access to the information.
Tong admits to signing letter
This comes after Justo had repeatedly demanded for his payment from Tong.
In his defence that was filed, Tong admitted to signing the letter at a meeting, which he said was done at Justo's request.
Though he denied that he was part of any WhatsApp group with Justo, he conceded that Justo had demanded payment from him on WhatsApp but he did not pay.
Tong also denied having induced Justo into handing over the data with the payout offered.
Meanwhile, Tong's lawyers wrote to PetroSaudi last year to invite them as a party to the action or to be included as a party.
"Alternatively, Mr Tong would seek court direction on the ownership of the data drives and whether these and all the copies should be handed over to Justo and his firm," The Straits Times said.
Last December, Tong succeeded in obtaining a court order for S$50,000 to be placed as security for costs incurred in the Singapore High Court against Justo and his firm for the action to proceed as Justo was not in Singapore.
The two other defendants named in the suit have not appeared, nor filed their defence, as it is understood they have not been served with the court papers.