Former law minister Zaid Ibrahim is planning to invite Lim Kit Siang to dinner after the Sarawak state election on May 7.
And during the meal comprising "Brittany oysters, Boston clam chowder and charcoal-roasted young lamb from Spain", he intends to impress upon the veteran DAP leader that there is no need to be in a coalition with PKR.
"During the dinner I will suggest the following: Forget about electoral pact altogether.
"It did not work in GE13 and has not worked in the Sarawak election. The best hope for a truly believable opposition pact is between DAP and Parti Amanah Negara (Amanah)," he said.
According to Zaid, both PKR and DAP have a close kinship and should constitute the core opposition.
"Any discussion on seat allocation will thus be more meaningful and the chances of both parties honouring the arrangement are better," he said in a blog posting.
The former PKR leader was responding to the seat dispute between DAP and PKR in the Sarawak state election, which has become fodder for their political rivals as both Pakatan Harapan allies blame each other for the imbroglio.
Zaid said he felt sad to see Lim having to apologise and grovel before Sarawakians because PKR refused to do a deal.
"The opposition has always been fractious but to show its penchant for disunity in the way it has in the Sarawak election is unforgivable," he said.
Loose arrangement with PKR
Elaborating on his suggestion, Zaid said a DAP-Amanah pact can also have a loose arrangement with PKR, similar to the Asean+2, for the purposes of organising joint-ceramah and to agree on key areas for reform.
"Having a larger crowd can be morale-boosting for the opposition and its followers but to have an electoral pact where seats are agreed beforehand between DAP-Amanah and PKR will be a waste of time and can lead to worse acrimony, much to the delight of BN," he added.
PKR, surmised Zaid, believes that one of its leaders would be the next prime minister after Umno's downfall.
"Some believe that Anwar Ibrahim will be prime minister. If that happens, (vice-presidents) Nurul Izzah and Rafizi Ramli and (former secretary-general) Saifuddin Nasution Ismail will have important key positions.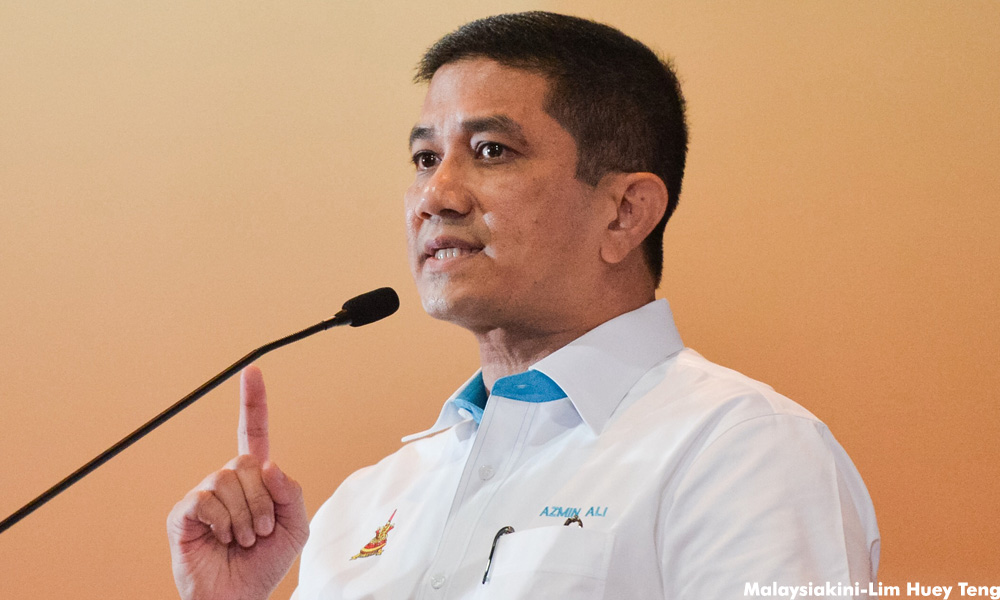 "On the other hand, we have (PKR deputy president) Mohd Azmin Ali (photo) and friends who believe that PKR today is not the same as PKR in 2004 and that the party is already under their control, so they will make sure key decisions will be decided by them.
"PKR under Azmin will be flexible and it is not inconceivable that PKR+PAS or PKR+Umno deserters will be on the menu for the consideration of voters," he added.
Zaid stated that politicians must start offering Malaysians a credible platform that has regard for the interests of the people.
He said they should only create alliances with a view towards forming a government after they have obtained the mandate of the people when the general election results are known.
"There is no need to follow the BN formula of ganging up to win as many seats as possible, regardless of party manifesto. Horse-trading should be done only when the results are known.
"Of course Lim is a shrewd and wily politician of many years standing and it is possible that he will dismiss my arguments as out of hand.
"However, all I ask is that he should just listen to me for an hour or so over a nice dinner," Zaid added.