S'WAK POLLS | LIVE BLOG DAY 6 | Prime Minister Najib Abdul Razak and Deputy Prime Minister Ahmad Zahid Hamidi's tour of northern Sarawak continues today.
Meanwhile, state BN chief Adenan Satem is visiting longhouses in Sibu before holding a night ceramah in Dudong.
On the opposition's side, DAP secretary-general Lim Guan Eng will be hitting the ground in Mambong, while PKR deputy president Azmin Ali may end his campaigning in Sarawak today.
PKR president and opposition leader Wan Azizah Wan Ismail is expected to land in Sibu airport tonight.
Follow our LIVE BLOG as the Malaysiakini team in Sarawak brings you the news as it takes place.
---
11.30pm - Kg Serasot, Tasik Biru – Unlike opposition ceramahs in urban areas, a political rally attracting a crowd of 120 in a Bidayuh kampung is considered big, says DAP candidate for Tasik Biru Mordi Bimol.
The ceramah in this village starts with a Catholic prayer session, followed by a buffet dinner – with three main dishes – before the ceramah begins.
Earlier, party workers have been distributing free red Ubah t-shirts to the audience for those who register their personal details on a small piece of paper.
Most of the time, the crowd responds enthusiastically when it comes to local issues such as lack of treated water, expensive pipe connection cost to the house, and the unfinished SMK Jagoi.
However, there seems to be a lack of interest on national issues such as GST.
S'wak deserves better, says Guan Eng
11:30pm Kuching – Penang chief minister and DAP secretary-general Lim Guan Eng tells the audience that everyone present and their descendants will have to pay for the cost of the 1MDB scandal, long after Najib is dead.
"Adenan said he's not with the federal government, but when Najib is here, he hugs him so tightly, I'm afraid there might be an explosion.
"Sarawak deserves better. Sarawak is so richly endowed and yet has so many poor people. It could have been richer than Peninsular Malaysia.
"It was one of three that make up Malaysia, but now it is being run into the ground by corrupt politicians and businessmen," Lim says, urging voters to reject the state BN.
BN candidate denies 'school allocation if BN wins' is bribery
10.15pm: Miri - BN's candidate for Senadin Lee Kim Shin, who is also the incumbent, denies that Deputy Prime Minister Ahmad Zahid Hamidi had engaged in bribery when he visited the constituency yesterday.
This was after Ahmad Zahid promised a school RM500,000 if BN wins.
"No, no [...] It is only a bribe if money is given directly to voters, this is for a school," Lee tells Malaysiakini on the sidelines of a ceramah here tonight.
About 50 people attended the SUPP ceramah, which also features BN Piasau candidate Sebastian Ting.
Big crowd at Kuching ceramah
10pm: Kuching - Some 200 people gather at a PKR dinner at 3 1/2 mile here.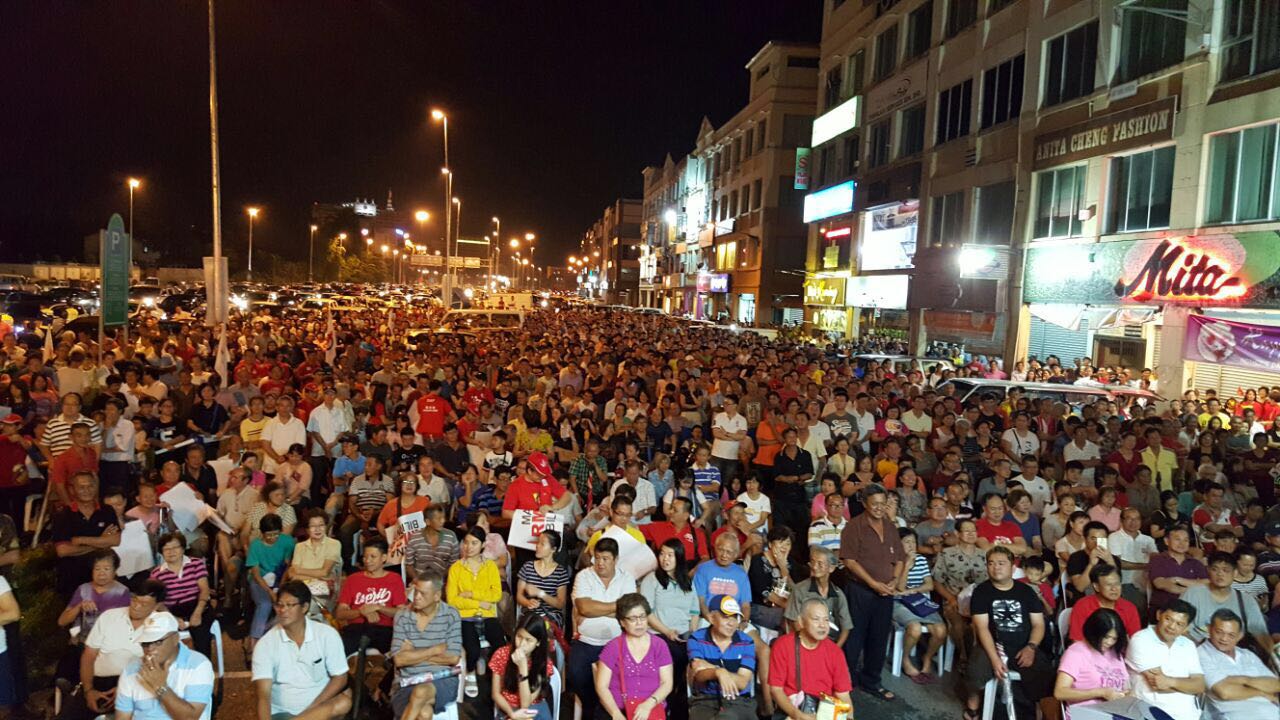 As they dine, the audience peer over their food to listen to speeches by PKR candidates See Chee How (Batu Lintang) and Voon Shiak Ni (Batu Kitang).
The two candidates then made rounds distributing plastic fans bearing the PKR logo and urging them to vote for the party.
Some 5km away at Jalan Tun Jugah, DAP pulls off a 2,000-strong ceramah as Penang Chief Minister Lim Guan Eng, who is among a handful of senior opposition leaders not barred from Sarawak, lends his star power.
While awaiting for Lim's arrival, Abdul Aziz Isa (photo), DAP candidate for Batu Kitang, takes the stage and trains his guns at Sarawak Chief Minister Adenan Satem.
"Adenan has no balls. Do not be afraid of him. Let him come. Let the 'white-haired devil' come. We will meet them.
"He supports 'Sarawak for Sarawakians' but in front of Prime Minister Najib Abdul Razak he says Sarawak for you," he says.
DAP and PKR, which are allies, will be clashing in Batu Kitang in a three-corner fight on polling day.
Adenan pokes fun at ex-boss Taib Mahmud
9.45pm: Dudong, Sibu - Aware that his predecessor is unpopular among the Chinese community, Sarawak Chief Minister Adenan Satem tries to distinguish himself by poking fun at Abdul Taib Mahmud, albeit not naming him.
"I am not crazy for positions. I have been a federal minister, state minister, MP, Chief Minister, state assemblyperson; the only next one is Governor of Sarawak.
"I don't want and can't be governor of Sarawak because I don't have a very young wife.
"You know what I mean," says a laughing Adenan, as the crowd of 1,000, too, roar in laughter.
Adenan appears to be referring to Taib, who is 80, and married to 34-year old Ragad Waleed Alkurdi.
At a ceramah in Kuching yesterday, Adenan had also told a Chinese crowd that he was not 'white hair', a nickname the Chinese community uses to refer to Abdul Taib.
DAP versus ex-DAP ceramah opposite to each other
9.15pm: Pujut, Miri - DAP's candidate for Pujut Ting Tiong Choon and independent candidate Fong Pau Teck are holding their respective ceramahs within sight and sound of each other.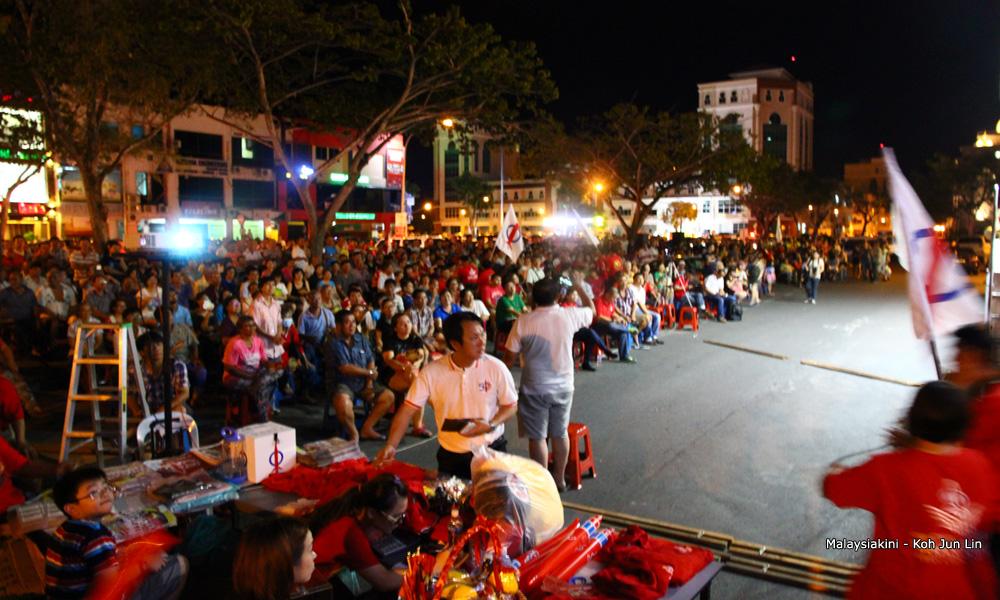 Despite being only about 100 metres apart, the two events at the Boulevard Commercial Centre are drawing vastly contrasting crowds.
On the DAP side, some 2,000 revellers are crowding around the stage and across the nearby road.
Over at Fong's ceramah, however, only about 30 people are present.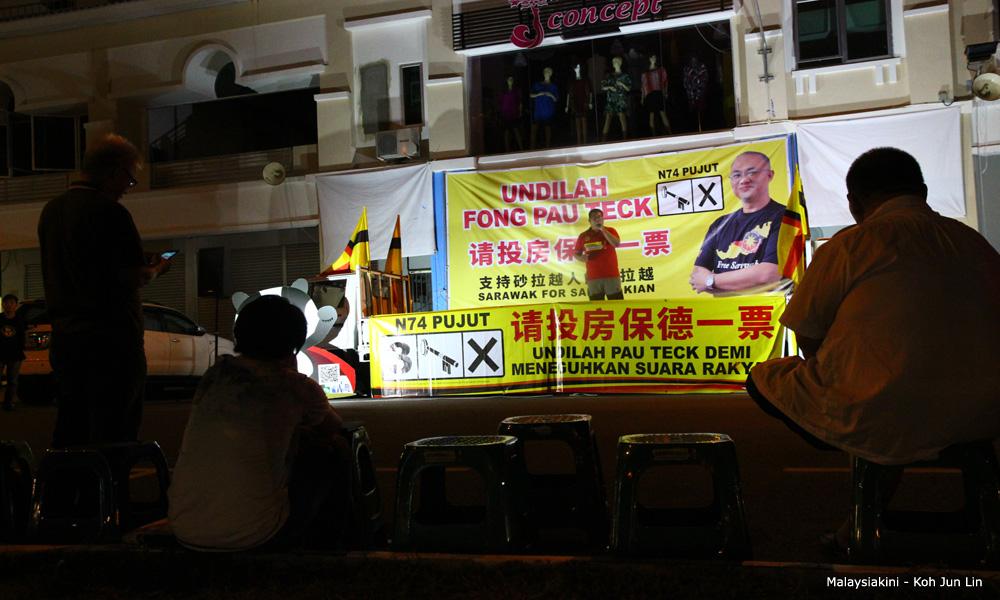 Fong was the incumbent state assemblyperson for Pujut under the banner of DAP but was sacked in 2013 for defying the party.
Other candidates for the constituency are PAS' Jofri Jaraiee and BN's Hii King Chiong.
Adenan on charm offensive with songs from the 1960s
9pm: Dudong, Sibu - It appears from the campaign trail that Sarawak Chief Minister Adenan Satem's two favourite songs are "Falling in Love with You" by Elvis Presley and "The Young Ones" by Cliff Richard.
Having belted both tunes at a ceramah yesterday, Adenan proceeeds to sing the same songs again as soon as he arrives at SJKC (C) Thai Kwang.
Some 1,000 people are here for a dinner to celebrate the 85th anniversary of the school.
All three BN direct candidates in Sibu, namely Wong Soon Koh (Bawang Assan), Tiong Thai King (Dudong), and Janet Lau (Pelawan), are here.
Adenan's arrival is greeted with red carpet and a lion dance.
2013 Astro's talent show Star Quest champion Ester Thian, who has been performing for Tiong's ceramah, sings a few songs as well.
'Out of bounds to opposition' banner riles
5pm: Selangor MB Azmin Ali slams Adenan for disrespecting the office of the menteri besar and chief minister by requesting he and Penang CM Lim Guan Eng write in, should they want to extend their stay in the state.
In a statement, Azmin says it shows an "utter lack of respect", and is also reported saying he will not write in.
4pm: Bukit Goram, Kapit - An anti-oppostion banner has been put up at Kampung Cina Jalan Bleteh.
The banner reads, 'Kampung Cina Jalan Bleteh is a BN kampung, the opposition is forbidden from entering'.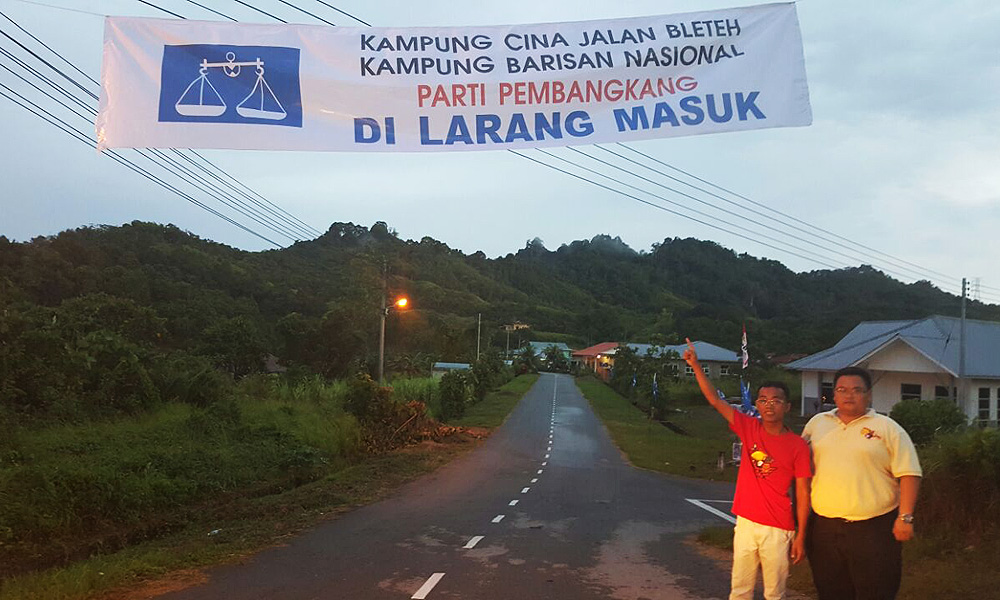 DAP candidate for Bukit Goram Larry Asap slams the tactic as undemocratic, as everyone should be allowed to campaign freely and fairly.
"Anyone can campaign anywhere, as it's not against the Election Act," he says in a statement.
He also complains that local police have not issued him a permit for his ceramah at the said kampung without giving reasons.
Asap also claims a certain unidentified motorcyclist had attacked him while he was there.
DAP Simanggang challenges SUPP rivals to debate
4.39pm: Simanggang - DAP Simanggang candidate Leon Jimat Donald challenges his opponents to a debate to see which candidate really cares for the wellbeing of the constituency, saying voters shouldn't be victims in SUPP's internal war.
"Independent candidate Ngu Piew Seng is being backed by former SUPP assemblyperson Michael Pilo to fight SUPP candidate Francis Harden.
"Both of them only care for themselves. If they truly mean what they say about bringing change to Simanggang, then accept my challenge to debate openly about the change needed for Simanggang," he says in his manifesto.
He says the constituency has fallen into the sidelines of mainstream development over the past five years, and calls on voters not to waste the next five.
PKR and PAS pull off election gimmicks
3.50pm: Kakus, Selangau - Campaigning in the outskirts have been reserved but PAS is adding some colour with a paper mache of a fighter jet.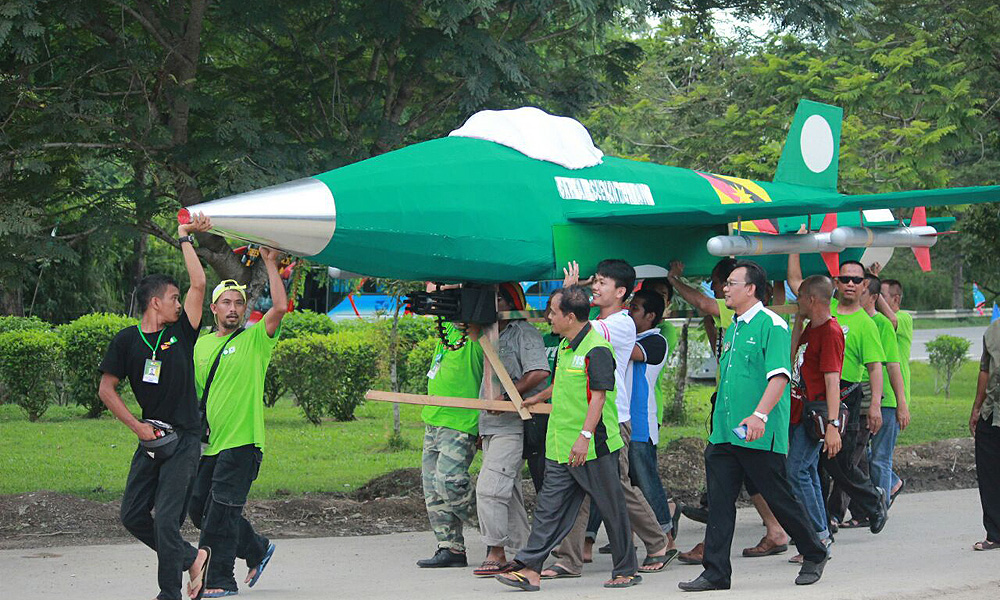 The aircraft, painted in PAS' green, will be placed in Pekan Tatau to help boost its party candidate Clement Bayang's presence.
The Kakus seat is an interesting one for PAS as it is 95 percent non-Muslim and PAS' non-Muslim candidates will go up against PKR and BN in a three-cornered fight.
3pm: Batu Lintang, Kuching - In a break from the monotonous ceramah circuit, PKR's candidate for Batu Lintang See Chee How is set to organise a football match screening here tomorrow.
The match will be between English Premier League frontrunner Leicester City versus Manchester United.
In a Facebook post, See invited everyone to come enjoy the match.
"All footy fans and friends of reform out there, come share your thoughts and watch Sunday night's football match with Chee How. See you there!" he says.
'20 years with BN rep Mawan, still no water'
2.50pm: Pakan, Sarikei - A local trader expresses disappointment with BN Pakan candidate William Mawan, who has been the constituency's elected representative for over 20 years.
Teresa anak Mannuel, 35, says despite Mawan being the Pakan assemblyperson for such a long time, the area still does not have water or electricity supply.
Teresa, who sells roast chicken at the town of Pakan, says she has to collect rain water for her daily supply.
"I still collect rain water. This is the biggest problem the residents here face. Areas without water," she tells Malaysiakini.
Mawan is the incumbent state minister of social development in Adenan's cabinet.
Adenan asking Lim, Azmin to 'write in' to stay an insult
2pm: Kuching - DAP state leader Chong Chieng Jen says it is demeaning to make Penang Chief Minister Lim Guan Eng and Selangor Menteri Besar Azmin Ali write in to Sarawak Chief Minister Adenan Satem to request to extend their stay.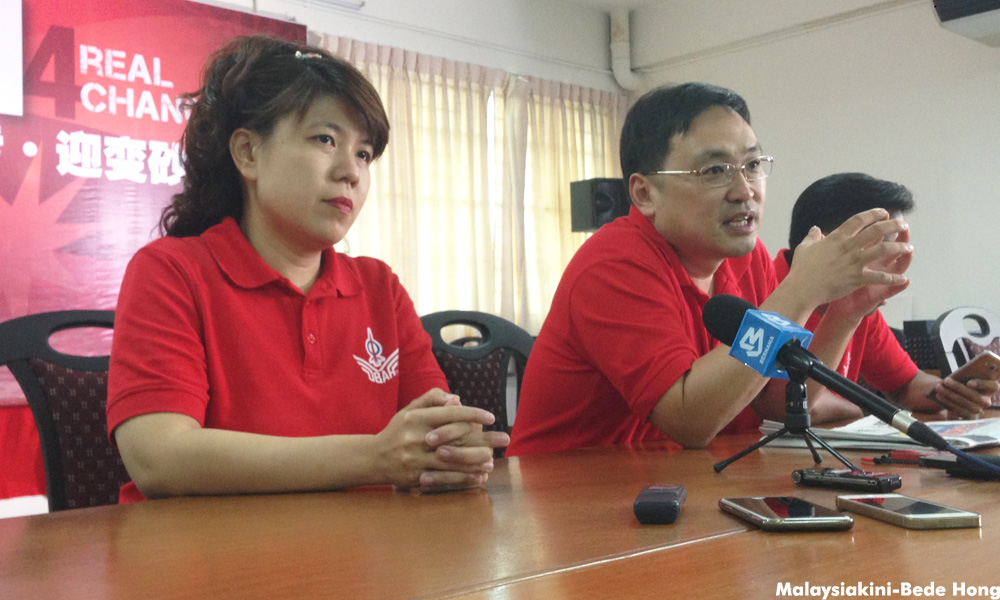 "He took away all their rights and he expects people to be thankful when he gives a little back.
"This is exactly the way Umno treats MCA. We are not SUPP, who are thankful to be allowed to contest 13 seats instead of the usual 19," says Chong.
Najib hits rural areas bearing gifts
1:30pm: Sibuti, Bekenu - Prime Minister Najib Abdul Razak is on a rural publicity blitz today, making campaign stops in several rural constituencies.
According to his official schedule, his first stop is in Marudi at 9am this morning, where a close fight is anticipated between PKR's Elia Bit and BN's Penguang Manggil, plus an independent candidate Louis Jalong.
Next, he travels to another village in the Miri division, and then the small town of Sibuti, where BN has a much stronger presence.
By 3pm, he is slated to campaign for BN's Daro candidate Safiee Ahmad and Jamoreng candidate Juanda Jaya in Matu, Mukah.
Arriving in Sibuti by helicopter, Najib makes a speech endorsing BN's Bekenu candidate Rosey Yunus and Lambir candidate Ripin Lamat.
He also announces several allocations for these two constituencies, and officiates the opening for the Sibuti rural transformation centre.
These include RM94.8 million for a project later this year to supply water to several villages, and RM1.5 million for public housing projects in each of the two constituencies.
He also pledges to consider several road projects suggested to him by Rosey.
12pm: Kuching - PKR candidate for Batu Kitang Voon Shiak Ni hands out whistles to members of the Jalan Arang neighbourhood watch.
"People join crime watch groups not only because they are afraid of crime, but they are also afraid of reporting crime to the authorities," says Voon.
Voon also invites Prime Minister Najib Razak to visit Kuching "to personally experience what people feel about the security and infrastructure here".
Pandemonium breaks out in Najib T-shirt grab
12:30pm: Sibuti, Bekenu - Pandemonium breaks out in Sibuti town when the group Najib Razak Club 11 (NCR 11) sets up a recruitment booth.
Numerous calls to queue up go unheeded, as members of the public crowd around the booth with arms stretched out to submit their membership forms and get their free T-shirt and cap.
However, not all of those vying for the giveaways appear to be aware that they are getting more than party paraphernalia, but also a NCR 11 membership.
"What? I didn't know. They told me that I'll get a shirt if I submit the form," says one woman who declined to be named, when told she had just signed up for NCR 11 membership.
When asked, the person in charge of the booth Majanah Md Yosope insists that word has already been sent out that these are membership forms.
Prime Minister Najib Abdul Razak is supposed to attend a function at an adjacent venue at 11am, but has yet to arrive.
BN development? But we built the road - DAP candidate
11.50am: Siburan - DAP Mambong candidate Sanjan Daik ridicules BN's banner in Kampung Kiding that reads 'Vote BN for progress, unity, prosperity and the autonomy of Sarawak' as being an irony, since the development in the area was funded by DAP.
"It is nothing short of a joke that BN would even place such a banner there when it was DAP through our 'Impian Sarawak' programme that built the road there in 2014, after it had been neglected by the BN all these years," says Daik in a statement.
He says the 3km route cost RM140,000 and was built by volunteers from all over Malaysia who paid for their own expenses.
"(They) did what the BN could not do even though they have been in government since independence," he says.
Daik asks if BN's promise to build new roads as part of their election pledge would also apply to constituencies that it loses.
"Are they genuine in their desire to serve the people, or will their promises turn out to be empty ones again?"
BN candidate rattled by redelineation
10.30am: Sibu - Sarawak's redelineation exercise may affect BN in an unexpected way.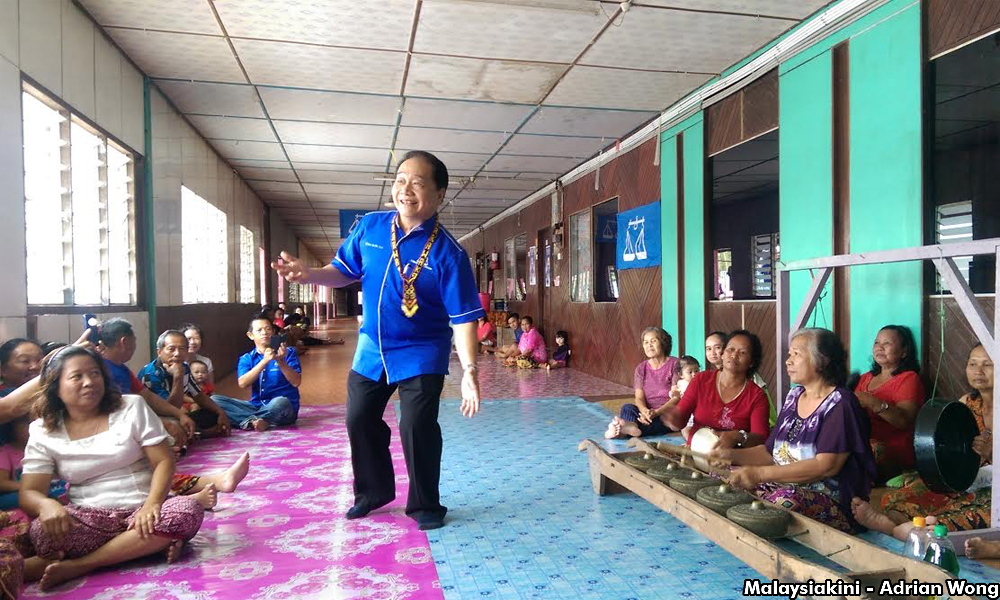 BN direct candidate for Bawang Assan Wong Soon Koh is livid after discovering he will not be able to vote for himself on May 7, as his voting area is now Bukit Assek.
"When I made an inquiry, I found out that some of my closest friends and supporters who have been voting in Bawang Assan also experienced the same thing.
"And like me they all have to vote in Bukit Assek," The Borneo Post today quotes Wong saying.
The disappointed UPP man says the electoral rolls up till December still showed him as a voter in Bawang Assan.
10am – Kuching: DAP's candidate for Pending Violet Yong works the ground at Kenyalang, an old commercial district here.
Some voters approaches Yong for help as they do not know where they will be voting.
Yong, armed with a tablet, immediately gets to work on the Election Commission's website using her device.
She then shares the information with them.
The Election Commission has said voters are able to check the location of their designated voting station online at www.spr.gov.my.