S'WAK POLLS Banners featuring dead freedom fighters which urge voters to vote BN have cropped up in Sarawak ahead of the May 7 election.
Among the freedom fighters include Kanang Langkau who passed away in 2013 and Rosli Dhobi who was executed in 1950, which was even before the BN was formed.
Military enthusiast group Gempurwira was less than impressed by the campaign material and have since lodged a complaint with the Defence Ministry.
"We received complaints that the picture of Kanang was abused by BN in the election campaign this time and have immediately voiced out objection to the Defence Ministry last night, before the matter became public knowledge.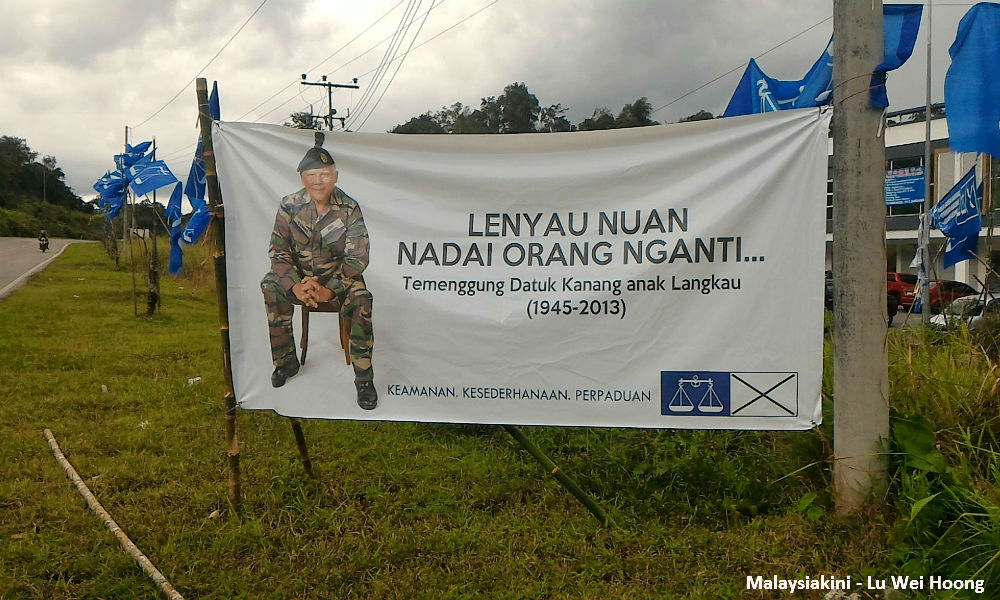 "The Defence Ministry's representative agreed to identify those behind the banners and to have them taken down.
"We hope all sides will view the Malaysian Armed Forces as the country's premier security agency that swears loyalty to the Yang di-Pertuan Agong and not any politician, be it from the ruling coalition or opposition," it said in a statement on Facebook.
In Serembu, a new seat
A survey by Malaysiakini this evening found the banners along the Kuching-Bau road within the constituency of Serembu, a newly created seat for this state election.
The banners were directly opposite BN's Serembu election operations centre.
One banner featuring Kanang, who was known for his bravery during the Communist insurgency, had the Iban tagline 'lenyau nuan nadai orang nganti' which translates to 'losing you is irreplaceable'.
At the bottom of the banner were the words: 'peace, moderation and unity' followed by the BN logo, with an 'X' beside it, which is the usual way to cast a vote.
Another such banner featured Sarawak nationalist Rosli Dhobi who in 1949 assassinated the second governor of colonial Sarawak Duncan George Stewart.
A juvenile at the time of the assassination, Rosli was executed by the British, for stabbing the governor.
Rosli's banner carried the words 'Struggle for the future of Sarawak'. It also had a BN flag with an 'X' beside it.