The Royal Bank of Scotland (RBS) is the latest financial institution to come under investigation on the transfer of funds linked to 1MDB.
According to the Financial Times, the Swiss Financial Market Supervisory Authority (Finma) has launched an inquiry in relation to certain client accounts held with Coutts.
Coutts was formerly the Swiss arm of RBS' private bank, which has since been sold to Union Bancaire Privée.
The report said RBS disclosed the inquiry on April 29 and said it is co-operating with the regulators.
It has been previously reported, and later verified by the Public Accounts Committee (PAC) Report on 1MDB, that US$1.03 billion of 1MB's funds in its joint venture with PetroSaudi International was diverted to Good Star Ltd.
The funds diverted to Good Star entered its Swiss bank account at RBS Coutts.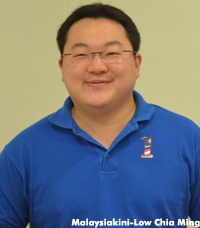 The findings found that Good Star is not related to the 1MDB-PetroSaudi joint venture, a critical information that PAC chairperson Hasan Arifin admitted to erasing from the PAC Report after being ticked off by opposition members of the committee.
Whistleblower portal Sarawak Report claimed Good Star is wholly owned by billionaire Jho Low (photo).
The fund flows linked to 1MDB are currently being investigated by at least five countries - the United States, Switzerland, Luxembourg, the United Arab Emirates and Singapore.
Swiss authorities believe that at least US$4 billion had been misappropriated from Malaysian state companies.
1MDB's unaccounted for billions of ringgit coincide with the multi-billion ringgit in deposits received by Prime Minister Najib Abdul Razak.
Najib denied the money he received had anything to do with 1MDB, claiming that it was a political donation from Saudi Arabia.
He stressed that he has never taken public funds for personal gain.
Attorney-general Mohamed Apandi Ali accepted Najib's explanation and cleared him of wrongdoing.
Apandi also cleared Najib of receiving millions of ringgit in deposits from state-owned SRC International on grounds that the prime minister didn't know about it.