Political cartoonist Zunar is now the recipient of the 2016 Cartooning for Peace Award.
The award-winning cartoonist received his latest award at a ceremony held at the Palais Eynard in Geneva, Switzerland, yesterday.
Apart from Zunar, Kenyan cartoonist Gado was also honoured with the award and the works of both cartoonists are exhibited at the Lac Leman in Geneva.
Also at the ceremony were Swiss Foundation Cartooning for Peace honorary president Kofi Annan, who is a former United Nations secretary-general, and Geneva's municipal councillor Guillaume Barazzone.
Commenting on the award, Zunar said the prize has given him 'new strength' to continue his fight against Malaysia's 'corrupt and repressive regime'.
"Human rights and freedom of expression in Malaysia are in dire straits," said Zunar in a statement yesterday.
Talent, he added, is not a gift but a responsibility. Therefore, it is his duty as a cartoonist to use art as a weapon to fight unjust rulers.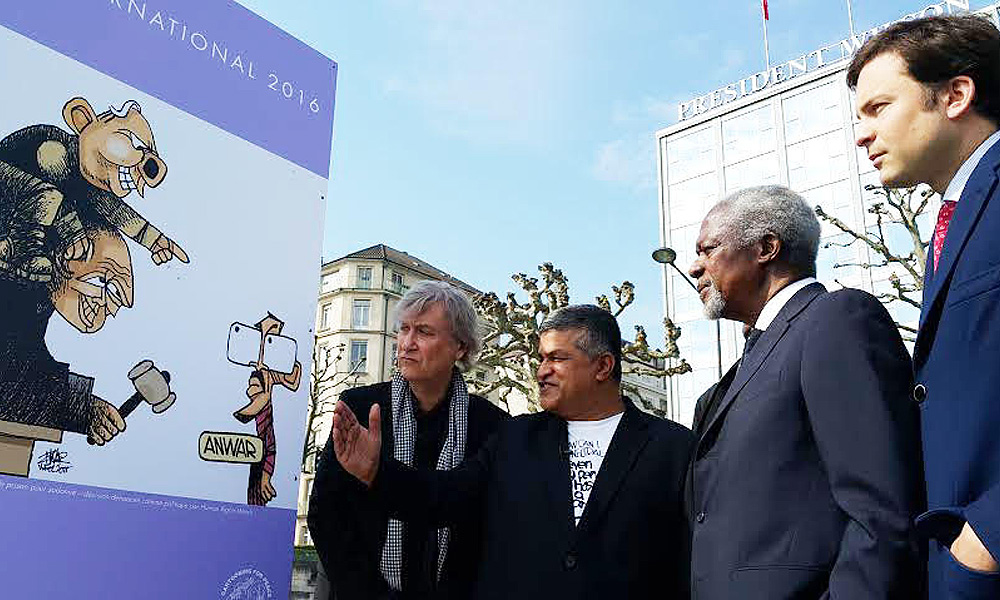 "Fear and intimidation are the potent tools being used by the regime to scare the people. I believe that strokes of art can lead the people to cross the line of fear.
"I also strongly believe that, when facing a moral crisis, there is no room to grumble in silence. We have to stand up and cry our voice out loud and clear.
"Neutrality is escapism for those who live in a comfort zone. How can I be neutral, even my pen has a stand," said Zunar, who vowed that he would keep fighting until his last drop of ink.
Several of his works banned or confiscated
Zunar, whose real name is Zulkiflee Anwar Ulhaque, has had several of his comic books critical of the government banned and confiscated.
His cartoons also appear in Malaysiakini's Cartoonkini.
Zunar was detained by police twice, in 2010 and 2015, on grounds of sedition.
He is currently facing nine sedition charges and up to 43 years in jail for his critical comments over the jailing of then opposition leader Anwar Ibrahim in February last year.
Apart from this latest award, Zunar was the recipient of the Human Rights Watch Hellman/Hammett Award for 2011 and 2015, and he also won last year's International Press Freedom Award, given by the New York-based Committee to Protect Journalists (CPJ).