Umno Youth exco Fathul Bari Mat Jahya has asked if BN's candidate for the Kuala Kangsar by-election Mastura Mohd Yazid should be allowed to leave her home to campaign as she is still under the mourning period of iddah.
Iddah is the period a woman must observe after the death of her husband.
Mastura is the wife of the incumbent MP for Kuala Kangsar Wan Mohammad Khair-il Anuar Wan Ahmad, who perised in a helicopter accident during the Sarawak election.
"I would like to suggest to the top leadership of BN to respect the decision of religion, that is Mastura cannot leave her home to campaign.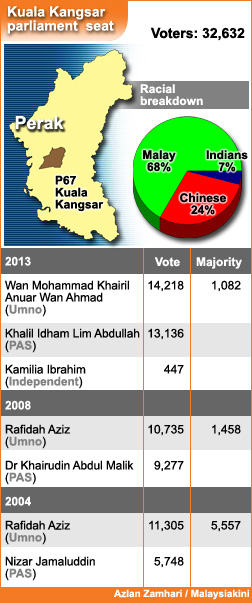 "Instead, let her children replace her in campaigning during the by-election. The will of religion must be observed over the will of men," he said in a statement on his Facebook page.
Citing the Quran, Fathul Bari said the iddah period would last four months and 10 days.
During this mourning period, he said Mastura is also not allowed to wear colourful clothing and can only wear white with limited patterns.
"I am confident that Muslims will understand the situation well.
"I also hope that non-Muslim voters will understand the sensitivities of this rule set in our religion," he said.
BN yesterday announced Mastura as its candidate to defend her late husband's seat.
She will face PAS, which fielded doctor Najihatussalehah Ahmad, while Pakatan Harapan will only name its candidate by June 1.