Former prime minister Dr Mahathir Mohamad was uncharacteristically rendered speechless when he was confronted with an activist's protest artwork depicting his likeness giving the middle finger and labelled dictator.
While launching a new Dubook Press book "Apa Habaq Orang Muda" at the Arts For Grabs event in Publika Mall Kuala Lumpur, the ex-premier was approached by activist cum artist Fahmi Reza who went up to the stage bearing gifts.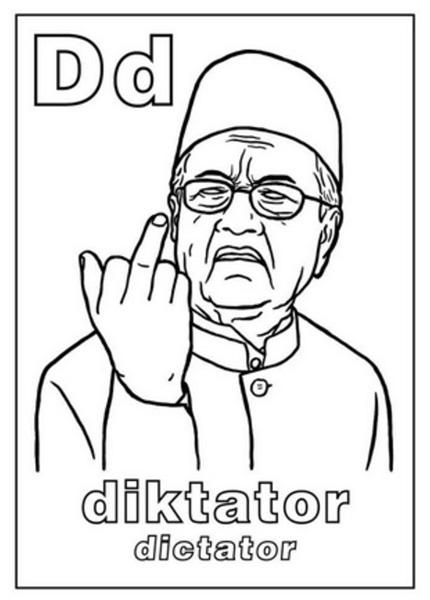 He presented the ex-premier with a copy of his #KitaSemuaPenghasut T-shirt depicting the clown likeness of Prime Minister Najib Abdul Razak, which probably reasonated with Mahathir's anti-Najib stance.
But his second gift probably hit too close to home for the ex-PM.
"During the launch of Mahathir's latest book, I went up the stage to give him a copy of my colouring book. This is the Malaysian Politikus ABC Coluring Book, I told him.
"At first he smiled. But when I handed him the book, I opened the page to 'D untuk diktator' which is decorated with the picture of him giving the middle finger.
"He was speechless, but I heard a grunt of disapproval from him," wrote Fahmi in a posting on his Facebook page.
The colouring book, which is available for download online, mocked politicians from all sides including the prime minister with the word "corruptor" and Umno cyber warefare chief Ahmad Maslan in a clown suit with the word "clown".
One of the page also depicted Penang Chief Minister Lim Guan Eng giving two middle fingers with the word "hypocrite" while another depicted PAS president Abdul Hadi Awang putting a finger to his lips with the word "god".
It also featured PKR president Wan Azizah Wan Ismail with the word "nepotist".
In the foreword of the book, which was published last year, it said: "This colouring book is specially for youths who are interested in politics but do not like politicians (politikus)".
Fahmi also popularised the image of clown-faced Najib, which he is expected to be charged with next week.
He will be charged under Section 233(1) of the Communications and Multimedia Act 1988 for hurting the feelings of other people.