LIVE BLOG DAY 5 | Things are beginning to pick up in the twin by-elections in Sungai Besar and Kuala Kangsar.
In Sungai Besar, Prime Minister Najib Abdul Razak himself will grace voters with his presence at a buka puasa event today.
Meanwhile in Kuala Kangsar, BN candidate Mastura Mohd Yazid will hold a press conference in her home.
PKR secretary-general Rafizi Ramli is also scheduled to meet the media in Kuala Kangsar this afternoon.As for PAS, they will hold a press conference in Kuala Kangsar to respond to provocative billboards put up in Sungai Besar which attacked party president Abdul
---
Rafizi gets the crowd worked up over Rosmah's private jet ride
10.15PM - Jalan Baharu, Kuala Kangsar: PKR Pandan MP Rafizi Ramli has become the star speaker at Amanah's ceramah tonight.
This follows his latest exposé that the prime minister's wife Rosmah Mansor had used a government private jet to travel to Istanbul to receive an award on behalf of Permata.
He had said the aircraft, which was chartered for two months cost taxpayers around RM86.4 million, but Rosmah's aide Rizal Mansor said his boss only rode on the aircraft for 26 hours.
The crowd of over 200 laugh and clap when Rafizi speaks about Rosmah's ride on the government private jet.
"We have to foot RM60,000 per hour for this luxurious jet; for this same amount we can buy a low-cost house," he says.
"I have calculated – her trip to Istanbul cost RM1.5 million.
"If she is a true prime minister's wife and understands the suffering of the people, she would not spend RM1.5 million... We have to pay the bill," he says.
"Tomorrow, I will expose a bigger issue. Uncle and aunty, by 11am you check the internet and Malaysiakini," he adds.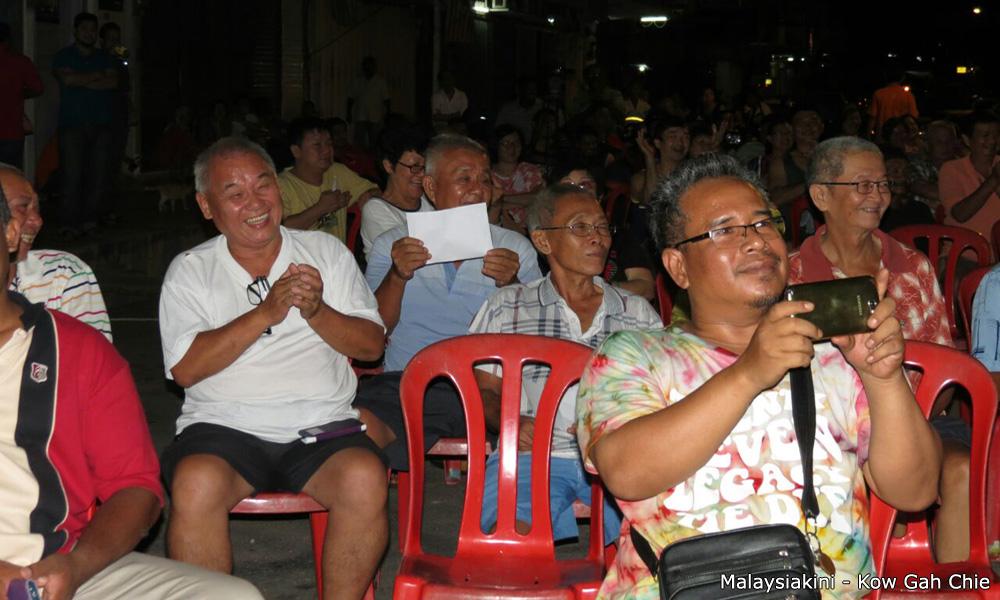 "This is going to be explosive," he says, adding that those who are still hesitating, will be convinced to vote for Amanah's Ahmad Termizi Ramli.
He stresses that only Ahmad Termizi will raise these issues in Parliament.
"I am confident that only one candidate will dare to stand up in Parliment and tell Prime Minister Najib Abdul Razak that you are a shame to Malaysia," he says.
MCA holds Mandarin ceramah targeting hudud
9.40PM - Sungai Besar: MCA holds a Mandrin ceramah in Sungai Besar town with its guns trained on the hudud issue.
Serdang MCA deputy chief Allan Liew urges voters to back BN if they didn't want hudud.
"MCA will stand with the Chinese community to ensure that Malaysia does not become an Islamic state.
"Don't vote for PAS or Amanah as they are one of the same," says Liew.
Later, Selangor MCA Wanita chief Ong Chong Swen takes the stage and describes BN's candidate Budiman Mohd Zohdi as a "moderate".
"Give MCA a chance to voice out for the rakyat... we need to reject hudud," she says to an audience of around 20 people.
The crowd from nearby restaurants and shops also look on.
Najib teases more donations after polls
9.00PM - Simpang Lima, Sg Besar: Prime Minister Najib Abdul Razak teases that he may donate to the Ma'muniah mosque in Sungai Besar after the polls.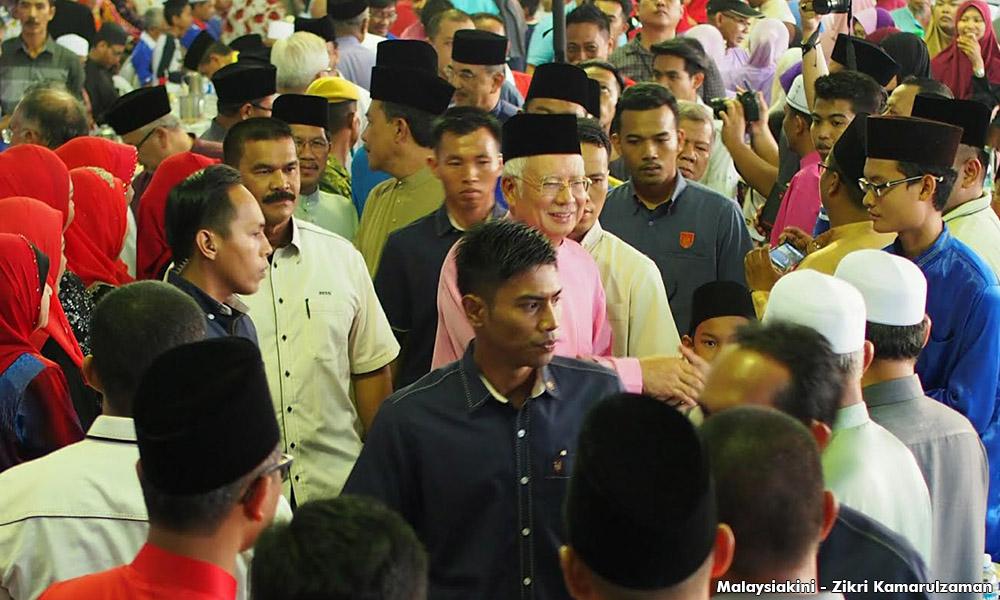 This would be in addition to the RM500,000 Deputy Prime Minister Ahmad Zahid Hamidi has pledged for the mosque.
"If you want to add some more, come see me after the elections," Najib says in his speech after a breaking fast.
In his speech, Najib also voices his confidence in BN candidate Budiman Mohd Zohdi's ability to become MP, and runs down the PKR-led Selangor government for not stating whether they support Amanah or PAS.
He adds that the elections here and in Kuala Kangsar will be a test of whether the people still support BN to lead the country.
Umno and PAS break fast together
8.30PM - Simpang Lima, Sg Besar: Sungai Besar PAS chief Fadzin Taslimin shares a table with Prime Minister Najib Abdul Razak and BN candidate Budiman Mohd Zohdi to break fast today.
Budiman, who sits in the middle, chats merrily with Fadzin after maghrib prayers.
The Sungai Besar PAS chief had yesterday said the Islamist party would never again join forces with Umno.
"Manusia tak akan masuk lubang biawak dua kali (A person won't enter the monitor lizards den twice)," Fadzin had said at a PAS ceramah last night.
Fadzin later told Malaysiakini that while PAS will no longer join forces with Umno, it will continue to support any good the party brings.
"We respect our PM... PAS now practises mature politics. We will reject what is wrong and accept what is right," he says.
On whether Umno will accept any of the party's advice, Fadzin says it does not matter as the obligation to advise is already done.
BN candidate tells recipients don't blow loans on luxuries
5.30PM - Kg Batu 23, Sg Besar: BN candidate Budiman Mohd Zohdi tells Tekun borrowers not to misuse the funds for other purposes.
"When you get your Tekun loan don't buy sport rims or handphones... Don't smoke expensive cigarettes but refuse to pay back the loan," Budiman quips.
He was speaking at a Tekun event here, where the small business fund lender issued a mock check of RM1.2 million, the amount approved for 61 borrowers in Sungai Besar this year thus far.
Chinese will swing back to BN in K Kangsar, says Gerakan
4.30pm - Kuala Kangsar town centre: Gerakan president Mah Siew Keong feels that the Chinese voters will swing back to BN in the Kuala Kangsar by-election.
"Our canvassers and people have been moving around and we think that the situation here is better.
"According to the people who campaigned in the 2013 general election, they feel that the mood here is more positive for BN," he says during a walkabout in this royal town.
"When we went around, some said they will give BN a chance this time (as) they voted for the opposition the last time."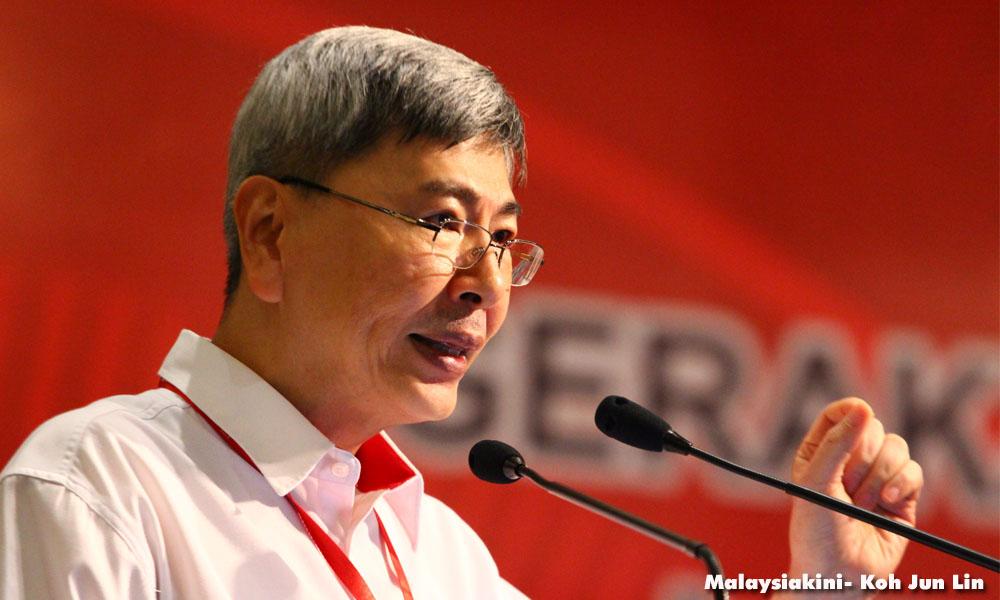 During the walkabout, both Mah (photo) and Gerakan Wanita chief Tan Lian Hoe hand out dumplings to the local Chinese community.
Chinese make up 24 percent of total voters in Kuala Kangsar. According to DAP, PAS candidate Khalil Idham Lim Abdullah secured 76.5 percent of Chinese votes in the 2013 polls.
DAP spreading hate and slander, says MCA
4pm - Kuala Lumpur: MCA accuses DAP of hate-mongering after it put up billboards attacking BN and PAS yesterday.
The billboards, which were subsequently removed by Election Commission enforcers, include accusations that Umno Sungai Besar chief Jamal Md Yunos labelled the Chinese as pigs.
"MCA is outraged that DAP can stoop to mounting billboards filled with race-hate provocation and slander.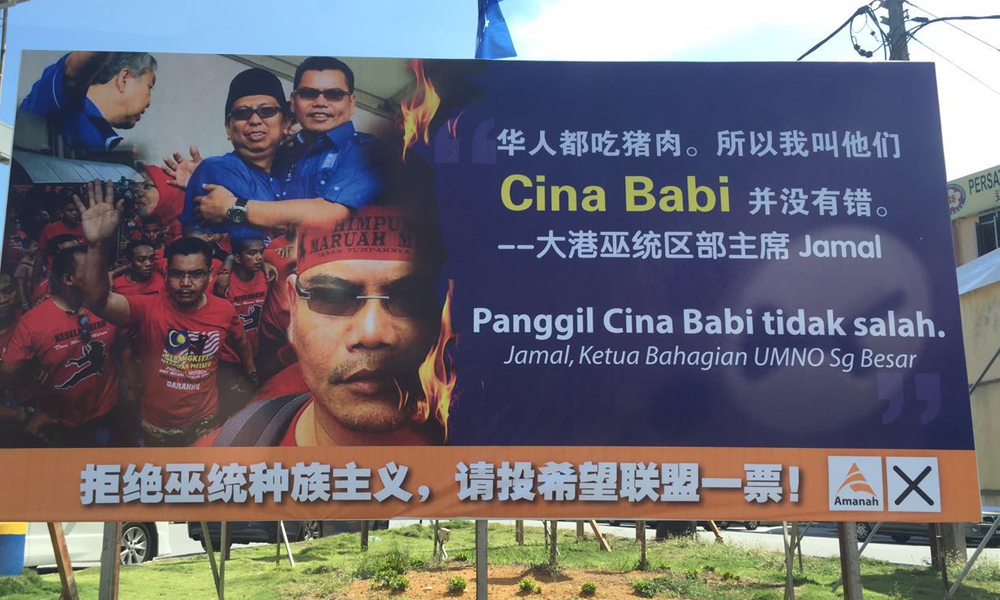 "MCA foresees that in the final days approaching polling day on June 18, sweeping, insidious slander will intensify," says MCA Youth chief Chong Sin Woon in a statement.
Chong urges voters in Sekinchan, one of two state constituencies in Sungai Besar, to reject DAP's "political hatred".
No mega posters, saving money, says Umno
2.30pm - BN's operations room, Kuala Kangsar: The Kuala Kangsar by-election seems void of large posters plastered all over the constituency, which is usually the norm during elections.
Deputy Minister in the Prime Minister's Department Razali Ibrahim says Umno deliberately chose not to put up such posters.
This, he says, is so that they do not be wasteful especially in the month of Ramadan where Muslims are encouraged to give charity and engage in acts of worship.
"It was an instruction made during the last meeting for us not to be wasteful (by having giant posters).
"We have to understand that this is the month where we fast and we also need to take note of the candidate's circumstances.
"And we know that we can't be wasteful in today's situation. Our economy is fine but we shouldn't be wasteful in the month of Ramadan," the Muar lawmaker says.
Sg Besar BN candidate unveils 'Ikrar Budiman' with three pledges
1pm - BN operation centre, Sungai Besar: BN candidate Budiman Mohd Zohdi unveils his "Ikrar Budiman" with three main pledges for the people.
One family one graduate: This initiative aims to develop comprehensive education programmes for children in Sungai Besar.
Spur new innovations and ideas to upgrade Sungai Besar's economy: Focus will be to expand the economy through innovation of existing agricultural and fisheries industries.

Introducing Sungai Besar as an eco-tourism hub: This is to attract more tourists and develop more economic opportunities for residents in Sungai Besar.
PAS Sg Besar candidate likens political strategy to slaughter of chickens
12pm - Sg Leman, Sg Besar:
PAS candidate Dr Rani Osman has likened political strategy to the slaughtering of chickens.
"
Macam sembelih ayam
(It's like slaughtering chickens). The kafirs (non-Muslims) have their own way of doing it to," Rani says when met during a house-to-house visit here today.
He explains that if he's elected to parliament, he will employ both offensive and defensive strategies when voting on issues.
He was responding to Amanah's Khalid Samad, who says Rani will have to forego his personal beliefs to toe the party line in the House.
Earlier, Rani, who runs a clinic in Meru, gave a free checkup to an elderly couple here, and gave them free medicine including a supplement that cost around RM300.
Amanah's nuclear scientist tries making dumplings in K Kangsar
9.40am - Jerlun market, Kuala Kangsar: In celebration of the Dumpling Festival today, Amanah Kuala Kangsar candidate Ahmad Termizi Ramli, a nuclear scientist, tries his hand at making dumplings.
Although he only manages to make two of them, his attempt is met with applause by patrons at the eatery.
The dumplings, made of sticky rice and bamboo leaves, look more like ketupat with its triangular shape, which also coincides with Amanah's logo.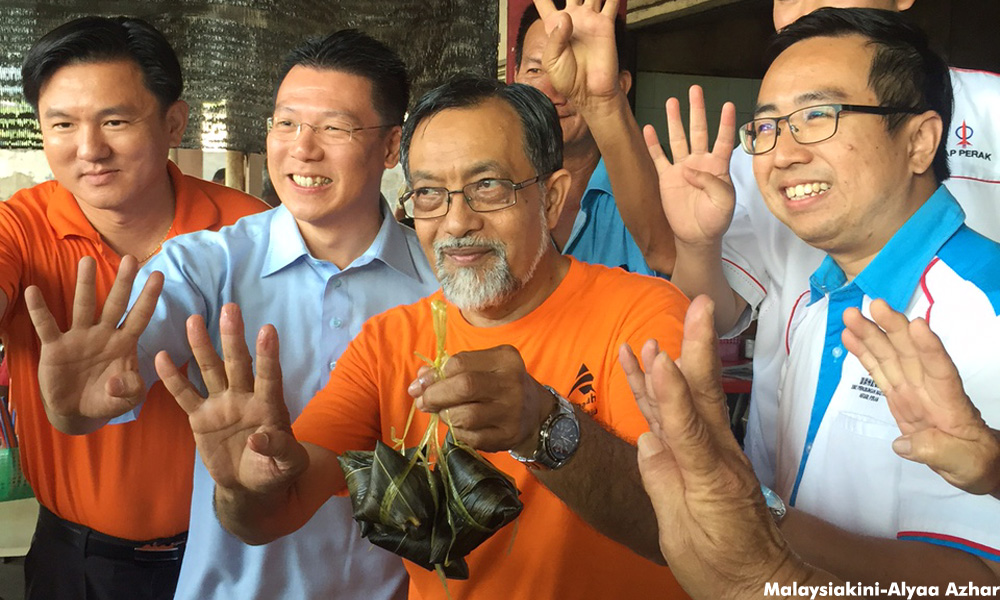 "This is for Sungai Besar and this is for Kuala Kangsar," says Termizi (photo), gesturing to the two dumplings he made.
Also present at the market are Perak DAP chairperson Nga Kor Ming and PKR assemblyperson Chang Lih Kang.
Nga explains that the Dumpling Festival reflects the patriotism of a prime minister in defending his country.
"Due to frustration over what that had happened to his country, he committed suicide by drowning.
"But the people loved him so much that they made dumplings in the hope that the fish would eat the dumplings instead of his body," Nga tells Malaysiakini.
BN banners replace DAP billboards taken down yesterday
9.00am - Sekinchan town: BN banners now replace DAP billboards the EC officers removed from Sekinchan town last night. 
Some three banners appear in the town of Sekinchan, urging locals to vote for BN candidate Budiman Mohd Zohdi.
The billboards bear the words "Undilah calon BN, rakyat terbela. Menepati janji, membawa harapan" (Vote the BN candidate, and the rakyat will be protected. Promises kept, hope brought forth) while displaying an image of Budiman and the BN logo.
At 8.30am, Budiman pays a visit to the Sekinchan public market, near DAP's Sekinchan headquarters.
He speaks to the Chinese and Malay traders at the market and listens to their grouses.
He also distributes Chinese-language pamphlets about himself to the Chinese traders, to allow voters to learn about his background and image.
He also promises voters that if he is voted into Parliament, he will help the traders improve the market's infrastructure and cleanliness.
Budiman then visits Sekinchan town after his trip to the market.