COMMENT The Penang state executive councillor in charge of public works, Lim Hock Seng, is fed up of repeating his explanations to the so-called four questions from Urban Wellbeing, Housing and Local Government Minister Abdul Rahman Dahlan.
The questions from Rahman, who is also the BN strategy director, are on the Penang state government's RM3.7 billion under seabed tunnel project awarded by open tender. However, I have directed Hock Seng to be patient, like a teacher with a slow student, and to respond again tomorrow.
Rahman is singularly unfit to be a minister, for he has not only chickened out of his own challenge to debate with me by running away overseas, but has demonstrated his courage only in telling lies from the safety of his air-conditioned ministerial office.
I refer to Rahman's latest claim that the Penang state government's intends to impose toll for a concession period of 30 years for the under seabed tunnel because of its high cost as compared to building a bridge.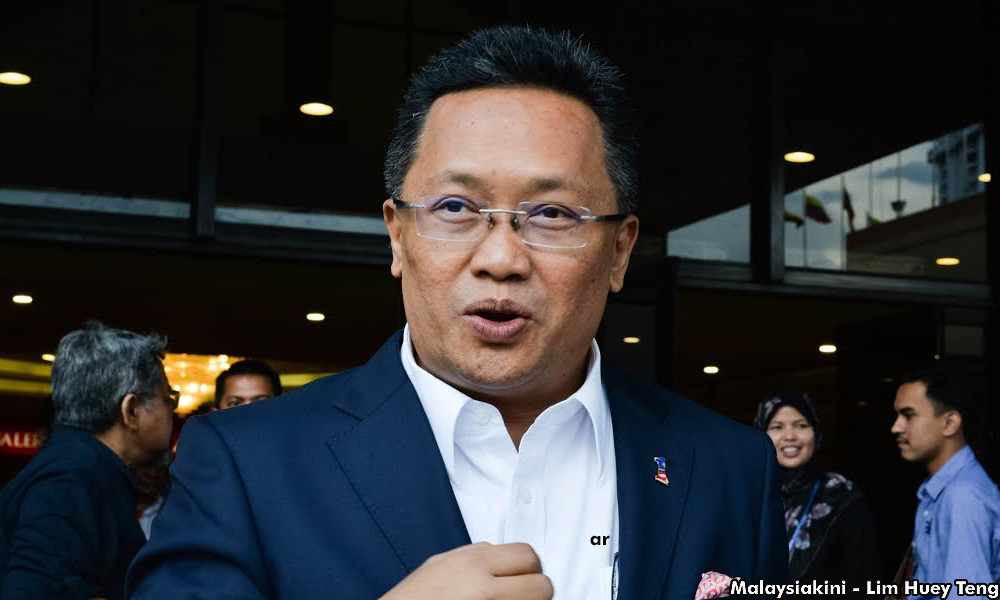 Rahman (photo) claimed that a 30-year concession period is too long and has never been done in any concession agreement, whether in Malaysia or in the world.
Clearly, he has lied once again. He need not go around the world – the answer is right before his very eyes, the North South Expressway (NSE).
The NSE was awarded with a concession agreement for 30 years and it was then extended for another 20 years, till 2038. Worse, the West Coast Highway from Banting (Selangor) to Taiping (Perak) is for a record 60-year concession period.
Let me emphasise that the under seabed tunnel is not to be built immediately but is a long-term plan, 12 years from now, to be built in 2027 when the Sultan Abdul Halim Muadzam Shah (second Penang Bridge) is expected to be congested.
We cannot start planning only when the bridge is clogged with traffic because no bridge can be built overnight, but must be planned ahead, taking into account the increased investments and growth in the tourism industry in Penang.
Rahman had challenged the Penang Pakatan Harapan state government on why we imposed tolls on the tunnel when we opposed BN tolls.
The Penang Harapan state government is proud of our record over the last eight years of building bridges and four-lane highways without imposing tolls. The latest, launched last week, is the RM275 million four-lane highway in Paya Terubong, which will be toll-free.
A tunnel will cost twice the amount
As compared to building a bridge, a tunnel costs at least twice the amount. The state government has no choice but to impose toll to finance the high cost of an under seabed tunnel, with a land swap.
However, if the federal government can give approval to the state government to build a bridge instead of the tunnel, the savings gained can be used to finance a toll-free bridge.
Unfortunately, the federal government has refused to grant approval but has chosen to continue the "sabotage" mentality, as shown by the SkyCab cable car project, or getting its bully-boys to lodge reports with the Malaysian Anti-Corruption Commission so that investigations can derail the tunnel project.
The Penang government strongly condemns Rahman's claims that we are sabotaging the Second Penang Bridge by building the third link from Gurney Drive to Bagan Ajam. How can the Penang government be sabotaging the second bridge to Batu Kawan when billions of ringgit are poured by the state government into the development of a new township in Batu Kawan?
This makes no sense when IKEA will be opened there in 2018. Sime Darby Bhd has signed a RM2 billion joint-venture investment with us to build a Small and Medium Industrial Park and Temasek Holdings from Singapore has signed a RM10 billion joint venture deal with us to build a high-tech industrial park, as well as universities and hospitals, and has commenced construction.
This third link connects Seberang Perai Utara with the island. The third link is necessary for a balanced development to ensure that Seberang Perai Utara is not left out, since both Seberang Perai Tengah and Seberang Perai Selatan are well-served with the two bridges.
Bear in mind all these infrastructure works are fully financed by the state government, without a single sen from the federal government, which has failed to fulfil its responsibilities to Penang despite receiving our annual contributions of taxes and duties amounting to more than RM6.5 billion.
And yet, despite not needing to come out with a single sen, the federal government has refused to give approval for the third bridge.
Why is the federal government so worried about giving the Penang government approval to build the third Penang Bridge when the federal government need not pay a single sen?
After all, if the Penang government fails to build a toll-free third bridge, the BN can laugh at us for failing to fulfil our promise or that "we talk easy, but do cannot!".
Or, is the BN fearful that Pakatan Harapan will succeed, where BN failed, by building a toll-free bridge to showcase our people-centric development against the BN's crony-centric developments?
---
LIM GUAN ENG is the Chief Minister of Penang and the MP for Bagan.