Malaysian cartoonist Zulkiflee Anwar Ulhaque has crossed the "line of fear" with his political caricatures on alleged scandals involving Prime Minister Najib Abdul Razak.
In an interview with Australia National University's web magazine New Mandala, Zulkiflee, better known as Zunar, said more need to join him across this line.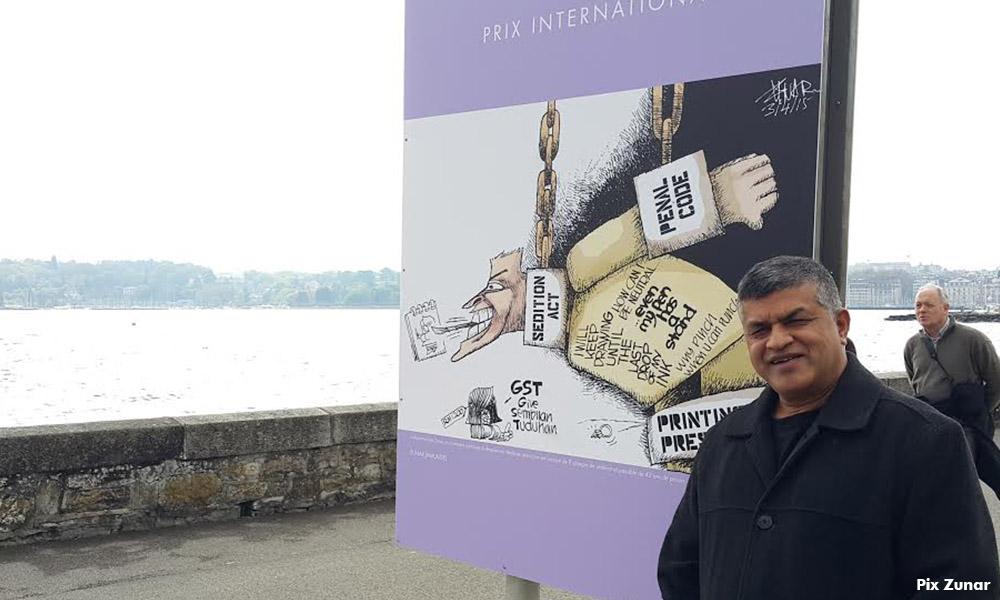 "We need to cross the line. This is the line of fear we call it. It is not a normal line. It is a line of fear. If you don't cross it, we are trapped in there forever.
"The system will be very happy. The government will be very happy if you don't want to cross the line," said Zunar, who is facing a 43-year jail sentence if convicted on nine counts of sedition.
This follows his arrest last February for a Twitter post criticising the court's ruling that sent opposition leader Anwar Ibrahim to jail for sodomy.
"I hope more and more people will cross it (the line). We must break the system. If not, they (the government) will be very happy.
"Now Malaysia has been governed by the same party for more than 60 years. If we don't cross the line, we will give mandate for another 60 years to them," he said, adding that change would then never happen.
Fight for change, or lose
In the interview, Zunar stressed he will continue fighting for change until the last drop of his ink - a motto which he had translated into a personal caricature.
"I don't know if I will win or lose, but if I don't fight, I'll definitely lose," he said.
While persecuted in Malaysia, Zunar's works have earned him global recognition, including the Swiss Foundation 2016 Cartooning for Peace Award.
Zunar is also recipient of the Human Rights Watch Hellman/Hammett Award for 2011 and 2015, as well as the International Press Freedom Award given by the New York-based Committee to Protect Journalists (CPJ).