Reference materials used in the controversial slides for the Tamadun Islam dan Tamadun Asia (Titas) subject in Universiti Teknologi Malaysia (UTM) recently, do not have credibility and are not authentic to represent the traditions and religious beliefs of the Hindus and Sikhs.
In a statement, UTM's vice-chancellor Professor Wahid Omar said this was the assessment made by the Indian Civilisation Independent Expert Committee appointed by the university to assess the contents of the slides for the course, which created a controversy.
Wahid said the committee, which comprised Professor Zaid Ahmad and Associate Professor Sarjit Singh from Universiti Putra Malaysia, as well as Professor M Rajantheran from Universiti Malaya, unanimously found too many factual errors in the two slides.
"At the same time, there were too many judgmental elements in the slides and this is not in line with the spirit of the Titas course introduced in tertiary institutions to foster understanding and harmony among a multi-racial and multi-religious society," he said.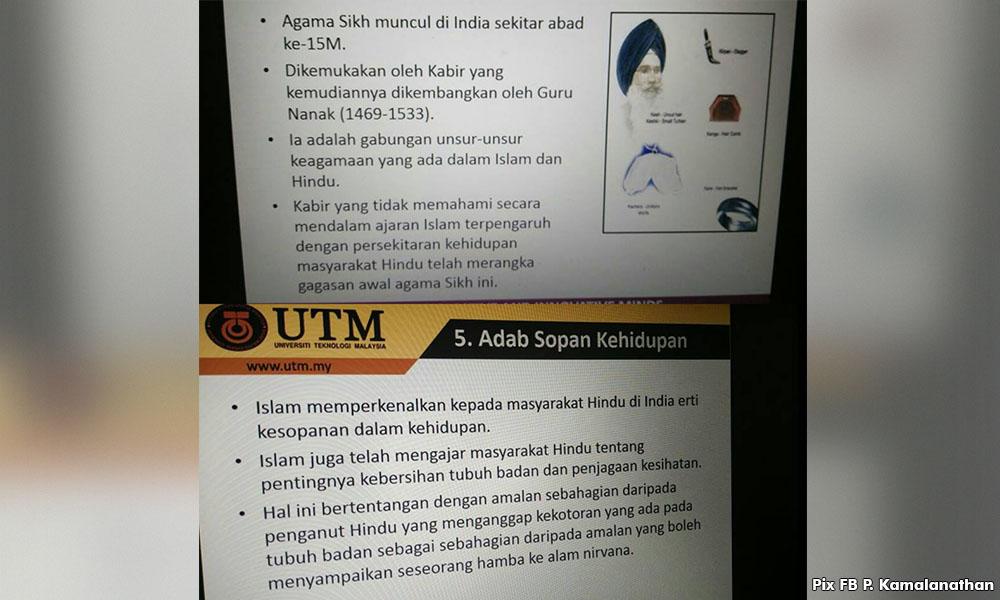 Wahid yesterday chaired a meeting of the Working Committee into the Titas Course Case to discuss the report by the independent committee.
"The committee also recommended that the Titas book published by UTM, which was used as text for the course, be recalled from circulation and this be made known to the public," he said.
Instead, the Titas textbook recognised by the Higher Education Ministry was proposed as the main reference for the process of teaching and assessment, and to use the syllabus and teaching material which are in line with and recognised by the ministry, including the Massive Open Online Courses (MOOC) material.
"All Titas lecturers in UTM must also be sent to attend the Training-of-Trainers course with experts on Indian and Chinese civilisations to understand the teaching of these civilisations," said Wahid.
The committee also proposed that teaching force from various races with expertise in Indian and Chinese civilisations be used to teach Titas in UTM for the relevant subjects.
It also proposed that UTM organises talks on civilisations, including the different religions, inviting religious experts who had conducted intensive research on their religions.
"After accepting the report from the committee, UTM is now in the process of taking action against the lecturer concerned, by following the procedures and regulations in the UTM constitution," Wahid said.
- Bernama