Police have confirmed that there were Islamic State elements involved in the grenade blast at the Movida nightclub in Puchong on June 28.
"Based on our investigations, we found there were indeed IS elements involved in what happened at the Movida café that night," inspector-general of police Khalid Abu Bakar told reporters in Kuala Lumpur.
He also revealed that 15 people had been arrested in connection with terror-related activities. Out of this, two of the suspects were related to the Puchong attack.
"We found that the two of them had received instructions from one of our citizens in Syria, Muhamad Wanndy Muhamad Jedi, who told them to launch attacks in Malaysia against senior government leaders, senior police officers, and judges, because these three obstruct their activities," he said.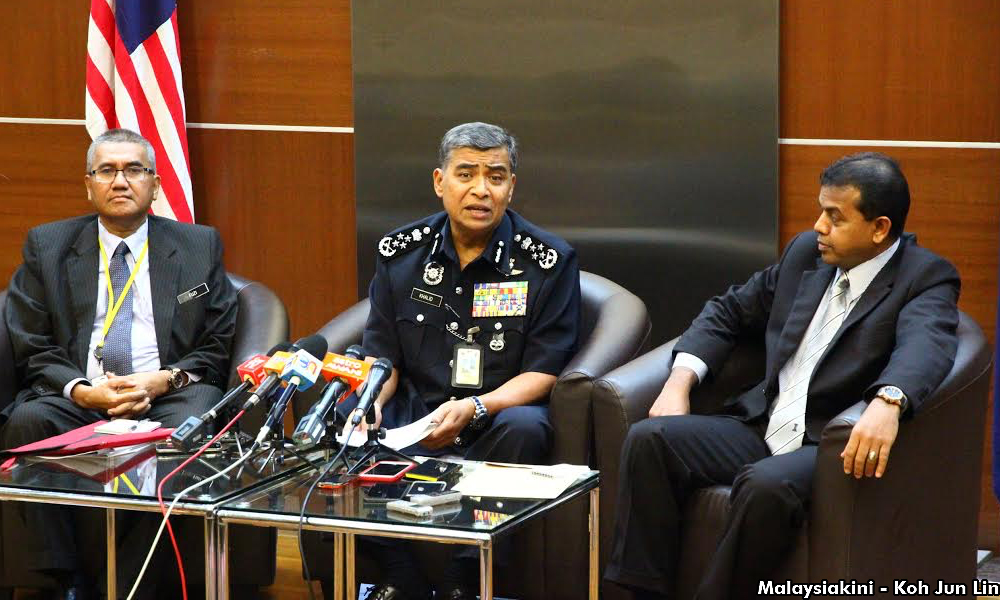 Entertainment centres are also being targeted for purportedly being 'un-Islamic', he said.
The arrest were made between June 28 and July 1 in Kedah, Selangor, Kuala Lumpur, Malacca and Penang. All 15 are being held under the Security Offences (Special Measures) Act 2012 (Sosma).
Two of the arrested were low-ranked police officers, he said. One of them was supposedly plotting robberies in Kuala Lumpur to raise funds for IS cells in Kuala Lumpur.
The other police officer is suspected to have been harbouring a senior IS militant.
The rest were either self-employed or worked in factories. The suspects are all Malaysian citizens, male, and their ages ranged from 19 to 52.
The attack on Movida, which occurred in the wee hours of the morning, left eight people injured. The police had initially ruled out terrorism, saying it could be gang-related.
However, a Facebook user, linked to IS militant Muhamad Wanndy, had posted that the militant group was responsible for the attack.
IS cells
Meanwhile, Khalid also appealed to the public to help provide information on the whereabouts of two other suspects, whose photographs and details were released to the media.
They are Md Saifuddin Muji from Rengit, Johor, and Jasanizam Rosni from Batu Pahat, Johor. The duo are wanted to assist investigations on the Movida attack.
In appealing for public's assistance, Khalid said the arrest of the 15 would not have been possible without information provided by members of the public.
Commenting on the Movida attack, Khalid said the weapon was an old Second World War-era 'mini-grenade' that was used in combat and in training. It is believed to have been brought from a 'neighbouring country'.
However, no firearms or explosives were recovered in the 15 arrests made so far.
"No, but we have found various edged (sharp) weapons, IS flags, balaclavas, and so on," he said when asked.
More arrests are expected to be made soon, he said.
The police are also monitoring several other IS cells operating in Malaysia, whom he said are receiving instructions from Syria via social media.
"There are a few cells that we know of, which receive direct instructions from people in Syria. There are female operatives there who are giving direct instructions here, and there are also male IS members there who are giving instructions – all through social media.
"That is why I made it my focus this year to monitor social media. It is not to go into some private conversation, but to ensure all these (are kept in check)," he said.
Meanwhile, when asked about the terrorist attacks in the Bangladeshi capital of Dhaka last Friday, Khalid confirmed that two of those involved in the attack had studied in a Malaysian private university.
However, he urged reporters not to jump to conclusions, as his Bangladeshi counterparts have yet to determine whether the duo were perpetrators or victims of the attack.
"So please be careful when you report things. You don't simply pick up from social media and report they are the attackers. It is dangerous […]
"Whichever the case, we take this matter seriously. If it is true that they are involved, we have to see if they are radicalised here or somewhere else. So please be patient for now, be careful before you report anything," he said.
He was responding to a report by The Star earlier today claiming that one of the militants involved in the Dhaka attack had previously studied in Monash University's campus in Bandar Sunway, Selangor.
Khalid said he did not believe the former students would have been radicalised here, or that the university is a hotbed of militant activity. However, he maintained that the police would investigate.
The attack at a Dhaka café left about 20 dead, before Bangladeshi police stormed them and rescued the remaining 18 hostages.
Six of the militants were killed in the police assault, while another was captured.