There has been a mixed reaction to the suggestion by inspector-general of police (IGP) Khalid Abu Bakar for state governments to concentrate entertainment outlets in one centralised area.
"We won't feel safe to be in a pub any more. That is the worst idea ever, for it makes us an easier target," said Philomena Morris, 58 (on left in photo), a retired teacher who was on a night out drinking with her friends at a pub at Changkat Bukit Bintang, a popular tourist area in Kuala Lumpur.
South Korean student, Kim In Seong, 25, also disagrees with the IGP's suggestion, for he believes it would be more dangerous.
"I don't think that is a good idea. It will be more dangerous," Kim said.
The IGP's statement came in the light of recent revelations that the grenade attack at the Movida bar at a Puchong mall is the first attack in Malaysia linked to the Islamic State (IS) terrorist group.
"What IS wants is more people dying. When you put them in one place it's easier for them to attack and get more people killed," Mohaned, 29, a tourist, told Malaysiakini.
"Personally I was expecting it to happen for the couple past years. Some day it will happen. We are all the soft target they are looking for," said Terry Netty, 57 (on right in photo), a management consultant.
"I think it is not a good idea to centralise the entertainment area. It is actually saying that you now can't open up pubs in other areas, that you are curbing rights of the others," Netty said.
He believes that such a move would curb the rights of entertainment outlet owners who would wish to open outlets in their areas of choice.
However, student Shamita, 19, from Ampang, expressed agreement with the IGP's suggestion.
'It will be much more safer'
"I think it's a good idea because with all the pubs in one place, he (Khalid) can make the (monitoring) system much better than if the pubs are in different areas," she said.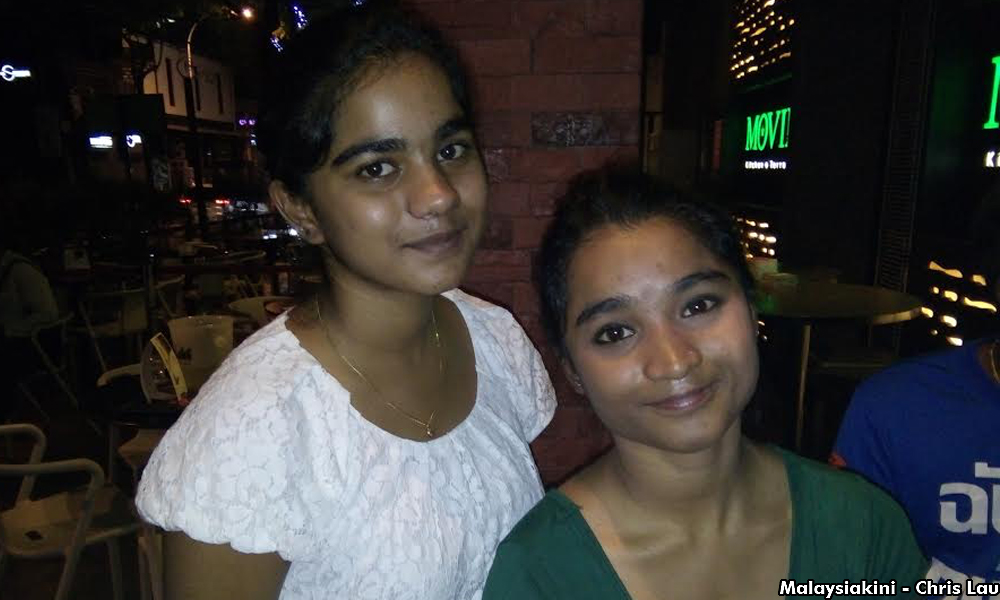 "It will be much safer because all are concentrated in one place. The police can surround the place and they don't need to worry much. People also can surround the area," added Jasintha, 25 (on left in photo), a banker officer from Ipoh, who was with Shamita for a drinking session.
Feelings are also running high among members of the public concerning IS and the perceived threat surrounding the recent attack in Puchong, with some fearing for their safety.
"I don't feel safe anymore," said Selvam Subramaniam, 49, a construction manager who was on a night out with his partner.
On the other hand, certain members of the public are distrustful of the information that the attack was linked to the terrorist group, choosing to believe that it was associated with gangs in Malaysia.
"Yes I don't trust. This is a gangster problem. Because last time in one of the complexes, downstairs in one of the clubs, there was also bombing," added a worker from Movida Changkat, who did not want to be named.
"This was not a deliberate attack, this one is a gangster problem."
Khalid confirmed yesterday that the grenade attack on Movida bar in Puchong on June 28 was masterminded by someone linked to the IS.
In connection with the attack, 15 individuals have been arrested under the Security Offences (Special Measures) Act 2012 (Sosma), with two of them being former low-ranking police personnel.