COMMENT Today, July 12, marks the 21st anniversary of the passing of my father, P Patto.
Twenty-one years have passed and the void left behind hits hard, for not only my mother, my sister and my family but to all his old friends, party cadres, supporters and Malaysians alike, from all walks of life.
It was on a Wednesday morning that he left us so suddenly and the news shook many Malaysian comrades, parliamentarians, statesmen, leaders of nations and also from dear members of civil society.
Condolence messages poured in from all over the world via phone calls, letters, condolence cards, telegrams and bouquets of flowers.
I sat in utter shock over my father, a towering principled man, a giant in defending human rights, a tireless fighter for the oppressed, the marginalised and the down-trodden. A man with a hearty laugh and a huge appetite for living life to the fullest was no more in my life!
No more warm hugs, no more of his comforting reassuring voice, no more "papa". At the tender age of 15 and my sister at 13 - a horrible age to lose one's father.
But what shocked me most was the number of people, thousands of Malaysians from all walks of life, of every skin colour, race and religion, who came to pay their last respects to their comrade and openly cried bitter tears that their good friend, brother, comrade, leader had suddenly left them.
Some scolded him for not taking care of himself and for throwing himself into his work, all for a better Malaysia.
Some, through tears, shared their last moments with him over coffee, over their last banana leaf lunch with him, how they both slept on the floor in an office in Sabah, how he stayed with them in their homes and how he instantly became like family.
I cannot describe the pain I felt at the thought of my life without my knight in shining armour, but I believe with all my heart that, on that day, Malaysians came together as one,
Malaysians put political ideologies aside, race, religion and skin colour to mourn the passing of my father, and Malaysia's loss of a leader who put the people's rights, needs, wants and dreams before his own.
At ease anywhere, with anyone
P Patto was a man who, standing on a table at a coffee shop in Lawan Kuda, Kopisan in Gopeng, rallied a crowd of Chinese and Indian uncles and aunties. I have seen in photos how they clapped and cheered him on as he poked fun at MCA, MIC and Umno leaders and their excessive wealth, abuse of power, corruption and torrential abuse of human rights.
At the same time, I was also amazed to see pictures of my father with leaders and statesmen from international communities in Geneva, boldly speaking on the massive crackdown on the freedom of speech, assembly, press and religion at home.
(On one occasion, my father was greeted by Special Branch officers upon arrival in a European country, only to be bundled back on the next flight back to Malaysia.)
I have heard numerous, wonderful stories from Islamic religious leaders on how my father had the highest respect for people of all ethnicities, and had embraced the diversity of these cultures.
One fondly shared with me that when my father tapped his forehead lightly, as would any Malay person, it indicated bad news. They were surprised that an Indian man from a party that was poisonously painted as being anti-Malay and anti-Islam, portrayed respect, solidarity and togetherness with his Malay friends, comrades and supporters.
He spoke near perfect Cantonese, Mandarin and Hokkien and these peppered his fiery speeches on the decay and rot of leadership by Umno/BN under the fourth prime minister at that time.
Fishermen, farmers, teachers and businessmen alike would travel far just to attend his rallies.
He opened the eyes of the Indian communities in Malaysia who idolised the then-president of MIC.
He showed them the gross mismanagement of the people's money - poor people's money in the mammoth Maika scandal of the MIC, for which justice has yet to see the light of day.
He was truly a Malaysian leader.
Can anyone speak like P Patto?
My father served 18 months - 60 days of solitary confinement in the Perak police headquarters in Ipoh and the remaining 16 months in Kem Tahanan Perlindungan Kamunting in Taiping - under the Internal Security Act.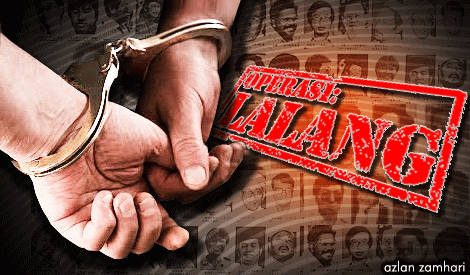 He was caught in the 'Operasi Lalang' dragnet in 1987 - not for theft, robbery, murder or for any abuse of public funds or abuse of power when he was state assemblyperson and Member of Parliament, but for doctored, false and malicious claims, concocted by the then-prime minister and home minister Dr Mahathir Mohamad, that he, alongside many other leaders, were threats to national security.
He gave up 18 months of his life behind bars, away from his wife and two daughters, away from his whole family, away from his party cadres, comrades, friends and supporters, all for valiantly fighting for his rights, for following his conscience and principles and for fighting for a Malaysian Malaysia where every Malaysian, regardless of skin colour, race, religion, gender, language, age and political ideology, is treated equally and with respect under the Malaysian sun.
Fast forward to 2013, during my campaign in the 13th general election when I contested in Batu Kawan, Penang, many of my father's dear friends, Malays, Indians, Chinese, Sikhs, men and women, came forward with tears in their eyes that they were so happy to see the name 'Patto' re-emerge after such a long time.
They embraced me and longingly said they wished that my father were around today, in this time, in such a tumultuous political climate.
They chuckled, imagining the kind of insults, jokes and most importantly, the intelligent arguments that would rain down on BN in the state assembly sittings and in the Dewan Rakyat.
His legacy extends to me. I have been asked: "Can you speak like your father?"
I humbly reply: "Can anyone speak like P Patto?"
My father would have wanted a Malaysian Malaysia that is free from racism, bigotry, corruption, scandals, inequality and cruelty.
One may call him an idealist, but I would rather follow the dreams of an idealist to strive relentlessly to achieve what I can, than be a pessimist who scoffs at idealism. He hated race-based political parties and hated more the venom such parties spew.
P Patto would want Malaysians alike, from all walks of life, to come together, without fear or favour to reject and to continuously fight a government built upon the foundation of tyranny, injustice, hatred, discrimination and favouritism.
He died doing what he dedicated his life for. A Malaysian Malaysia, for our children, so that they, with their heads held high, can live together with dignity, love and courage.
Malaysia mourns your passing today, dear Papa.
Till we meet again, dear Papa. Sorely missed, but never forgotten.
---
KASTHURI PATTO is DAP's Batu Kawan MP. Her father, P Patto served as Gopeng assemblyperson, Menglembu MP and Bagan MP. He died of a heart attack on July 12, 1995.