The wife of former PetroSaudi International employee Xavier Andre Justo has been reported claiming she believes he had been tricked into confessing his crimes by his former colleagues, in an attempt to protect themselves and their associates.
In a lengthy exposé by UK's The Guardian, Laura Justo reportedly said that after her husband was arrested for allegedly attempting to blackmail his former employer in Bangkok June last year, he was visited by his former colleague Patrick Mahony, a director who handled PetroSaudi's business affairs.
"Laura says that Mahony offered Justo a deal: confess and plead guilty, and PetroSaudi will get you out of here by the end of the year.
"Justo reluctantly agreed. He signed a confession – without a lawyer present – which claimed that he had attempted to blackmail his former employers, and apologised to Mahony and (PetroSaudi chief executive officer Tarek) Obaid 'for the harm stress and anxiety I caused them'.
"According to Laura, a man who claimed to be a Scotland Yard detective – and later told her he had been hired by PetroSaudi – took down Justo's confession," reported The Guardian today in its feature story '1MDB: The inside story of the world's biggest financial scandal'.
However, Laura grew increasingly suspicious of the contacts at PetroSaudi when it became clear her husband would not be out of jail by the end of 2015.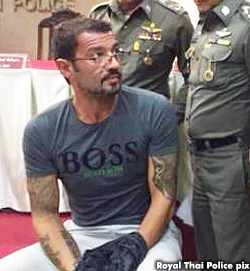 Instead, things seemed to be getting worse for Justo after he was sentenced to three years in a Thai jail on Aug 17, 2015, with The Guardian saying he was now sleeping on a thin blanket after his mattress was withdrawn a few months after he arrived, as was his exercise hour.
"Laura came to believe that Justo was a victim of a deceit by his former friends, who tricked him into confessing and handing over copies of PetroSaudi's servers, in an attempt to protect themselves and their Malaysian associates by burying the case.
"In May 2016, in a last-gasp effort to save her husband, Laura turned to the one person who she knew Justo trusted: (Sarawak Report editor Clare) Rewcastle- Brown, who brought her to The Guardian," reported the news daily today.
Justo was one of the first individuals early during the 1MDB scandal who had emerged to discredit allegations related to the sovereign fund scandal.
Justo claims framed
According to the report, Laura has also handed over notes smuggled out of prison in which Justo says he has been framed.
She also believes that Mahony has controlled her husband's life behind bars, deciding how comfortable his living conditions would be and his permitted visitors.
The Guardian noted that foreign prisoners have a list posted outside the prison of permitted visitors, and on it Mahony is listed as number two while Laura is number five.
Laura told the British daily that she has e-mails, WhatsApp messages and recordings of phone calls from last year that suggest that Mahony is under increasing pressure from "a powerful person on the one hand, and from US and Swiss investigators combing through 1MDB's deals, on the other".
In one particular recorded conversation with Laura in November 2015, Mahony supposedly referred obliquely to the powerful person whom he claimed could help reduce Justo's sentence.
"I told you the other evening, who the ultimate person is controlling this, and I am due to have another meeting with him soon…
"This guy is still stressed because it's his political career on the line. He's in deep shit and that's all he cares about, nothing else," The Guardian quoted Mahony saying in the recording.
Told to denounce
When Laura asked Mahony what she should tell her husband, he said, "The only way that you can show that you're on his side - to be a team player - is if you're ready to put yourself out in the media. You are ready to denounce all the people who are conspiring against him… I am not going to lie to you… You can help the situation or you cannot help the situation."
He snapped when Laura questioned him about Justo's promised release by the end of the year: "I'm still dealing with this shit every day. You need to remember we are all in the shit."
In another phone call in December, Mahony admitted he had been to the US, where "the FBI is looking at all this shit" and that he had also been pulled in by the Swiss Attorney-General's Office.
The Guardian noted that Mahony has not been interviewed by US or Swiss authorities.
They also reported that PetroSaudi has responded to them maintaining Justo had "illegally obtained commercially sensitive, confidential and private documentation" and was in prison for "blackmail and extortion".
Laura said Justo has not seen their son since the latter was eight months old.
"I only want justice to be done. Xavier was no thief, he was only asking for what he had been promised.
"Even through this darkest and most difficult time of his life, which is right now, he writes to me that he is keeping strong for our son and I – that he will fight for us whatever it takes," Laura told The Guardian in an e-mail.
Justo unhappy with PetroSaudi
The article also detailed Justo's grouses with the company, after he had been persuaded by Obaid, a good friend of his, to join PetroSaudi with the temptation of a well-paid 'adventure'.
"According to Justo, Obaid promised him a salary of £400,000, 'millions in bonuses' and the perk of a £10,000-a-week flat in Mayfair, central London," The Guardian said, adding that Justo was kept out of the "lucrative Asian business" and tasked with launching a new operation in Venezuela instead.
However, Justo soon grew disillusioned with working at PetroSaudi, with Laura saying it started when he discovered his salary payments were only about half of what Obaid had offered him.
It only became worse when he learned that the promised multimillion bonus would be much less; dropping to six figures instead of seven.
He also complained to Laura that he was often paid late and sometimes not at all, and claimed that he ended up paying rent on the flat in Mayfair that was supposed to be covered by PetroSaudi.
Laura said that Justo first thought these were just mishaps and poor corporate bookkeeping, nothing malicious, but he began telling friends that Obaid had become "arrogant" after striking it rich and that he had become irrational and displayed "uncontrollable" rage.
"Justo and Obaid's long friendship, stretched to breaking point over 12 months of highly charged corporate life, finally snapped.
"At the end of 2010, Justo missed a flight for an important meeting. He apologised to Obaid, but according to Justo, his friend 'went mad', sending him a stream of abuse, via text messages and e-mails," said The Guardian.
Claims Justo shortchanged
Justo decided to resign in March 2011 and was called "arrogant" and a "smart ass" by Obaid in the angry e-mail exchanges that followed.
The Guardian said things came to a head in April, when Justo and Mahony were discussing the terms of his departure.
Justo said Mahony had agreed to pay him about 6.5 million Swiss francs in severance, but in the midst of the conversation, Obaid had contacted Mahony and told him to settle on 5 million Swiss francs.
"Justo, who had poured his heart out to Mahony, telling him he was at his 'lowest point emotionally', shed tears.
"A day later, Justo claims that he was told his severance package would, in fact, be 4 million Swiss francs," The Guardian reported.
This was when Justo took a copy of the data on the PetroSaudi servers, said the daily, adding that in September 2013, Justo e-mailed Mahony insisting that he be paid what he was owed and warning that he had a file of information on PetroSaudi.
The Guardian reported that "in the furious exchanges that followed, Mahony accused Justo of blackmail. Mahony presciently told his former colleague: 'What troubles me so much is the way in which I see this situation ending – with the destruction of you.'"
Justo was reported last year to have provided the documents behind the leaks that led to claims of the misappropriation of billions of ringgit from 1MDB, the Finance Ministry sovereign fund that is Prime Minister Najib Abdul Razak's brainchild.
The Swiss purportedly stole the information from PetroSaudi and he is now serving a three-year jail term in Thailand for attempted extortion and blackmail of his former employer.