Jailed PKR de facto leader Anwar Ibrahim's second daughter, Nurul Nuha, has urged former premier Dr Mahathir Mohamad to make a public apology and admit his past transgressions against her father.
The Malay Mail Online today quoted Nurul Nuha as saying that Mahathir must own up to the "trumped-up" sodomy and corruption charges against Anwar back in 1998 before even thinking about forming any alliance with PKR via his newly formed Parti Pribumi Bersatu Malaysia.
"As a daughter who has witnessed the countless torments my father went through the past 18 years, my personal wish would be for Dr M to publicly apologise and admit the trumped up charges.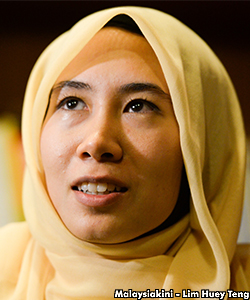 "I think that would alleviate some of the hardships we went through as a family. It's not supposed to get easier, but you just need to get stronger," said Nurul Nuha (photo) who is coordinating the family's campaign to free Anwar.
This followed Mahathir's appearance in court on Sept 5 to support Anwar's bid to challenge the National Security Council Act 2016.
Both leaders, however, have remained coy on whether or not the move will lead to a new cooperation after Mahathir had fired Anwar as deputy prime minister on Sept 2, 1998.
Anwar was later imprisoned for sodomy and corruption, which his family maintained were politically motivated charges.
"I echo my father's sentiment, forgive but we don't forget," Nurul Nuha reportedly said, adding that the family however will respect any decision Anwar makes as to his relationship with Mahathir now.
"As I said, for me, Dr Mahathir coming to court is a clear gesture admitting his guilt in the conspiracy and it's a good start.
"However, we will stand behind our father with the decision he makes," she added.
After his father visited Anwar in court, former Kedah menteri besar Mukhriz Mahathir had said that Anwar's endorsement will pave the way for collaboration between PKR and Bersatu.
Mukhriz is now Bersatu's vice-president while Mahathir is the chairperson.