The red shirts and yellow-clad Bersih supporters physically clashed for the first time in Teluk Intan today, after red shirt leader Jamal Md Yunos tried to grab a banner from Bersih participants whom he confronted.
Nearing the end of day one of Bersih's seven-week convoy, participants travelling from Lumut to Teluk Intan were blocked from their final destination, the town's famed Menara Condong, by a group of red shirts led by Jamal.
Bersih steering committee member Jay Jay Denis, who was there, said their participants tried to reason with Jamal, as they only wanted to head to Menara Condong to distribute leaflets and hold their torch-passing ceremony.
However, he said, Jamal refused to budge and suddenly tried to yank the banner being carried by three of Bersih's participants.
"He landed a blow on the guy in the centre and then there was pushing and shoving," he told Malaysiakini when contacted today.
A few of their participants were hurt during the scuffle, he said, but added that no one suffered any serious injuries.
About 60 red shirts supporters and 50 Bersih participants were there, he said.
Bersih secretariat manager Mandeep Singh said their participants immediately backed off when the fight started because they wanted to remain peaceful.
In a video posted on Bersih's Facebook page, the police, who had been on standby, could be seen moving in between the two groups to de-escalate the situation.
The Light Strike Force riot police were also seen present at the location.
Pasir Bedamar assemblyperson Terence Naidu, who was part of the Bersih convoy, said he had also been shoved in the incident.
"They just refused to let us pass through," he said, adding that the confrontation only stopped when the police intervened.
"I would say that I am very happy with the discipline showed by the people in Bersih.
"We have exercised our constitutional rights, instead we were met by provocation which we did not retaliate with similar provocation," he told Malaysiakini.
Changkat Jong assemblyperson Mohd Azhar Jamaluddin was also purportedly present at the confrontation though he did not get caught up in the scuffle.
After that incident, the Bersih convoy moved to Amanah's office in Teluk Intan and had their torch-passing ceremony there, said Mandeep.
He added that despite Jamal's attempts to disrupt their convoy, they succeeded in bringing their message from Lumut to Teluk Intan.
"Despite whatever violence, I think he has failed to stop us," he said.
This was the second incident between the red shirts and the Bersih convoy travelling from Lumut, as earlier they were accosted by some red shirts on 30 to 40 motorcycles.
The gang of red shirts were said to have tailed the convoy, pulling flags from convoy vehicles, kicking the cars and punching their vehicles' side mirrors.
Calm in Perlis
In contrast, former Umno man Khairuddin Abu Hassan, who was with the Bersih convoy in Perlis, said they had a peaceful meeting with a group of red shirts while in Arau.
"There were a group of red shirts, about 40 of them, and (Minister in the Prime Minister's Department) Shahidan Kassim was there with them.
"In fact, he came to us and even shook hands with us, and he jokingly said, 'Once you all get out of here, please don't come back," Khairuddin told Malaysiakini.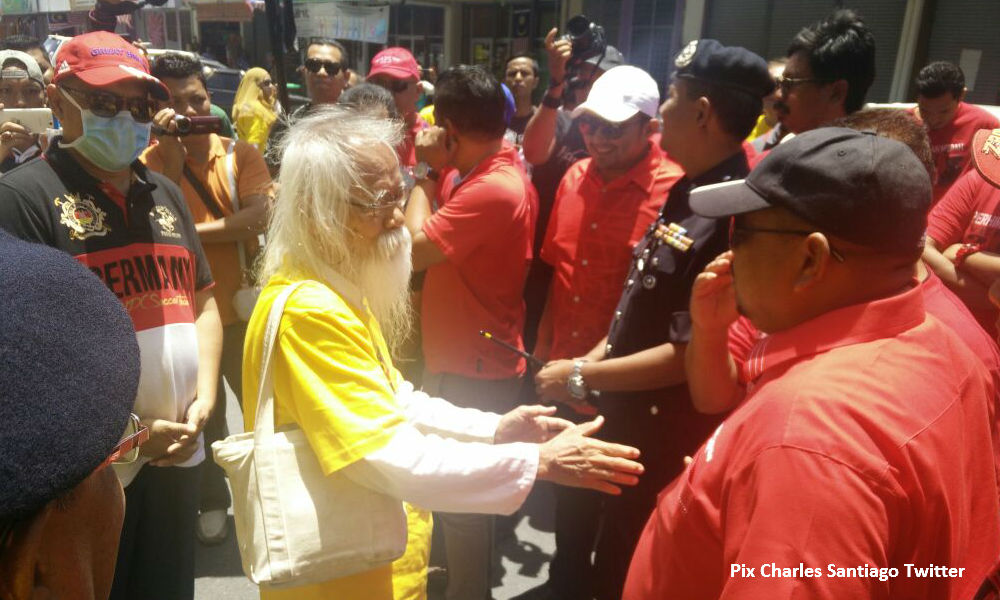 In Padang Besar, Perlis, national laureate A Samad Said, who was also part of the Bersih convoy, was seen shaking hands with several red shirts' supporters.
Bersih's seven-week convoy was launched simultaneously today from six locations.
The seven-week convoy will make its way across 246 cities, towns and villages, with various activities being held at the areas they pass along the way.
The goal, according to Bersih, is to strike up a national conversation on issues linked to state-investor 1MDB and calls for the removal of Najib.
In the style of the Olympics, a symbolic torch would be brought along by the convoy, before they assemble on Nov 19 for the final Bersih 5 rally in Kuala Lumpur.
Jamal had announced that the red shirts would hold a protest at each of the six locations to counter the launching of the convoys, as well as one more in Penang to protest against its Chief Minister Lim Guan Eng.