MP SPEAKS I refer to media reports based on statements made by Gerakan leaders on the state of the Penang economy.
Specifically, I want to refer to statements by Gerakan secretary-general Liang Teck Meng and the Penang BN chief who is also from Gerakan, Teng Chang Yeow.
Workers in Penang are earning better salaries than workers in most states in Malaysia.
My colleagues have shown how Penang's gross domestic product (GDP) per capita, as well as the state's growth rate, are some of the highest in the country.
In terms of salaries, Penang definitely fares better than most states in Malaysia. If we look at Department of Statistics data, barring the Federal Territories, Penang's median salaries is ranked No 4 among the states.
Sadly, at least eight out of 13 states, all ruled by BN except Kelantan, have median salaries below the national median of RM1,600.
Liang asked Penang to learn economics from Rahman Dahlan, an MP and a minister from Sabah.
If only Liang has read the various economic data, he would have realised that Sabah not only has one of the lowest GDP in the country, but also workers in Sabah have the lowest median salary in the whole of Malaysia. Half of Sabah workers earn below RM1,100 a month.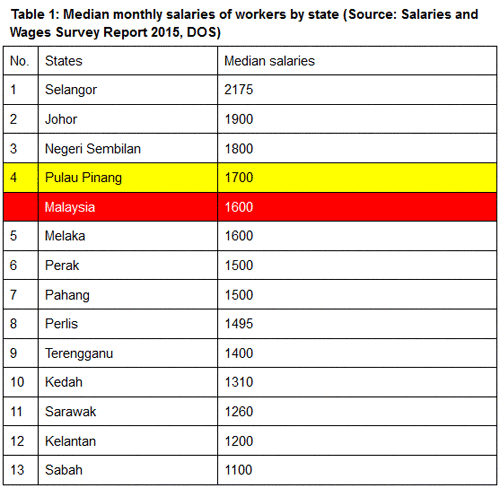 Penang contributed more than 30 percent to national trade but only receives 0.07 percent of the national budget in return.
In their eagerness to attack the Penang government through lies and manipulation of statistical data, Gerakan and BN missed an important point: while there is growth nationally and in every state each year, distribution of wealth is very poor.
Case in point is that the median salary in the Federal Territory of Putrajaya is RM2,967, higher than all the 13 states in Malaysia and more than double that of Sabah, Kelantan, Sarawak, Kedah and Terengganu.
Growth is linked to many factors, including government spending. Unequal spending, unfair allocation of resources, and of course, corruption, all lead to imbalanced development throughout the whole country.
This is the problem facing our country. Between 2009-2013, the federal government on average allocated a total of only 2.4 percent of its budget to be shared among 13 states.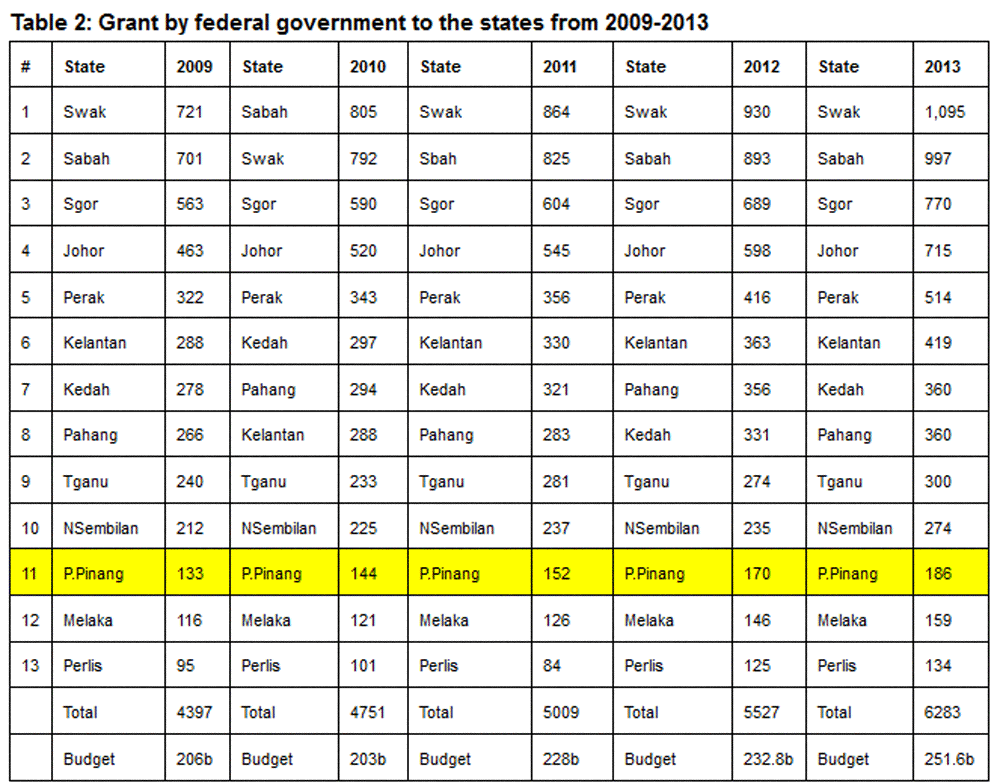 Out of this meagre sum, Penang received a mere three percent of that share, the third smallest amount among all the states in Malaysia.
In other words, while Penang contributed to more than 30 percent in terms of balance of trade nationally, we receive 0.07 percent out of the federal budget each year.
For Penang, a land-scarce state without natural resources, and with very little federal support, it is already an economic miracle we can survive much less thrive like what we are doing today.
Federal gov't dishonouring our federalism by starving the 13 states of resources
It is time for the federal government to honour our federalism and return what is rightful to the state governments.
From the patterns of the annual allocations shown in the table above, it is obvious that the federal government is hoarding almost 98 percent of the resources in the country. By hoarding resources, the federal government is not only starving all the 13 states, but also effectively exerting extra-constitutional control on state governments.
State governments are expected to develop their respective states with very little power to raise revenue, and meagre allocations from the federal government.
Development, consumption, business and commercial activities all take place within the boundaries of the state. State and local governments play a major role in ensuring local conditions are optimal for such activities including provision and maintenance of critical infrastructure and public services.
Since April 2015, the federal government is also collecting the Goods and Services Tax (GST), once again on consumption activities taking place within state boundaries.
The federation must thus work out a statutory formula to distribute revenue fairly between the federal and state governments and among the state governments.
Sarawak, which contributes 10 percent of national GDP, only receives about 0.4 percent out of the national budget. And poor states such as Sarawak, Sabah, Kelantan should be given special federal grant to enable them to catch up on development. Other states such as Penang, Selangor, Johor should be given a greater share of the federal revenue to reflect their contributions to the country's economy as well as for the states to properly manage their respective developments.
In short, an equitable formula should be worked out between the federal and state governments and this formula should be set to law to ensure it is committed to by any federal or state regime.
---
STEVEN SIM CHEE KEONG is the MP for Bukit Mertajam and a director of the Penang Institute.