COMMENT Regarded as the Fourth Estate, the media in a democratic society is often seen as the arm that wields the sword, standing guard over public interest against malpractices and abuses by the rich and the powerful.
From the time of its inception 17 years ago, Malaysiakini's mission has been to play this role.
Due to strict laws and regulations governing the media, which made it next to impossible to disseminate views apart from the official narrative, the journalists and editors of Malaysiakini took to the cyberspace.
Since then, we have provided Malaysians with news and views - much of which don't see the light of day elsewhere - garnering both bouquets and brickbats.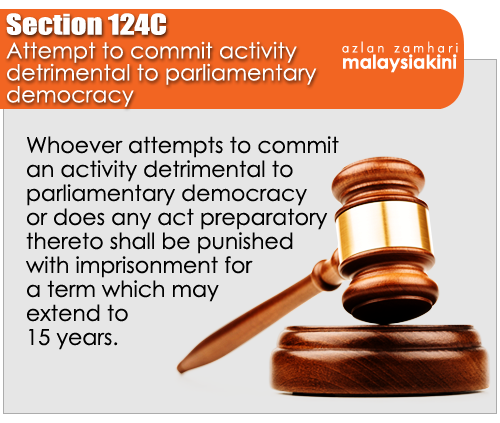 Malaysiakini is now being investigated by the police for allegedly attempting to carry out "activities detrimental to parliamentary democracy". We are flabbergasted by this outrageous accusation. How can fact-based news reporting tantamount to an attempt to derail our democratic tenets?
We have never incited the public to topple the government through undemocratic means. As for street rallies, Malaysiakini has published the views of both groups - those who support and object to civil disobedience. Indeed, the news portal encourages debates and the contestation of ideas.
And if Malaysians, upon reading the articles in the news portal decide to topple the government through the ballot box, or keep the opposition from inhabiting the corridors of power, well, that is the essence of democracy, is it not?
Rather than being a threat to parliamentary democracy, Malaysiakini is more often considered by certain quarters to be a threat to their respective political interests, and this is on both sides of the political divide.
Take for example, Sungai Besar Umno chief Jamal Md Yunos, who yesterday vowed to "destroy" the Malaysiakini building.
Jamal came to our office in Petaling Jaya with about 100 red-shirt supporters in tow, demanding answers over a grant the news portal received from Open Society Foundations (OSF), which is linked to American billionaire George Soros.
He and his entourage stood outside the gate of the Malaysiakini building. When we met Jamal, he requested entry and we responded that we would allow a group of five people.
Expecting us to reject his request, he was apparently taken aback. He then demanded a delegation of 15 people instead, but we eventually knocked it down to 10.
In the process, we showed him that despite his vile and loathsome comments and his many offensive and despicable threats, we can agree to disagree. We showed him that we cherish the little democracy we have and it is only through it that we can resolve the many complex problems afflicting our nation. And that, notwithstanding our differences, we are all Malaysians.
We cannot, and must not, allow those in power to dictate the definition of parliamentary democracy and decide what is considered detrimental to it.
Despite the harassment and intimidation, Malaysiakini will continue to report the news and views that matter. Let's make this loud and clear - we will not waver from our mission to tell truth to power and to hold power to account. Not then, not now, not ever.
This is, after all, the sacred duty of journalists everywhere. And it is certainly not an activity detrimental to parliamentary democracy.