The Malaysian military official who defecated outside a the home of a Wellington woman and was convicted of indecently assaulting her has been removed from New Zealand.
Muhammad Rizalman Ismail, 39, had pleaded guilty to the charge in December last year after following Tania Billingsley to her home in the Wellington suburb of Brooklyn on May 10, 2014.
Police confirmed yesterday that Rizalman was escorted by two New Zealand police officers from Wellington to Kuala Lumpur after serving a sentence of nine months in home detention.
A spokesperson for Justice Minister Amy Adams said the minister had issued a removal order for Rizalman under the Extradition Act.
He was charged and left New Zealand soon after the 2014 incident, in the belief that this was done so with the New Zealand government's blessing.
His departure to Malaysia caused a public outcry. An extradition request was made, and he was returned to face trial in New Zealand.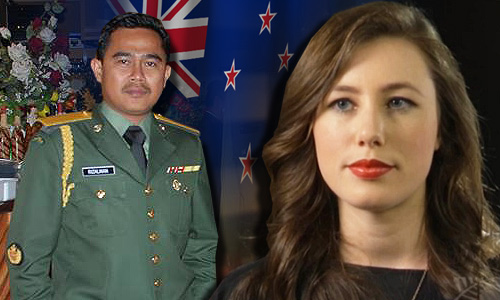 In November last year, the father-of-three pleaded guilty to one charge of indecently assaulting Billingsley in her home.
The court heard that Billingsley had looked up and saw him wearing only a shirt and naked from the waist down. She screamed at him to leave. Rizalman put his hands on her shoulders but she managed to push him into the living room and then out of the flat.
She then locked herself in the bathroom and called police. A flatmate's boyfriend arrived at her home and challenged Rizalman, who was still outside the front door.
Rizalman began walking away but was stopped down the road by the police.
He was returned after extradition hearings were filed in Malaysia.
At the time of the attack he had been working at the Malaysian High Commission as a staff assistant to the Malaysian defence adviser.
Billingsley waived her right to cite suppression.
Two other charges of assault with intent to commit sexual violation and burglary were discharged.
Rizalman had used synthetic cannabis - still legal in New Zealand at the time - and misinterpreted the look on Billingsley's face when he saw her at a suburban shopping centre, the judge said.
Justice Collins found that Rizalman was not intending to sexually violate Billingsley but had hoped she would consent to a sexual encounter.
He later appealed against his sentence on grounds that the penalty was "erroneous" and a different sentence should have been imposed. The appeal was abandoned in April this year.
A document filed with the Court of Appeal said Rizalman disputed the finding that he had a sexual motive when he followed Billingsley to her home in May 2014, and entered her bedroom without his trousers.
Although he pleaded guilty to indecent assault, Rizalman said he only touched Billingsley's shoulder. But Justice David Collins said it was Rizalman's state of undress that made the incident indecent.
Pants down
During a disputed-facts hearing, Rizalman gave his side of the story.
He told the judge that he had only wanted to be friends with Billingsley and talk to her about his problems but accepted he had gone into the house without any trousers or underpants.
Rizalman admitted to crown prosecutor Grant Burston that he believed in black magic and knew of a spell about having a woman fall in love with him if he defecated outside her house.
He also said he thought that a superior officer had put a spell on him.
Rizalman agreed he had not told police, or others, about pooing outside the house because he was too embarrassed.
"So the only time you have had an emergency defecation just happens to be in those 30-40 minutes waiting outside this young woman's house?" Burston asked.
"Yes," Rizalman said.
Burston said: "It was the reason you took off your belt and lowered your trousers and underpants outside this young woman's front door on the patio.
"It was more about black magic than about having to go to the toilet in an emergency."
Rizalman said no, but agreed he had bought synthetic cannabis from a Cuba St shop the week before and followed another woman the day before, as well as going to Mermaids Bar.
He told Burston that Billingsley had given him a signal and wanted to befriend him, which was why he had followed her home.
In Malaysian culture if a woman smiles at you, Rizalman said, it meant that she wanted to get to know you better.
- Stuff