Malaysiakini's sister company KiniTV and its two directors are to be charged in the Special Cyber Court in Kuala Lumpur tomorrow.
This is for uploading two videos that are "offensive in nature with intent to annoy another person" on July 27.
The videos - one in Bahasa Malaysia and one in English - feature former Batu Kawan Umno division vice-chief Khairuddin Abu Hassan holding a press conference, in which he urged attorney-general Mohd Apandi Ali's resignation.
This comes a week after the Malaysian Communications and Multimedia Commission (MCMC) raided Malaysiakini's office and confiscated two computers to facilitate investigations on the video.
"(The video) was watched by Azlin Sabtu on Aug 2 at about 10am at the Attorney-General's Chambers, Persiaran Perdana, Presint 4, 62100 Putrajaya, and by that you have committed an offence under Section 233(1)(a) of the Communications and Multimedia Act 1998 (CMA)... " reads the charge sheet for KiniTV Sdn Bhd.
The provision criminalises the deliberate and improper use of network facilities for communications that are deemed offensive, false or obscene, among others.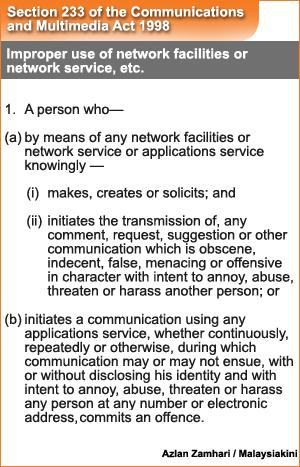 The offence is punishable with a fine not exceeding RM50,000, or by imprisonment not exceeding one year, or both. An additional fine of RM1,000 per day is also imposed for each day the offence is continued upon conviction.
Meanwhile, KiniTV directors Steven Gan and Premesh Chandran will be charged under Section 244(1) of the CMA, which carries the same penalty upon conviction.
Section 244(1) holds directors and other senior officers of a company liable for offences committed by the company that is punishable under the CMA.
This is unless they can prove that the offence was committed without their knowledge or consent, or they have taken all reasonable precautions to prevent the commission of the offence.
Six writs of summonses were delivered to Malaysiakini's office in Petaling Jaya about 4.30pm today and were received by Gan on behalf of himself, Premesh and KiniTV.
They are ordered to appear in the Special Cyber Court in Kuala Lumpur at 8.30am tomorrow.
The Special Cyber Court began its operations on Sept 1. It is the first of its kind in Malaysia and was specifically set up to handle cyber crimes.
Meanwhile, in an announcement in the Malaysiakini newsroom later, Gan - who is also the news portal's editor-in-chief - vowed to challenge the charges in court.
"We have been investigated many times over the past years, but this is the first time we are being charged.
"We shall defend ourselves vigorously and prove in court that by covering the press conference, we did not commit any crime but were merely doing our job as journalists," Gan told the staff present.