With the spotlight now on foreign funding, former Bar Council president Ambiga Sreenevasan has demanded Deputy Home Minister Nur Jazlan Mohamed to provide an explanation on the RM2.6 billion donation issue.
Speaking to Malaysiakini, Ambiga said it was outrageous that NGOs are being hounded over their funding when there is an admission that the RM2.6 billion in Prime Minister Najib Abdul Razak's accounts was used for the last general election.
"If anything, this is the direct interference in our parliamentary democracy, not the work of NGOs fighting for our democratic institutions.
"The deputy minister owes the public an explanation as to why this RM2.6 billion is not being investigated as an activity detrimental to parliamentary democracy under Section 124C of the Penal Code since, there is a spotlight on foreign funding," Ambiga added.
Electoral reform group Bersih, the Bar Council and Malaysiakini are being investigated under Section 124C over reports of funding from Open Society Foundations, which is linked to American billionaire George Soros.
On Nov 18, Bersih chairperson Maria Chin Abdullah was detained for 10 days under the Security Offences (Special Measures) Act 2012.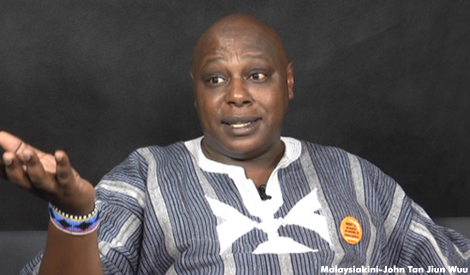 Ambiga also criticised Nur Jazlan for his comments on United Nations representative Maina Kiai (photo), whom the deputy minister accused of interfering in Malaysian affairs.
"This guy, who is not Malaysian and works for a foreign organisation, comes here and tells the people to demonstrate and criticise the government. He is interfering in Malaysia.
"His action gives reason for the police to investigate groups or NGOs that receive foreign funding to check whether there is foreign interference," Nur Jazlan told Malaysiakini.
However, Ambiga described Nur Jazlan's remarks as "ill advised, if not rude".
"This 'guy' he refers to is a respected UN rapporteur on freedom of assembly and given that Malaysia is a member, the comment does not speak well of Malaysia.
"The deputy minister would do well to remember that we were twice members of the human rights council and we are on the UN Security Council now.
"He should also read Malaysia's Aide Memoire seeking membership of the human rights council that reflects Malaysia's commitment to the Federal Constitution and fundamental liberties. This comment is an embarrassment to Malaysia," Ambiga said.
During a lecture in Kuala Lumpur yesterday, Kiai called for a common standard in dealing with foreign funding, questioning among others, the dangers of receiving funds from Saudi princes and whether these donors were influencing the recipients.
The RM2.6 billion in Najib's accounts was described as a donation from a Saudi royalty to the prime minister with no strings attached, though his critics like Dr Mahathir Mohamad insist that the sum originated from 1MDB.
Najib has denied abusing public funds for personal gain and blamed such allegations on Mahathir and those conspiring to topple him from power.
Attorney-general Mohamed Apandi Ali also cleared the prime minister, and revealed that of the US$681 million received, US$620 was "returned" to the donor.
In its suit on the alleged abuse of 1MDB funds, the US Department of Justice (DOJ) claimed US$731 million flowed into the accounts of an individual it named as "Malaysian Official 1" or MO1.
Minister in the Prime Minister's Department Abdul Rahman Dahlan confirmed that MO1 is Najib, but claimed that since the documents did not name the prime minister, he was not part of the investigation.
The DOJ in its lawsuit named four individuals, including Najib's stepson Riza Aziz and Malaysian-born businessman Jho Low, who is said to be a close to the prime minister's family.