LIVE REPORTS | PAS president Abdul Hadi Awang's motion to amend the Syariah Courts (Criminal Jurisdiction) Act (Act 355) has made it to the Dewan Rakyat floor.
The bill seeks to raise the punishment cap for syariah offences.
Following this, it will depend on whether the speaker Pandikar Amin Mulia will allow a debate, and subsequent vote, or defer this to the next sitting in July.
Malaysiakini brings to you the debate live.
---
4pm: Shouts of "takut" (afraid) come from the opposition as they protest not being able to address the act.
Pandikar maintains his stance and leaves the House.
Khalid Samad repeatedly shouts "Islam bukan macam ni" (This is not how Islam is).
The Dewan Rakyat sitting is officially over, and the television feed has been muted.
The next parliament session is on July 24.
'If you don't use your power you're a bloody fool'
3.55pm: Takiyuddin finally ends his support speech after one and a half hours.
Pandikar then addresses the House and rules that the debate on Act 355 will be held in the next sitting.
"Someone once said if you are in power you are powerful. If you don't use your power you are a bloody fool.
"Today I don't want to be a bloody fool, I want to exercise my authority, and rule that the debate will be held in the next parliament meeting," he says.
This causes chaos to erupt in the house.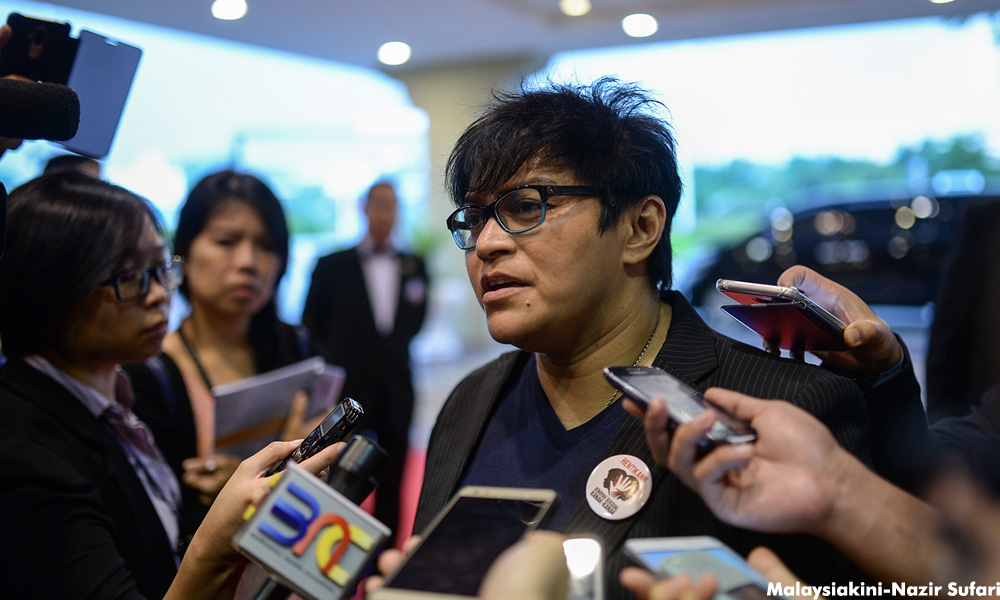 Amid the chaos Azalina Othman Said (photo) then moves a motion to end the parliament sitting early.
3.50pm: State can opt not to enforce amendments to Act 355, Takiyuddin says.
"If Penang doesn't want to implement the amendments, that is fine, they can use three (years' jail), five (thousand ringgit fine) and six (strokes of the cane).
"If Sarawak doesn't want to implement it, that is fine. This is optional, not mandatory," he says.
Act 355 if amended, will only set the limit for punishment which syariah courts can dish out.
However it is up to individual states to amend their respective Islamic state laws whether they want to increase punishments to the limits defined by the amendments.
3.40pm: Takiyuddin reiterates that the Act 355 amendments have nothing to do with hudud.
"Whether it is hudud or not, it has nothing to do with non-Muslims, they've nothing to worry about," Takiyuddin adds.
He adds that even in Kelantan's hudud enactment, it clearly stated that the law does not apply to non-Muslims.

3.35pm: Takiyuddin says punishment meted out under the new amendments will be dealt accordingly.
"Minor offences, they won't get fined RM100,000, major offences (the judge) will put a RM100,000 fine.
"Same as caning. 100 strokes sounds like a lot, but 100 strokes of the cane (under syariah law) is lighter than one civil stroke," Takiyuddin says.
He says he has personally seen how painful caning under civil law can be.
3.30pm: Opposition MPs are growing restless as Takiyuddin's support speech enters the one hour mark.
Darrel Leiking (Warisan-Penampang) asks if there will be a time limit to Takiyuddin's speech.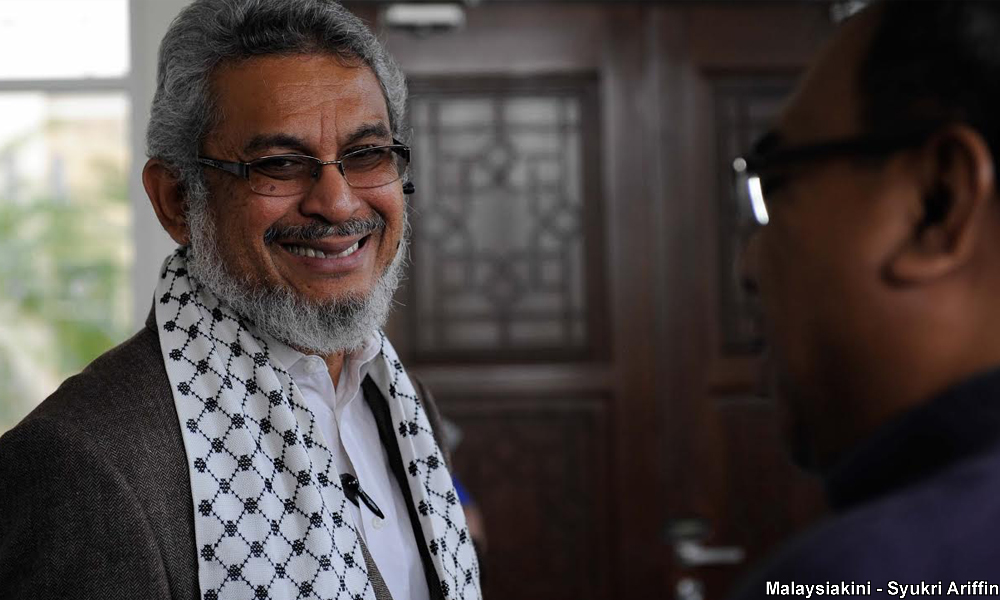 Meanwhile, Khalid Samad (Amanah-Shah Alam) (photo) asks if others will get a chance to a debate.
"Or is today for PAS and Umno?" Khalid adds.
Pandikar however, says he will not set a time limit, and that a debate will only be called once Takiyuddin finishes his support speech.
Takiyuddin says he will try to not waste time and limit people from interjecting.
There are efforts to limit practice of Islam
3.20pm: After a stream of interjections from BN lawmakers, Pandikar calls for a stop.
"In the standing orders, interjections are to seek clarification about things you don't understand, not to insert your views into the speech," speaker says.
He then orders Takiyuddin to continue with his support speech.
3.15pm: Nasrudin Hassan (PAS-Temerloh) interjects in Takiyuddin's support speech, and says that there are efforts to limit the practice of Islam in the country.
"Other religions are free to practice in peace, but this is not good when Islam is the religion of the federation but there are efforts to hinder Muslims from practicing what has been ordained in the Quran," Nasrudin says.
3pm: Takiyuddin says Sarawakians should take pride in Act 355, as it was formulated in 1965 by then chief minister Abdul Rahman Yaakub, who was a federal minister himself.
"Sarawakians should be proud of Act 355," he says.
Sarawak BN is strongly opposed against the amendments.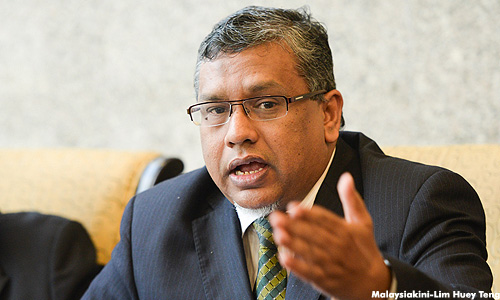 Hanipa Maidin (Amanah-Sepang) (photo) interjects and asks whether the 1965 amendments received consent from the Conference of Rulers, and why the government tabled it then, but not now.
Takiyuddin says that based on his research, the act never got royal consent before it was tabled.
He also explains that there was nothing wrong with Hadi pushing for the amendments now, instead of the government.
As though we're afraid of ghosts, says PAS MP
2.55pm: Takiyuddin goes through a brief history of syariah courts in Malaysia from the time of the Malacca sultanate, through the time of British colonialism.
He then goes through the constitutional provisions for syariah courts, reiterating that the courts only apply to Muslims, and that sentencing is limited by Act 355.
He then rubbishes those who fear the act without understanding it.
"It is as though we are afraid of ghosts, but we don't know what the ghost is," he says.
2.30pm: The Dewan Rakyat sitting resumes.
PAS secretary-general Takiyuddin continues his speech in support of Hadi's motion.
He calls for all MPs set to take part in the debate on the motion, to be professional.
"I appeal to all of you to create an environment for discussion that is healthy, professional, and with no one being emotional.
"We are people who can prove that we are mature as MPs," Takiyuddin says.
He also appeals to members of the public who have passed early judgment on the bill, to listen with an open heart.
1.30pm: Outside the Dewan, PAS deputy president Tuan Ibrahim Tuan Man expresses hope that all Muslim and non-Muslim lawmakers would support Hadi's motion on Act 355.
"There is no need to make this polemical as though this is a new bill. This is a successful day (for PAS), may Allah facilitate the affairs," he adds.
Meanwhile, PAS' Bukit Gantang MP Idris Ahmad says now the people can assess for themselves the process of amending the act.
"For us, this is a huge success. Most importantly, the community, especially non-Muslims, can witness the scandal brought by irresponsible people to manipulate (the issue)," he adds.
Idris hopes Muslim MPs who "purposely chose not to understand the matter", and non-Muslim MPs, will understand the matter.
"It's up to the MPs to support. We are not Taliban, we follow procedure" he says.
Meanwhile, Minister in the Prime Minister's Department Shahidan Kassim (photo) chose to remain mum on how Umno lawmakers will vote later.
"Hard to speculate anything, we will listen to the debate later. If there is a voting process, then I will tell you how I vote," he says.
1pm: Hadi asks for the motion to be debated. Takiyuddin rises to support the motion, but Pandikar asks him to do so after lunch.
Dewan Rakyat is now in recess until 2.30pm.
'Punishment seeks to educate, not torture'
12.58pm: Hadi says punishment under Muslim law seeks to educate, not torture.
He then cites the differences between caning under Islamic law and civil law.
Under Islamic law, he says, a cane must be neither light nor heavy, and that the cane can't be lifted above the head, can't tear skin, and can't injure.
Hadi further cites the Prophet Muhammad as saying that when a skinny person is being caned, and the cane may hurt their bones, the Prophet ruled that the person need only be hit once by 100 "ranting" (twigs) at one go.
12.55pm: Hadi explains that Act 355 does not cover robbery or theft.
The PAS president also says the rejection by some MPs on the amendments was a bad sign of the country's political maturity.
Hadi reiterates that non-Muslim MPs have no right to object to the amendments as it does not affect non-Muslims, and that only Muslims can be tried under Act 355.
He adds that due to the act's limited scope, cases such as rape involving a Muslim and a non-Muslim, are under the purview of the police.
12.50pm: Hadi dismisses allegations that the amendments were unconstitutional, saying that the constitutionality of previous amendments were never challenged.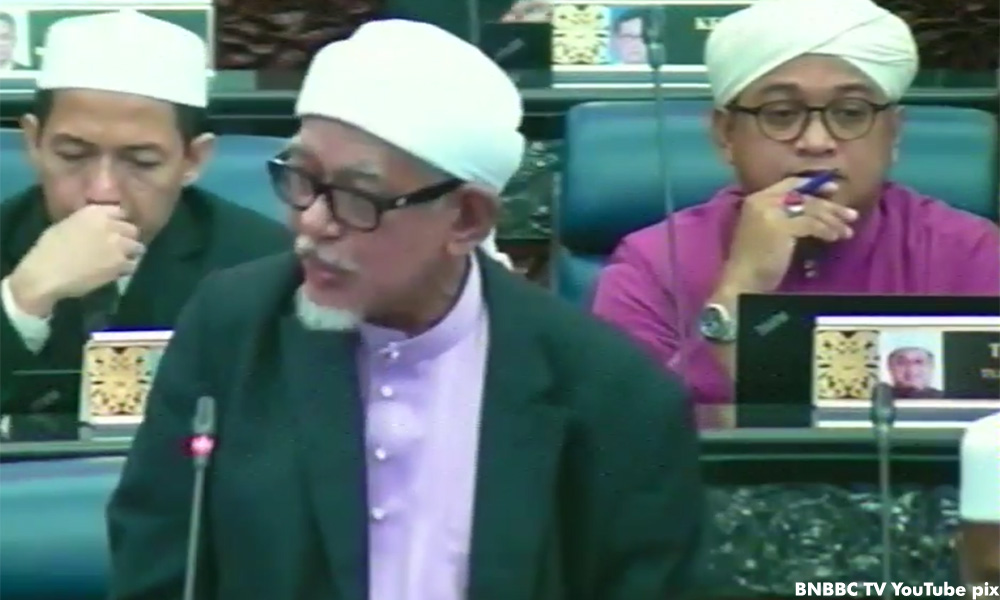 "Stop listening to claims that Act 355 is a backdoor to the implementation of hudud in Malaysia.
"At least three parts of the Federal Constitution need to be amended to implement hudud, this would surely be difficult," he says.
Hadi also says that Act 355's scope is limited.
12.45pm: Hadi says Act 355 needs to be amended to strengthen syariah courts.
"The powers of syariah courts are currently still lower than a magistrate's court," he says.
He cites examples such as Muslim men only being fined RM5,000 if they leave their wives without giving them support, as compared to the tens or hundreds of thousands that can be awarded to abandoned wives in civil courts.
Act 355 only applies to Muslims, says Hadi
12.40pm: Hadi finally stands to read out his motion.
"This motion is not meant to create a new act as portrayed by some, but to amend an existing act.
"This act only applies to Muslims, and not non-Muslims.
"History has shown that since Act 355 was implemented, no non-Muslim has been tried under it," he says.
He says non-Muslim MPs need not be worry, assuring again that non-Muslims will not be affected by the motion.
12.35pm: Lim Kit Siang interjects again, citing standing orders about the order of business. Azeez however interupts and a shouting match erupts briefly.
Azeez shouts that Lim "makin tua makin gila" (gets crazier as he grows older).
Pandikar however calls for order, and says that Hadi has a right to explain his motion.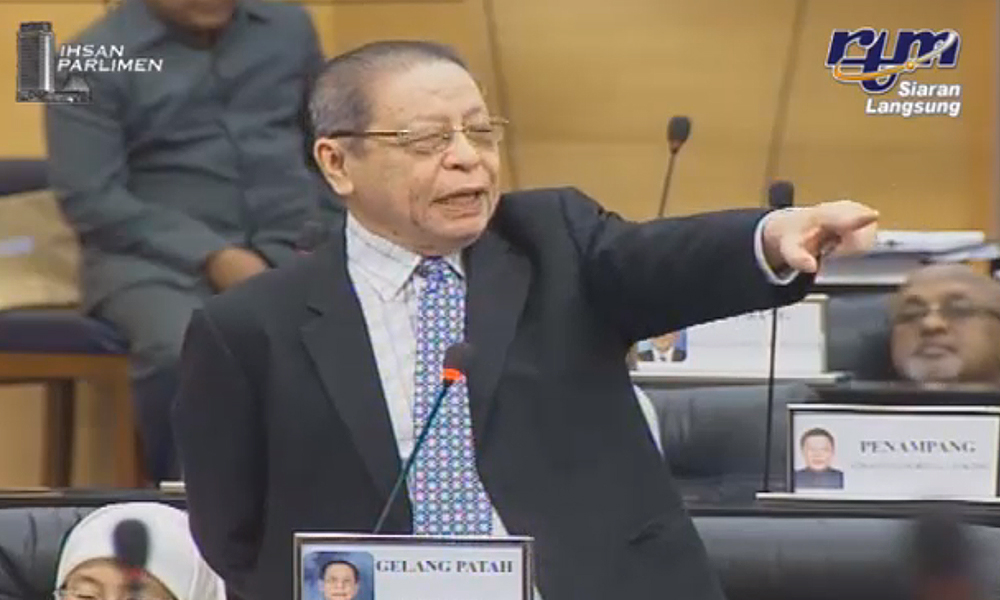 Lim (photo) however objects, saying it is not a cabinet decision, as neither the MCA president nor the MIC president objected.
Pandikar however calls for order, and threatens to boot anyone who interupts Hadi out of the House.
12.30pm: Gooi Hsiao Loong (PKR-Alor Setar) interjects, saying consent from the Conference of Rulers is needed for Hadi's motion to be read out.
Azeez Abdul Rahim (BN-Baling) however complaints that the opposition is wasting time.
Pandikar responds to Gooi, saying that in 1985, amendments to the Syariah Courts (Criminal Jurisdiction) Act was done without the rulers' consent, as the law already exists, thus consent was not required.
"We are doing this properly," Pandikar says.
Parliament is supreme, says Pandikar
12.25pm: Gobind agrees that an injunction can't be made against Parliament. However, he said the House has standing orders, which said if there is a matter in court, then standing orders barring the matter from being debated kicks in, although it is subject to the speaker's discretion.
Gobind says Pandikar had blocked 1MDB debates on this ground, thus sought an explanation why he would rule otherwise in regard to Hadi's motion.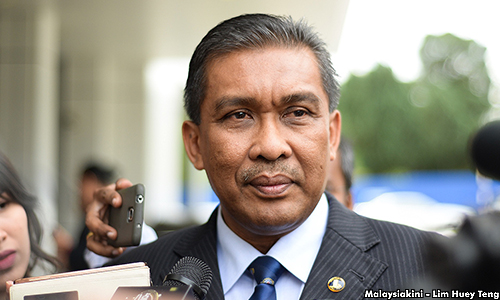 Takiyuddin (photo) however said that the matter can't yet be considered as being in court just because a writ of summons had been sent to the respondents.
"At the point of time, the summons has not yet been discussed in court, thus it is not sub judice," Takiyuddin said.
Pandikar rules that the court can't interfere in law making, adding that such rulings are also made in Australia and New Zealand.
"Parliament is supreme in making law, you can't stop it," the speaker says.
12.20pm: Gobind Singh Deo (DAP-Puchong) interjects with a point of order, saying the speaker had received a notice, that there was lawsuit to block Hadi's motion.
Gobind then cites the 1MDB case, where Pandikar had blocked discussions about the case citing sub judice, as it was still in court.
Takiyuddin Hassan (PAS-Kota Bharu) then interjects, saying a similar court injunction filed in June, to block Hadi's motion had been thrown out by the High Court in Kuala Lumpur.
Pandikar then read out an example from the Indian Parliament that sub judice can't stand in the way of legislation making.
"Meaning it's clear, on the separation of powers. The Parliament is supreme when it comes to law-making. If the court allows an injunction, that means the court is more supreme than Parliament," he said.
12.15pm: Lee questions if Pandikar will make a ruling whether Hadi's motion will be read as a motion or a private member's bill.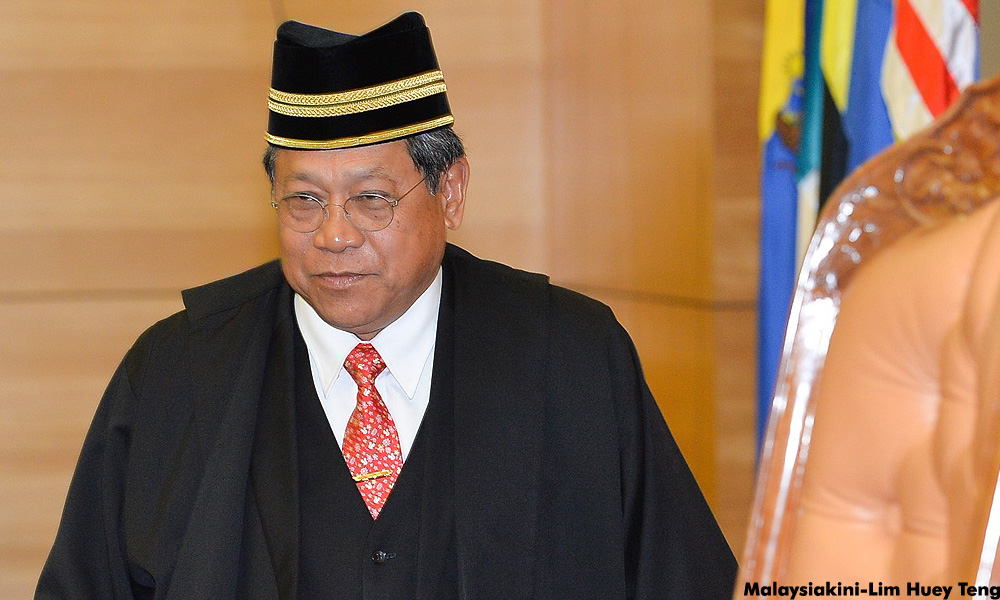 Pandikar (photo) explains that Hadi's motion is seeking permission for the bill.
"So when the motion is read out, Marang (Hadi) will give an explanation, then I will invite someone to either support or reject it.
"Only after it receives support, will it go to the first reading. It has not reached the first reading yet," the speaker said.
Why Hadi's motion taking precedence?
12.10pm: Lee Boon Chye (PKR-Gopeng) asks why Hadi's motion is taking precedence over other opposition motions.
Pandikar however explains that the government had asked the House to fast-track Hadi's motion, and that Hadi had asked to defer the motion after amending it.
"I am just following the standing orders," Pandikar said.
He adds that his hands are tied when it concerns the House rules, as it is the executive's prerogative to make any amendments to the standing orders.
He says if the government has an agreement with any other opposition party to fast track their motions, then he will oblige.
12.05pm: Pandikar explains that Lim's bill on Police Complaints and Misconduct Commission (IPCMC) was rejected as there were no details provided, and neither was there an English copy of the bill.
12pm: Speaker Pandikar Amin Mulia invites Hadi to read out his motion. Lim Kit Siang (DAP-Gelang Patah) however interjects, complaining that a private bill he had filed was rejected by the speaker.
11.55am: Hadi's bill seeks to raise the punishment for syariah offences to 30 years' jail, RM100,000 fine and 100 strokes of the cane.
The current syariah punishment cap is three years' imprisonment, RM5,000 fine and six strokes of the cane.
Originally however, Hadi had sought to remove the punishment cap all together, barring only the death penalty.
He then revised the proposed amendments after discussions with the government last November.
This is the third time Hadi has brought the motion to the House floor.