Prime Minister Najib Abdul Razak has filed a defamation suit against DAP lawmaker Tony Pua on Pua's statement and Facebook video clip on the Syariah Court (Criminal Jurisdiction) Act 1965 (Act 355).
The suit was filed in Kuala Lumpur by the law firm Hafarizam, Wan & Aisha Mubarak.
This is Najib's second defamation suit against Pua. In 2015, he sued Pua over comments linking the premier with the 1MDB scandal.
Pua has also filed a suit against Najib, this year, for "misfeasance in public office".
On April 11, Najib demanded an apology from Pua and for the video, which was deemed defamatory, to be retracted.
The video clip in question was uploaded on April 6, shortly after PAS president Abdul Hadi Awang's motion on amendments to the Syariah Courts (Criminal Jurisdiction) Act 1965 was tabled.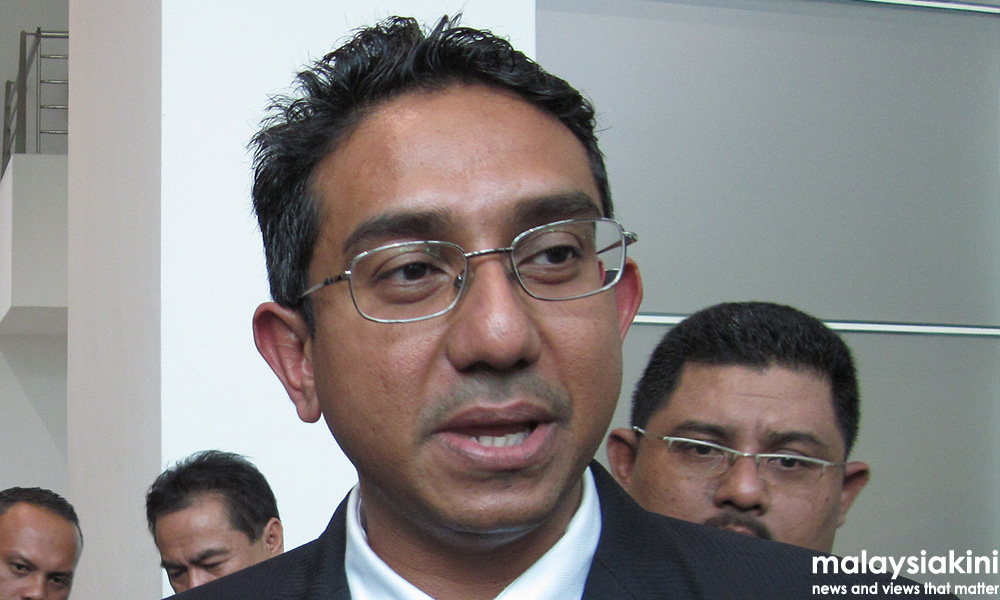 In a letter of demand that was served on Pua, Najib's lawyer Mohd Hafarizam Harun (photo) said the video clip in question had implied that his client had committed theft and abused his power.
"Contrary to your defamatory statements above, our client is not a tyrannical and oppressive kleptocrat, nor does he shun criticisms, neither he is a leader involved in corrupt practices nor a leader who steals the people's monies.
"Accordingly, your entirely baseless and false allegations are intended to disparage our client's high political standing, immense goodwill both local and international and unblemished record of performance.
"In doing so, you were acting with malice prepense," Hafarizam states in the letter of demand.
At 4.45pm, Najib through his lawyer successfully obtained an ex-parte injunction barring Pua from repeating or publishing the defamatory words in the video.
Justice Abu Bakar Jais allowed the application which was made in chambers.
Hafarizam said with this order Pua will have to remove the said offending video.
"We will extract the filed writ and serve the sealed copy possibly on Tuesday. The inter-parte hearing of the injunction has been fixed on May 5,"he said.
Claimed words uttered are slanderous
In the latest suit, Najib, who is also BN chairperson and Umno president, said during the trial he would refer to the whole two-minute 21-second clip, which as of yesterday had been viewed 1,800 times and received 170 comments.
Najib claimed that the words uttered by Pua are slanderous to him as the prime minister and finance minister, as it can not only be viewed in Malaysia, but also in other countries.
Najib further said that Pua's words had meant that he (Najib) had abused his powers by directing the cabinet, through the Dewan Rakyat speaker, to see through the tabling of the proposed amendments (to Act 355) by PAS president and Marang MP Abdul Hadi Awang, and thus, he had disregarded the principle of separation of powers between the executive, legislature and the judiciary.
Pua's words had also implied that he (Najib) had conspired with PAS to split Malay votes among the opposition, and that he practiced dirty politics to remain in power, added Najib.
Najib further alleged that the words uttered by Pua had meant that he had robbed 1MDB funds and would continue to commit criminal acts to rob from the people, and that he had betrayed Malaysians and that he would continue to lie to the people in relation to 1MDB.
Pua's comments had also suggested that Najib abused his position as the chairperson of the board of advisors in 1MDB, and that he had abused his power as PM and finance minister, and that he is a cruel leader who practices kleptocratic administration in the country, Najib added.
Such defamatory words would result in him being hated and ridiculed by his friends and members of society, as well as affect his international standing, he claimed.
As such, Najib is seeking aggravated, exemplary and general damages, as well as costs, for the "malice" in Pua's action.
Besides Pua, a range of other politicians and news portals had also been on the receiving end of Najib's lawsuits. This includes Pandan MP Rafizi Ramli, former MCA president and transport minister Dr Ling Liong Sik, PAS' mouthpiece Harakah and online portal Malaysiakini.
Najib himself is facing several lawsuits, including from former prime minister Dr Mahathir Mohamad, former law minister Zaid Ibrahim and former senator Ezam Mohd Nor.