An overwhelming majority of Malaysiakini's readers have endorsed Dr Mahathir Mohamad as Pakatan Harapan's prime minister candidate.
According to the 12,777 who voted in the news portal's poll, 8,926 (69.9 percent) said Mahathir should be made a candidate while 3,276 (25.6 percent) disagreed.
A small group answered "Not sure" or "Don't care" in the poll, which ran for six days since May 19.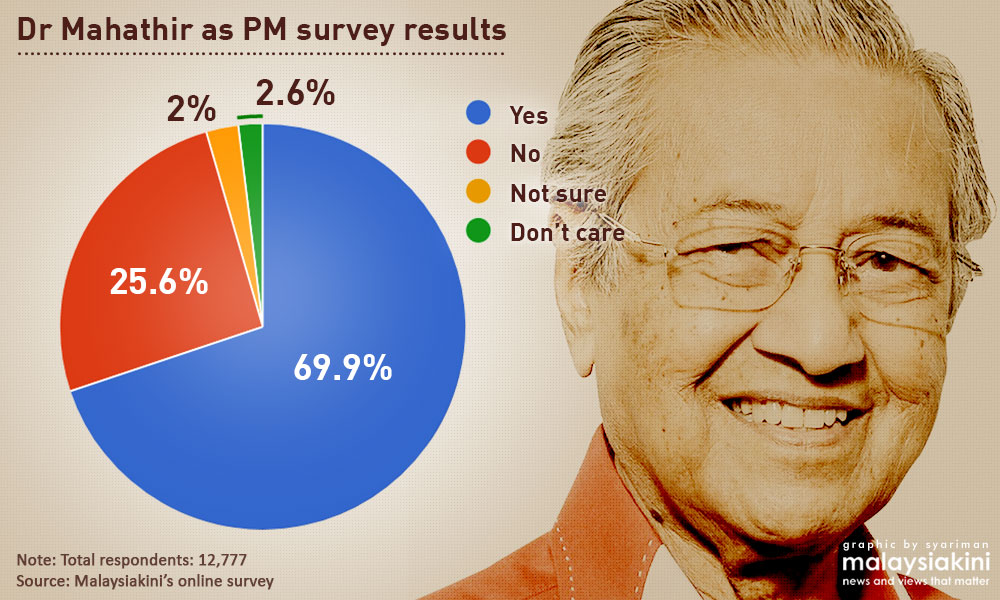 As the poll was conducted in three languages, the results showed different voting patterns among the various demographics.
Respondents who took part in the English-language version were the most supportive of naming Mahathir as a candidate for the premiership, compared to Bahasa Malaysia or Chinese-language readers.
Of those who answered the English-language poll, 76.6 percent were in favour of naming Mahathir as prime ministerial candidate while 68.6 percent of those who answered through the Bahasa Malaysia poll voted the same.
However, only 51 percent of those who answered the Chinese-language poll backed Mahathir for the top post, with 43.9 percent disagreeing.
One of the reasons for the Chinese-language poll results could be related to Mahathir's words and deeds during his tenure as prime minister, for example, the Suqiu election appeals issue.
In 2000, even DAP supremo Lim Kit Siang, who has since buried the hatchet with Mahathir, lambasted the former premier over the Suqiu matter.
After accepting Suqiu's election appeal, which included a review of the National Economic Policy, Mahathir, following the 1999 polls, had likened the movement to the communists.
Another reason for the lack of support among Chinese-language readers is perhaps because they prefer jailed opposition leader Anwar Ibrahim to helm the nation.
Harapan has been under pressure of late over their nominee for prime minister, with BN claiming that this proves that the opposition coalition was not united.