LGBTs highlight lack of basic services at TN50 dialogue
---
While hot-button issues such as same-sex marriage can sometimes dominate the discourse on lesbian, gay, bisexual and transsexual (LGBT) issues, concerns about access to basic services took centre stage at a TN50 dialogue session with the LGBT community.
One LGBT activist, Hijrah Republique president Mohd al Khusairi Mohd Ariff, argued that the views of some other activists have resulted in backlash, which proved detrimental to the LGBT community.
Mohd al Khusairi said he and several other groups are merely fighting for the right to improve themselves and to be treated as a fellow human being, but other groups were fighting for "rights that shouldn't be fought for", such as same-sex marriage.
"It is a contradiction. It cannot be done, actually; for it is a major offence. So, because of this community of activists, the name of other LGBT communities have been lumped together and become tarnished. When people meet an LGBT, they say, 'Allah, LGBTs are the same as those activists'.
"That is the problem now. How can we stop these activists from tarnishing the name of other LGBT groups?
"We are not saying that we are good, although we are trying to be better persons. However with activists like these, we ae affected by their actions," Mohd al Khusairi told Malaysiakini when asked to elaborate his views after the dialogue session.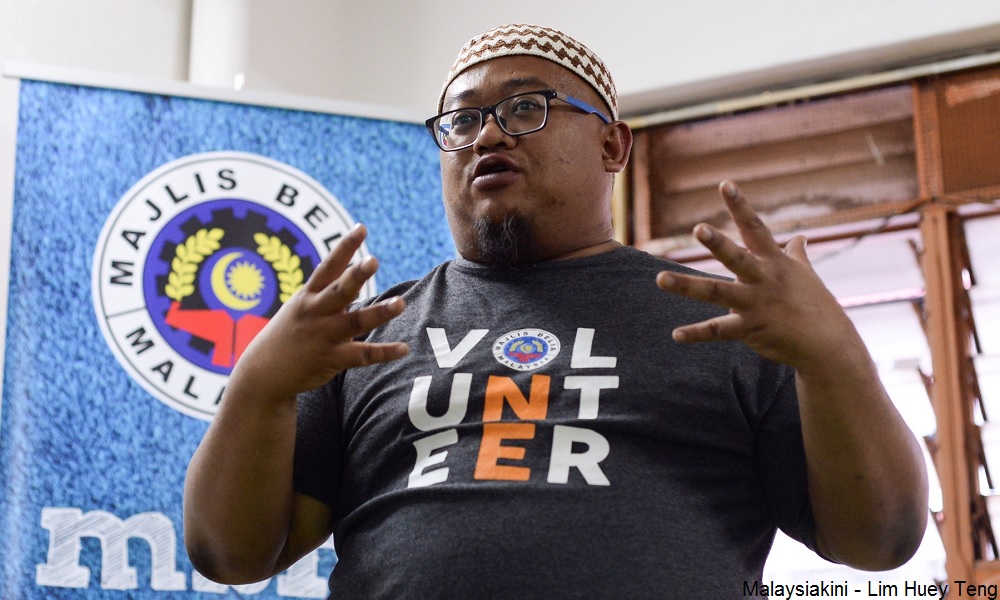 The session was organised by the Malaysian Youth Council (MBM) in partnership with the Ministry of Youth and Sports, with the council's information chief Mohammad Rizan (photo) as host for the session.
Like its previous event with drug users, it was a low-key event, absent of any politician, flat-screen TVs or even a loudspeaker.
Instead, a small group of about 20 people gathered at the tiny Bandar Baru Ampang office of Pertubuhan Amal Firdausi (Pafi), which is an Islamic NGO focussing on LGBT issues.
Mohammad said the MBM is collecting the voices and aspirations of at-risk groups for Malaysia in 2050, and these would be submitted to the TN50 Secretariat.
Participants in the dialogue session spoke on their challenges in seeking healthcare, insurance, mortgages, or even a place to pray at the mosque.
Ineligible for insurance compensation
One participant lamented that they were ineligible for insurance compensation if they had contracted the Human Immunodeficiency Virus (HIV), unless it the virus had been transmitted through blood transfusion or from mother to child.
"Why do you have to discriminate in term of where is the source? You could contract it from any part of your life.
"In other countries - I think in developed countries - there is no such thing You are covered no matter what condition you are, what source you get it," the participant said, adding that private insurance coverage could have also supplemented government aid and healthcare.
Another participant, identified only as Khusairi, said he had encountered the same ordeal. After he had been warded in a hospital, his insurance company refused to pay for his claims, which came to between RM15,000 and RM20,000.
His insurance policy that he held for six years was cancelled when he was diagnosed as HIV-positive during his hospital stay, he said.
Khusairi said his NGO is now fighting for insurance companies to provide insurance coverage for those who contracted HIV regardless of how the virus was contracted.
"The subject is still the same – HIV. So why do you have to discriminate, this type of HIV can cover, and that type can't," he said.
Another participant claimed that some scholarship providers have refused to provide scholarships to those who are HIV-positive, and this prevented them from continuing their studies.
"They did not declare, but there are screening tests and medical check-ups. So they don't get the scholarship and continue sitting at the bottom (of the social ladder)," he explained.
Other participants pointed out that LGBT, particularly transgenders, also also run into problems such as when applying for licence to set up unisex hair saloons, or when applying for mortgages.
For example, bank officers don't know how to deal with a person presenting themselves as one gender, while the their identity cards state that they are a member of the opposite sex.
The problem is compounded by the fact that LGBTs may face difficulty in finding steady employment or training in the requisite skills. Some had resorted to sex work as a last resort to make ends meet, which then led to further stigma and victimisation to the LGBT community.
Meanwhile, a transwoman who asked to be identified only as As complained that she was not allowed to pray with other women at mosques.
She said the mosque's imam was reluctant to greet her, and she had to change into men's robes and hide her breasts in order to be allowed to pray, and even then only in the men's section.