YOURSAY | 'The question is why was the money allegedly given to the lawyer who was prosecuting Anwar?'
S'wak Report implicates senior lawyer, claims he got RM9.5m from Najib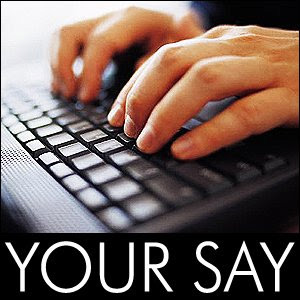 Dont Just Talk: What line of business is SRC International Sdn Bhd, a former subsidiary of 1MDB in, when the company was a recipient of a RM4 billion loan from Retirement Fund Inc (KWAP), and how is the company going to generate the profit to pay off such a huge debt.
The senior lawyer who was allegedly paid RM9.5 million by Malaysian Official 1 (MO1), apparently with money linked to SRC, knows the meaning of working smart by handling the case against jailed opposition leader Anwar Ibrahim; and if that is not political persecution, then what is?
Kim Quek: This stunning revelation has also highlighted a fatal flaw of the trial - conflict of interests.
Anwar being PM Najib Razak's most dreaded political enemy, the latter's hiring of one of his own confidantes to prosecute the former presents a conflict of interest that is absolutely untenable.
It is a heinous transgression of justice in any court anywhere. Anwar must make an urgent application to the court to expeditiously nullify the judgments of these two respective courts (Court of Appeals and Federal Court) based on this latest discovery.
Versey: This is not just about Anwar and his family, it's about upholding justice and rule of law of the nation that should be of great concern to all the decent and right-minded people of all communities.
Unless and until the mentioned lawyer and his paymaster named in the Sarawak Report could come out with solid evidence and challenge Sarawak Report in the UK court, the stench of all these scandals sully not only the trust and honour of the judiciary, it eventually will if not already degrade the nation in the eyes of the world as a pariah state.
So, to the supposedly "intelligent" lawyer who was said to have claimed to perform a selfless service to the nation, if innocent and not as alleged, please do your selfless service for the sake of the nation - pursue legal suit in UK to redeem the honour of the government of the day, the nation and your good self.
Vijay47: All is not lost for the lawyer in question. He can always embark on that other venture he is good at, holding road shows to "reveal the truth". But no pinching nipples, please.
Thank you, attorney-general Mohamed Apandi Ali, for being of such assistance to Pandan MP Rafizi Ramli. Najib is, of course, ruing the day he made you AG.
Kangkung: On Feb 17, 2014, senior lawyer cum prosecutor Muhammad Shafee Abdullah allegedly received RM5,200,000 from MO1's AmBank account no 2112022011906, and on March 7, 2014 the Court of Appeal overturned Anwar's sodomy acquittal.
Before that, on Sept 11, 2013 MO1 allegedly paid Shafee RM4,300,000 from his AmBank account, so that there must be the initial deposit. In this failed state, anything can be bought if you got the money.
Rick Teo: The question is why was the money allegedly given to the lawyer who was prosecuting Anwar? Apart from the lawyer, who was the money to be given, if any?
Was the money used to ensure Anwar's acquittal at the High Court would be overturned?
Clever Voter: The revelation is not a surprise given the political nature of the trial. There has been too much at stake. One thing Anwar didn't have is access to deep pockets.
The amount is highly inflationary but it's worth the effort considering the outcome. The nation is always put at stake when these highly personalised political warfare takes place.
Interestingly, this lawyer is allegedly one of the many beneficiaries. No wonder, there is always a long queue for handouts.
Anonymous #21828131: What a wonderful opportunity for Najib to bed this issue once and for all before GE14. Just get Sarawak Report by the scruff of their neck and sue them till kingdom come.
But then Sarawak Report first broke the news on 1MDB and now two years later it has been proven correct in the Singapore courts. They also broke the news on SRC and the AG himself had unwittingly admitted to this.
That senior lawyer, whoever he is, is going to have sleepless nights. I believe Sarawak Report would release the details at the right time.
What suspense, what drama. As the saying goes, every dog has its day.
CQ Muar: The Almighty is Great. At the end of the day, all truth and justice will be exposed and will prevail.
Nothing can escape the dragnet, and all those criminals and thieves must face the long arm of the law... their eventual haven and resting place shall be the four walls with iron-grills as windows; and deprived of all forms of comfort.
The entire nation awaits patiently for the final curtain to come down on such scoundrels and menace, which are a curse to society.
Discovery: This lawyer who was allegedly paid RM9.5 million by MO1, declare this windfall to Income Tax Department (LHDN)?
Come on LHDN, you have been very busy harassing the rakyat over pennies they under-declare. This huge elephant (white some more) is in your room. Please investigate.
The windfall amount is staggering! Thirty percent will amount close to RM2.5 million in taxes.
'We will decide next move on alleged RM9.5m for lawyer'
Kingfisher: Hopefully and primarily in the interest of "truth" and that of the nation, Anwar's lawyer N Surendran and his associates should embark on a meticulous, even if prolonged, course of initiatives and measures that will educate, enlighten and unearth nothing but the truth, which can either exonerate the alleged wrongdoers or necessarily lead to appropriate charges as per the regulatory system.
Admittedly, this is a high-profile matter implicating institutions and personalities at the top level of governance and alludes to intrigues and substance of criminal actions in a real-world situation that one only often expects/sees in soap operas and movies.
Of course, truth can be stranger than fiction. However, and especially for a nation that has just about witnessed 60 years of independence, dealing with and managing truth will ultimately stand the nation in good stead.
It is not in the national interest to leave even unwittingly a perception that there is alternate fact to truth in governance.
---
The above is a selection of comments posted by Malaysiakini subscribers. Only paying subscribers can post comments. Over the past one year, Malaysiakinians have posted over 100,000 comments. Join the Malaysiakini community and help set the news agenda. Subscribe now.
These comments are compiled to reflect the views of Malaysiakini subscribers on matters of public interest. Malaysiakini does not intend to represent these views as fact.