In a rare bipartisan gathering, fishermen backed by Umno and DAP protested against Indonesia's maritime enforcement authorities which allegedly shot at a Malaysian trawler within Malaysian waters.
Some 200 fishermen gathered at the jetty in Sekinchan to voice their disgruntlement over the alleged harassment this afternoon.
Present at the protest were Umno's Sungai Besar MP Budiman Mohd Zohdi, DAP's Sekinchan state assemblyperson Ng Suee Lim and Sungai Besar Umno chief Jamal Md Yusof, who later sat side-by-side for a press conference.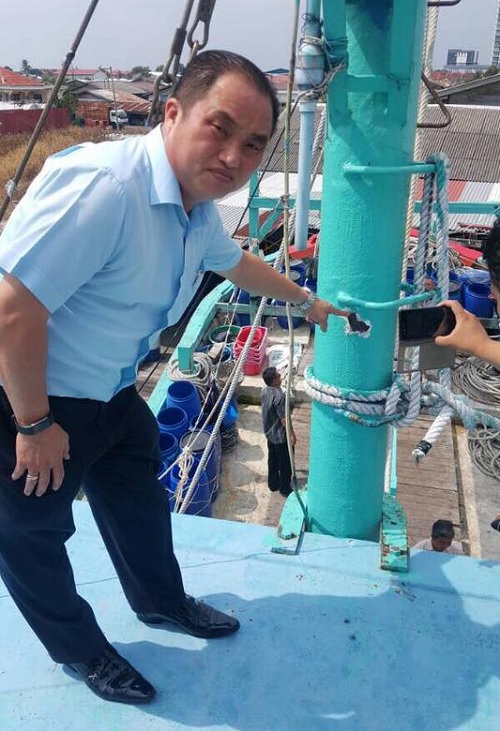 Budiman in a statement highlighted two incidences which happened on July 18.
The first involved a Sekinchan vessel with the number SLFA 5099 which he claimed was pursued by Indonesian maritime enforcers within Malaysian waters.
When the Sekinchan boat refused to stop, the Indonesian maritime enforcers allegedly opened fire on them.
"The Indonesians fired a number of shots at boat SLFA 5099. Bullet holes can be found on the boat SLFA 5099," he said.
Shortly after the incident, Budiman claimed the Indonesian maritime enforcement detained two Sekinchan boats with the numbers SLFA 4641 and SLFA 4948 within Malaysian waters.
The boats were subsequently towed to Acheh.
"In the interest of the diplomatic relations between Malaysia and Indonesia, we ask that Indonesia respects the Memorandum of Understanding in Respect of Common Guidelines Concerning Treatment of Fisherman by Maritime Law Enforcement Agencies of Malaysia and Republic of Indonesia signed on Jan 27, 2012," he said.
Budiman added that the issue will be raised with Wisma Putra.
Ng, in a separate statement, also condemned the incidences.
"(I) condemn in the strongest terms the action by Indonesian enforcement authorities encroaching into Malaysian water and shooting at Sekinchan's fishing boat," he said.