Newsweek has reproduced an article penned by former World Bank president Paul Wolfowitz on the meeting between United States President Donald Trump and Prime Minister Najib Abdul Razak.
The magazine published the article, which first appeared on the American Enterprise Institute (AEI) website, with the headline "Trump's meeting with Malaysian crook Najib reeks of the swamp".
The original headline of the article published on the AEI website on Sept 12, the day Najib met Trump in the White House, read "This is not draining the swamp".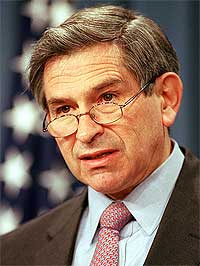 In his article, Wolfowitz (photo) urged the US president to find out who had arranged the meeting and to send a strong signal to lobbyists attempting to sell access to him.
He described the meeting as "unfortunate" and recounted how an Australian expert on Southeast Asia was quoted as saying in the New York Times that from a public relations viewpoint, it was a meeting the White House should avoid and that a photo opportunity with North Korean leader Kim Jong-un would be better.
Wolfowitz also made a reference to a Washington Post editorial that said the visit was a "new low" and noted the Department of Justice's (DOJ) 1MDB-related suits, as well as the links drawn to Malaysian Official 1, which had been confirmed to be Najib...