Prime Minister Najib Abdul Razak today urged the Chinese in the country to send more representatives from the community to the multiracial Barisan Nasional (BN) government in the next general election.
The prime minister said he wanted to see a stronger representation from the community in his government, adding that BN currently only had six percent of members of parliament from the ethnic group which was a very low number.
"I want a stronger Chinese representation in the BN government. We need the number to go up.
"If the Chinese voice is stronger in BN, then you are able to shape the policies and possibilities of this government even better, and even stronger in the future," he said before a 16,000-strong crowd at the Chinese Community Patriotic Assembly organised by MCA at Putra World Trade Centre, in Kuala Lumpur.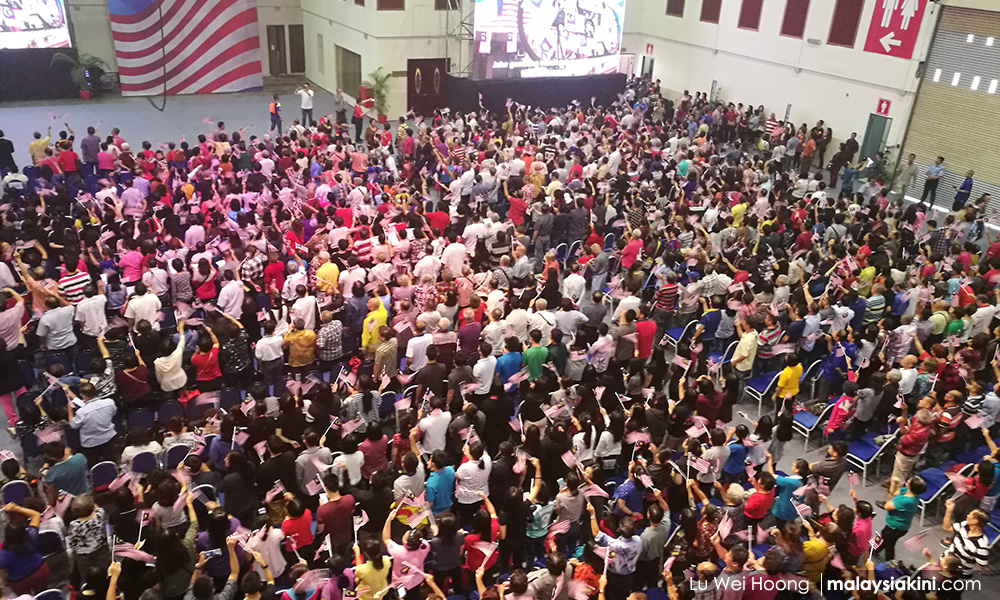 The BN chairperson also pointed out that as a multiracial nation, while the government is inclusive and always assisting in creating business opportunities for the community, the Chinese also must work together with other ethnic groups in nation-building.
"The reality is that you cannot go it alone. This is a multiracial country and it must be based on a multiracial government, that is moderate and progressive. Let's move ahead (together), we have so much to look forward to," he said, adding that the BN government is also committed to building a peaceful and a harmonious nation.
He also urged the Chinese community not to continue to waste its time with the propaganda of the opposition which was only trying to topple the government.
Najib said that although the BN had recorded many successes that all could be proud of lately like the implementation of the MRT project and draw in huge foreign investments, it was still being criticised by the opposition.
"Don't criticise blindly. For the opposition, whatever good you do, they will turn and twist it so that the people hate us. Remember, the opposition in their mind, if you can't convince them, confuse them.
"This is the opposition's mantra because this was what I discussed with a leader of the opposition who was once with us before. His take was that the art of psychological warfare is that, you if can't convince them, try to confuse them," he said.
Thus, he said, the people should not fall prey to the opposition's propaganda because the government today was one that was committed to the advancement of all Malaysians.