A four-room hostel of the Nur Al-Quran Tahfiz Centre in Rantau Panjang, Kapar was destroyed in a fire today.
Sungai Pinang Fire and Rescue Station head Zaidi Ahtan said the fire, which broke out on the upper floor of the two-story building occupied by the centre, did not involve any casualties as all the students were downstairs when the incident occurred.
"The 25 students and two teachers who were staying at the hostel were attending classes on the ground floor when the fire broke out," he said when met at the scene.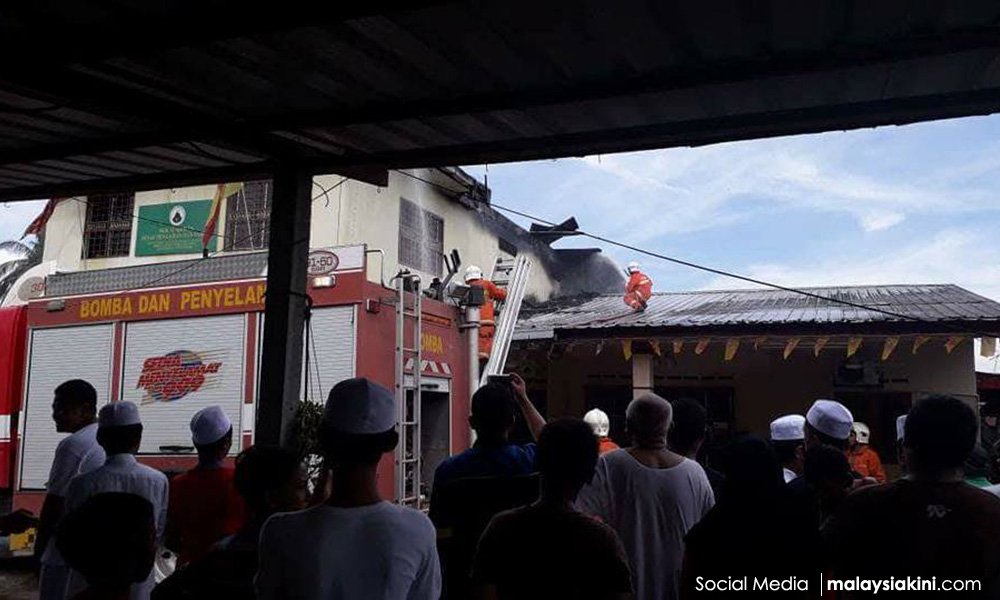 He said the station received a distress call at about 2.45 pm and arrived at the location about five minutes later.
Firemen managed to prevent the fire from spreading to the other floor at the building and took about 20 minutes to douse the flame, he said, adding that the fire was believed to have started from the centre room of the hostel.
The cause of the fire and losses incurred are being investigated, he said.
Meanwhile, one of the students, Ahmad Ammar Rasyid Norhisham, 15, said he smelled smoke and then saw thick smoke on the upper floor of the building.
"I went up to the hostel and tried to put out the fire, but failed, and then went downstairs to inform the warden, who then contacted the Fire and Rescue Department," he said.
Meanwhile, Kapar Umno division leader Faizal Abdullah, who was met by reporters later, said Kapar Umno would provide necessary assistance to the students and teachers affected by the fire.
"At the moment, they will be provided temporary shelter at a nearby homestay," he said.
--Bernama