SPECIAL REPORT | Driving from the Malaysia-China Kuantan Industrial Park (MCKIP) through the Gebeng Industrial Park and on towards Kuantan Port, one is bound to pass a 1.8km stretch that has come to be known as "Jalan Qinzhou."
Qinzhou is a city in Guangxi, an autonomous region in southern China.
The road, formerly known as Jalan Gebeng 1/11, received its new name on April 6 last year, at a ceremony overseen by the Pahang executive councillor in charge of basic infrastructure and environment, Mohd Soffi Abdul Razak, as well as Kuantan Municipal Council president Fadzilla Salleh.
The MCKIP and Jalan Qinzhou are part of Kuantan's twinning with Qinzhou city, where a similar China-Malaysia Qinzhou Industrial Park (CMQIP) is being constructed, and with a road there being renamed "Jalan Kuantan" in turn.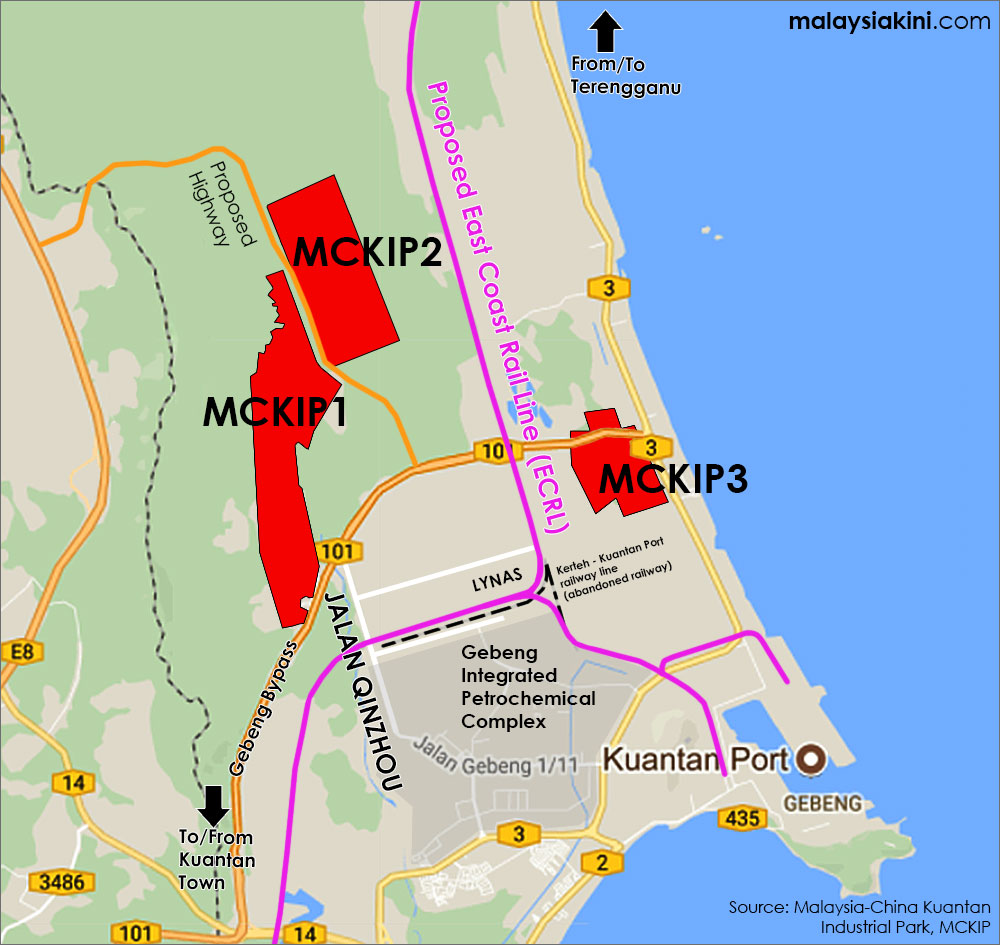 But for China, its influence in Kuantan extends beyond just the one industrial park or road.
Since ancient times, the Malaysian peninsula has maintained economic relations with China through the Maritime Silk Road. At the height of the Middle Kingdom's power, the sultanates here also submitted to the superpower's protection.
Fast forward to the 21st century, the country's presence in this region is being increasingly felt amid a resurgent China, exemplified by unprecedented development in southern Johor, which includes the Forest City project.
However, China's key strategic foray lies not to the south, but to the east coast of Peninsular Malaysia, specifically Kuantan.
China's investments are not homogenous. The country's projects in Johor are largely private sector-led, such as Country Garden, revolving mainly around property development.
However, in Kuantan, China's investments are being spearheaded by government entities, with a clear focus on industry and infrastructure.
The Guangxi autonomous region, through its vehicle Guangxi Beibu Gulf International Port Group Co Ltd, controls 49 percent of MCKIP. The remaining shares are owned by Kuantan Pahang Holding Sdn Bhd, a Malaysian consortium.
As with any industrial development, infrastructure is paramount for the import of supplies and export of products, be it through land, sea or air – two of which are already under China's influence in Kuantan.
In September 2013, seven months after the launch of MCKIP, Guangxi Beibu acquired a 40 percent stake in Kuantan Port, which overlooks the South China Sea, a large swathe of which is being claimed by Beijing.
Guangxi Beibu and its majority partner IJM Corp have invested RM4 billion to construct a new deepwater terminal (photo below) at the port to cater to growing industrial activities – including MCKIP, which is expected to be ready by next year.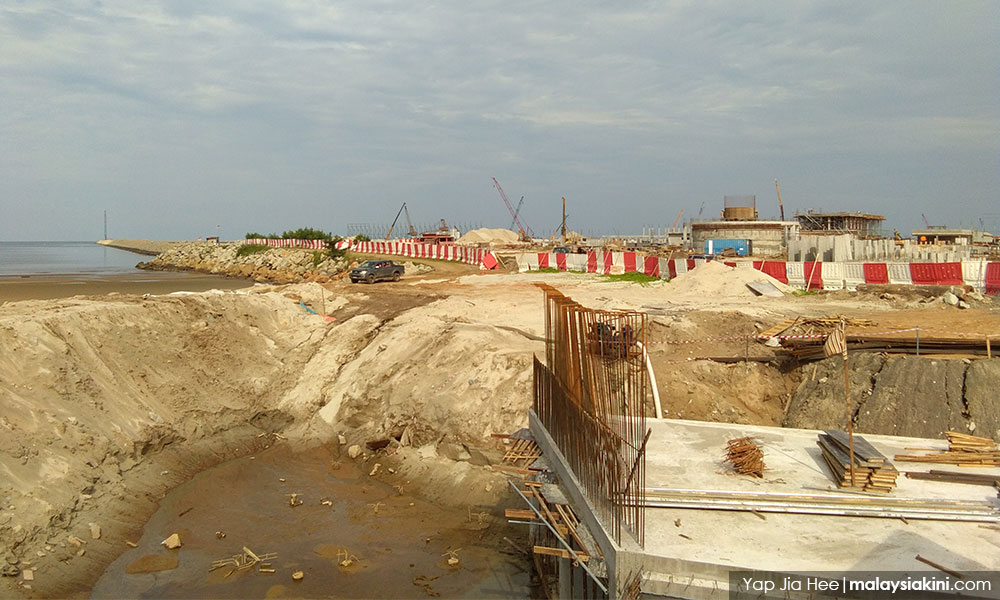 By 2024, Kuantan Port will also be connected to Port Klang in Selangor through the Beijing-funded East Coast Rail Link (ECRL).
Putrajaya agreed to allow China to nominate the contractor of the RM55 billion project in exchange for favourable loan rates.
Beijing nominated the state-owned China Communications Construction Company (CCCC) – which is also vying for the Kuala Lumpur-Singapore High-Speed Rail (HSR) project.
The ECRL, like Kuantan Port, is a key gateway for Kuantan's industrial sector, especially the MCKIP and the Gebeng Industrial Park.
'China needed to breathe new life'
Critics argue China's involvement in Kuantan's industry and infrastructure is getting too close for comfort. However, proponents point out that Kuantan, and the east coast as a whole, is in need of a boost since it lags behind the west coast.
According to the Transport Ministry, Kuantan Port handled 40.03 million freight tonnes of cargo in 2015, which pales in comparison to the volume of cargo handled in Port Klang (219.79 million freight tonnes) and the Port of Tanjung Pelepas (136.28 million freight tonnes).
What was once Kuantan's industrial rail infrastructure also lies in ruin.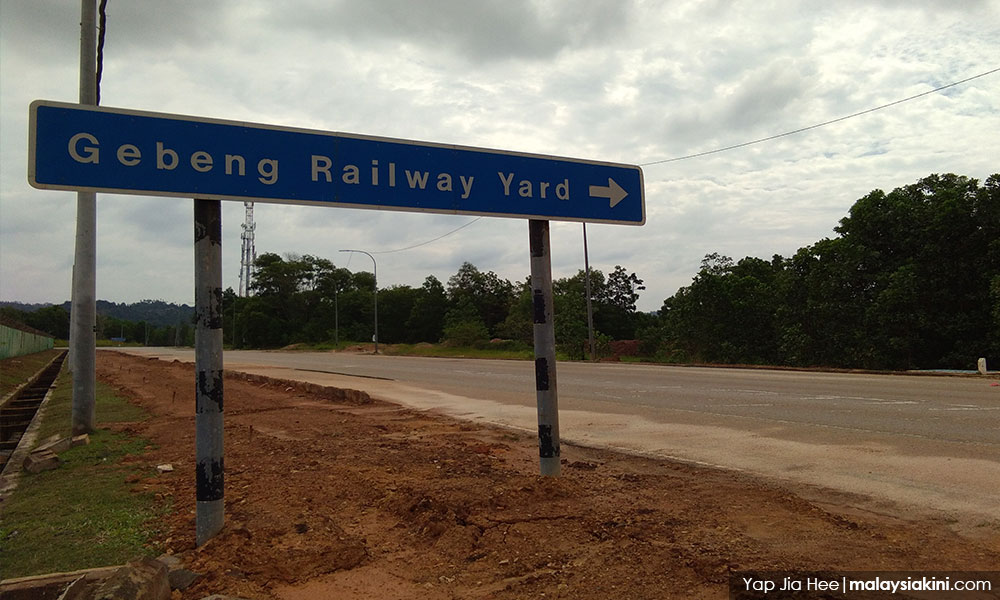 Heading south on Jalan Qinzhou from the MCKIP towards Kuantan Port, the first intersection leads to the Lynas rare earth processing plant, while the next intersection bears a signboard that reads "Gebeng Railway Yard."
There lies a section of the now abandoned Kerteh-Kuantan Port railway line...