LIVE REPORTS
---
11pm - Padang Timur: The rally comes to an end. The organisers announce that a total of 25,000 people turned up for the rally, just a quarter of their target of 100,000 people.
However, Malaysiakini estimates that the peak capacity for the rally was only over 8,000.
Selangor police chief Mazlan Mansor, meanwhile, placed the turnout at 4,000.
A total of RM68,329 in donations were collected from the crowd. The money will be used to cover some of the rally's costs, with the remainder to be distributed among the four Harapan member parties.
10.25pm - Padang Timur: Mahathir pledges that Harapan will make Malaysia "mulia" (noble) again by making the country one of the top 10 cleanest countries in the world by 2030 if the opposition takes power.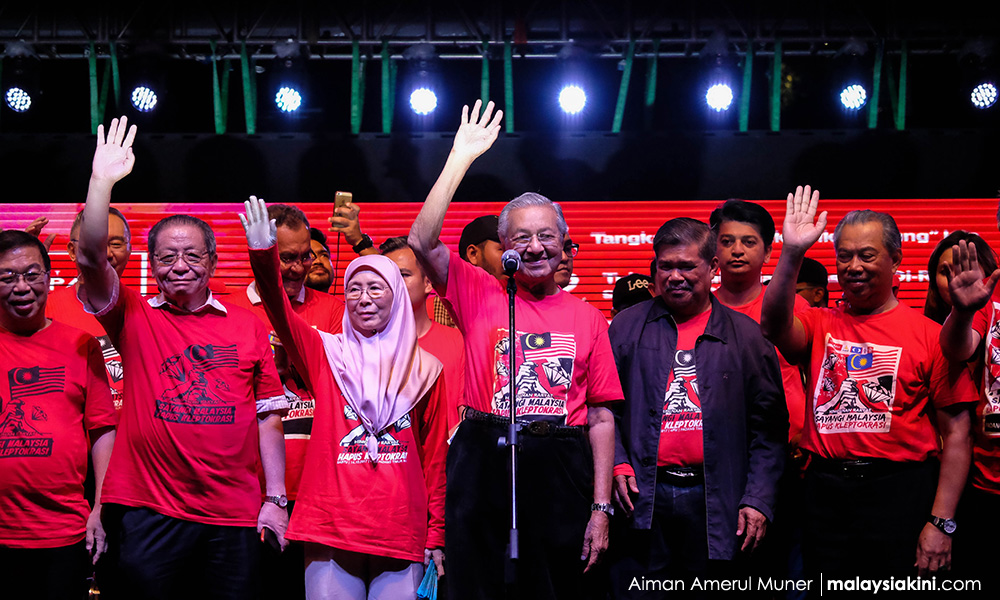 He also vows to take five anti-corruption measures, including arresting Malaysian Official 1, setting up a Royal Commission of Inquiry (RCI) on 1MDB and Felda, setting up an independent body to return allegedly misappropriated funds, and placing the MACC directly under Parliament.
He also pledges to abolish direct negotiations for future government projects.
He notes that Padang Timur, which is able to accommodate up to 40,000 is not at full capacity.
However, Mahathir claims that if the crowd at the back of the stage join in, then the field will be full.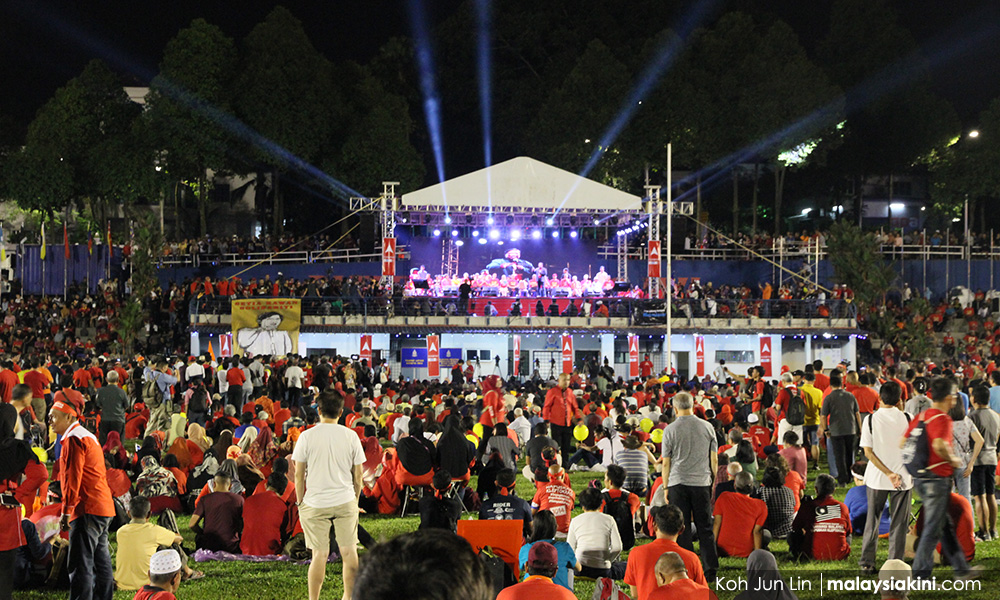 10.20pm - Padang Timur: The event's headliner Harapan chairperson Dr Mahathir Mohamad takes to the stage to deliver the closing speech.
He calls Prime Minister Najib Abdul Razak an "enemy of the state".
10.10pm - Padang Timur: All onstage stand and hold up "Sayangi Malaysia, Hapus Kleptokrasi " placards and recite the "Ikrar Padang Timur" (Padang Timur pledge).
"Malaysia ini rakyat yang punya (Malaysia belongs to the people)," they shout to end the pledge.
Despite being absent, PKR de facto leader Anwar Ibrahim's presence reverberates through a video presentation of a collection of his speeches.
There is pin-drop silence as the crowd watches the video, except for a loud boo when an image of Najib is shown on the screen.
Earlier, Anwar's wife and Harapan president Dr Wan Azizah Wan Ismail took the stage and gave a brief 30-second address.
"Don't forget Anwar (Ibrahim), don't forget Tian Chua!
"Come to the general election and vote Pakatan Harapan!" she said.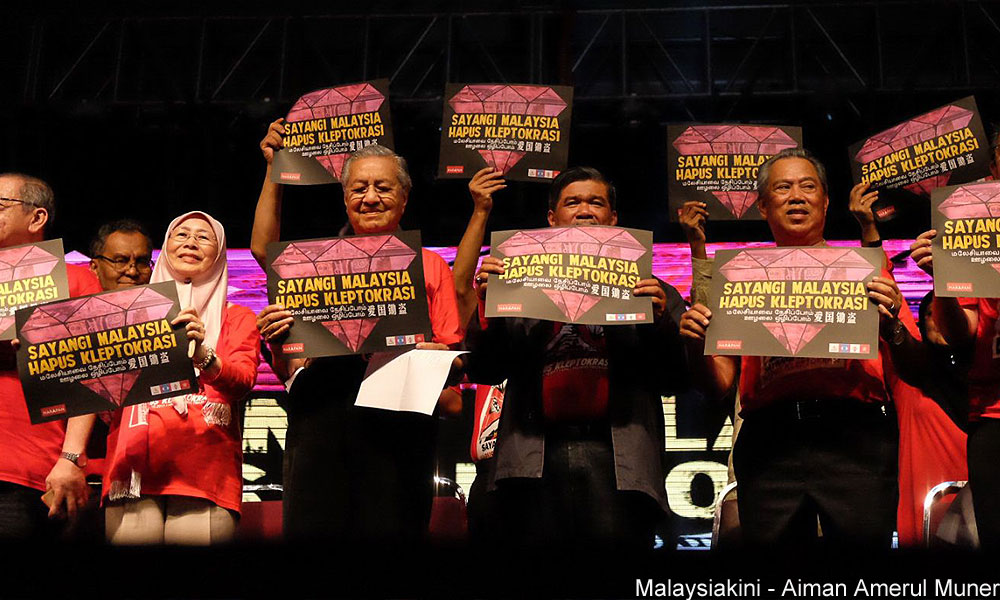 10pm - Padang Timur: DAP secretary-general Lim Guan Eng wants the rakyat to reject the "insane" ruling coalition.
"We gather here today because we want Malaysia to become normal again. We do not want Malaysia to be ruled by an insane ruling party. The whole world says they are corrupted, they say they are clean.
"Only an insane will say so. No drugs can cure them," he says.
Lim cites the Umno gang which claimed that his father Kit Siang is related to the late Chin Peng, the former secretary-general of Malayan Communist Party.
"Now, which party is given the honour to speak at the national congress of Communist Party of China (CPC)? Not DAP. I feel slighted. If DAP is a communist party, what kind of party is this?" he asks.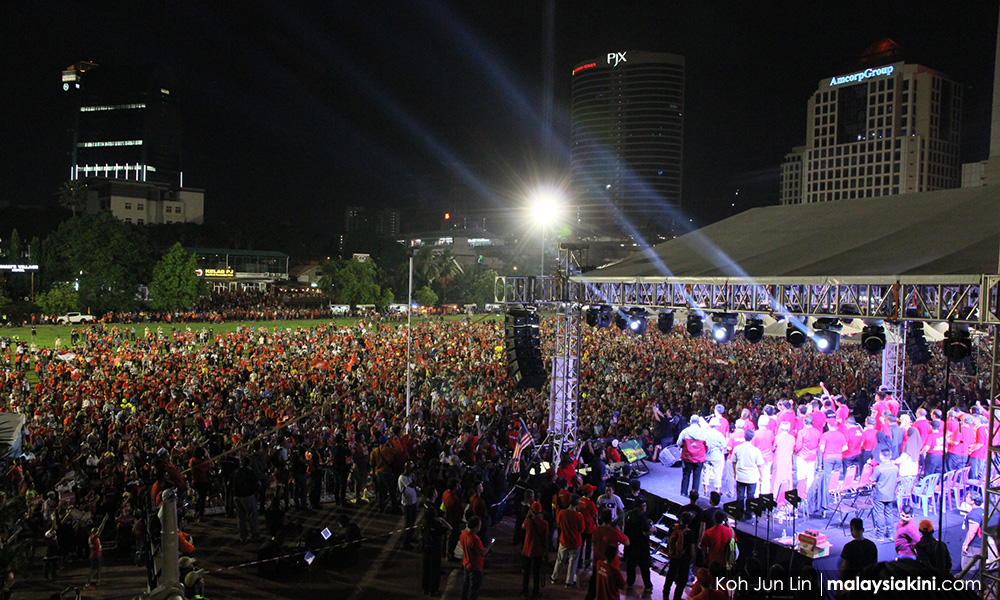 "Everyone, including Mahathir had denied that my father will become the next prime minister. Only Umno wants him to be the prime minister. It's an insane party."
Lim pledges that Harapan will send the "celaka" (damn) Penang-born billionaire Jho Low to jail if the opposition takes power.
Meanwhile, the emcee of the rally announces that the leaflet, which features the shadow cabinet and disseminated at the rally, was fake.
He shows a copy of the leaflet which portrays Kit Siang as the prime minister.
Lim also repeats his pledge that Harapan will keep the 1Malaysia People's Aid (BR1M) while abolishing the goods and services tax (GST).
"If you support us to remove BN we will do good for the country by abolishing the GST.
"At the same time we will maintain BR1M. We are sure we can do it because we are clean and the people will get the money," he says.
10pm - Taman Jaya LRT: Crowds are still arriving at the LRT station, joining the growing crowd which Malaysiakini estimates to be at around 8,000 people.
Some of the new arrivals tell Malaysiakini they were waiting to catch the highlight of the rally and for the weather to cool down.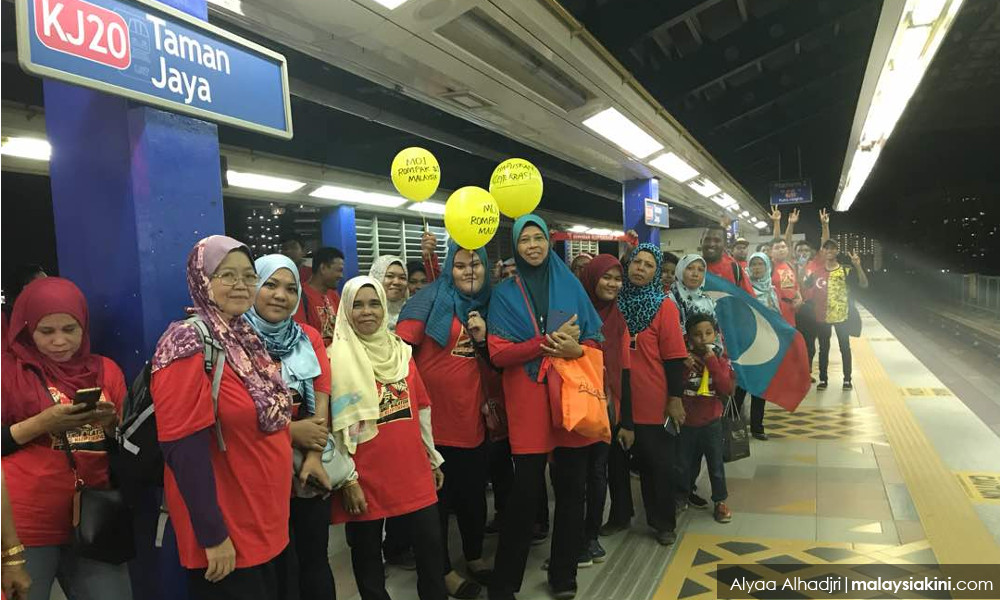 However, others met at the LRT station are leaving Padang Timur. Generally, they say they are trying to avoid the crowd and have been around since 4pm this afternoon.
"We can still watch the livestream from home," says Maznah, from Klang.
Her group of about 20 people, carrying balloons, PKR flags and horns, remained in high spirits, cheering and jostling into the train as it arrived on the platform.
9:40pm - Padang Timur: Medical team coordinator Tan Gengta urged the rallygoers to stay hydrated and rest their legs whenever possible.
"I want them to drink more water, and also to rest more because you can see the ground is still wet.
"Mostly there is dehydration, and they don't have a proper place to sit, so they will get cramps," Tan tells Malaysiakini.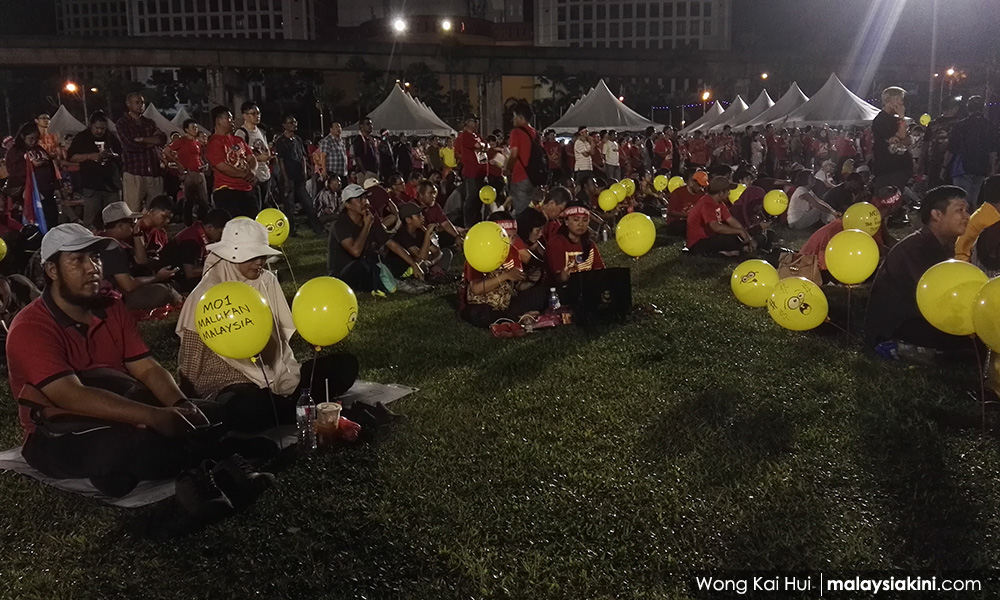 He says his team has treated 12 casualties so far. These are heat stroke cases, apart for three that complained about cramped leg muscles.
The team has 45 medical personnel deployed around two tents on opposite ends of the field, backed by three ambulances.
9.40pm - Padang Timur: Amanah president Mohamad Sabu, who has never celebrated his birthday before, has his first celebration today, at the age of 63.
"I am orang kampung, I never celebrated my birthday," he says before a birthday cake is presented to him and a birthday song was sung to him.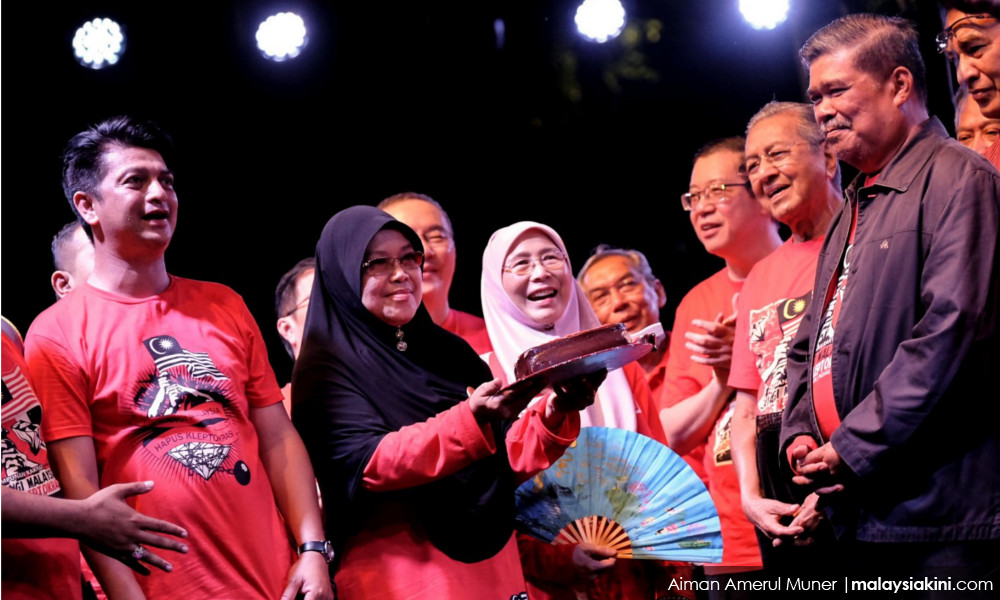 9.30pm - Padang Timur: A part of the field is being filled with yellow balloons brought by two participants from Kepong, who are giving the balloons away to the crowd.
"I showed up to this rally and distribute yellow balloons to others. These yellow balloons represent my wish to have a clean country", one of them tells Malaysiakini.
"I have been doing this since Bersih 4 and I will keep doing this until we have a better country. When I give away the balloons to other participants, I feel fulfilled," he adds.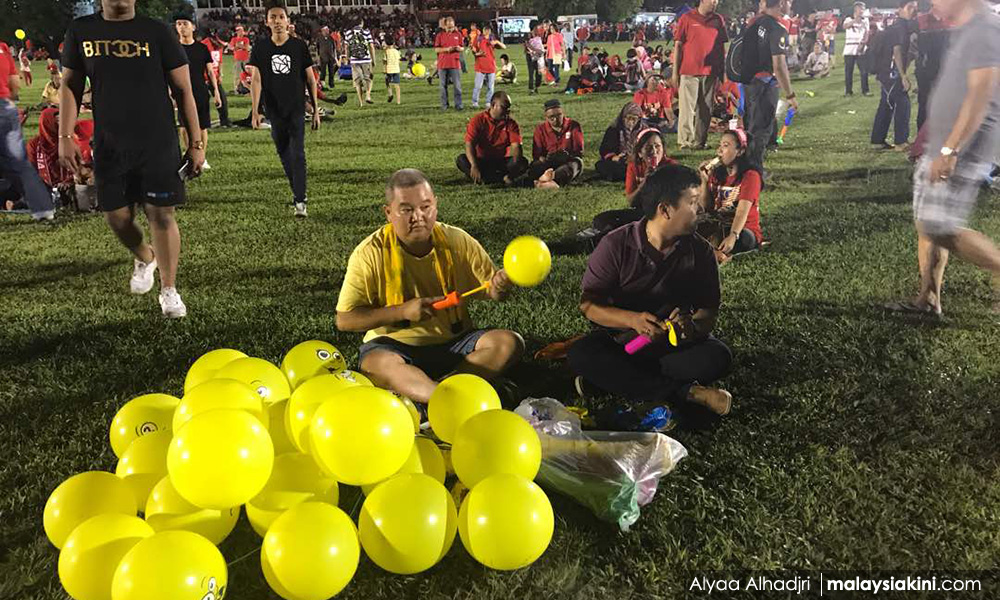 Meanwhile, 70-year-old Chin Ah Moi tells Malaysiakini that this is her first ever rally.
"I share the struggle of Bersih and other rallies, but I did not attend any of these rallies," she says, explaining that she felt unsafe to take part in previous demonstrations.
"Why now? Because the Petaling Jaya mayor (Mohd Hazizi Mohd Zain) said he will carry (Sungai Besar Umno division chief) Jamal Md Yunos out if he sells fish," she adds.
Chin, who stays in Damansara, drove here with her 73-year-old husband.
"We are not party members, but we support DAP. My children participated in previous Bersih rallies," she says.
9.20pm - Padang Timur: Taking to stage, Bersih chairperson Maria Chin Abdullah calls for the people to rise up to effect change despite the hardship they are facing.
"We do not have a reformed government, so the people must rise because we want a change and free Malaysia from cruelty," she says.
Maria (photo) urges Pakatan Harapan to be united to face the next general election.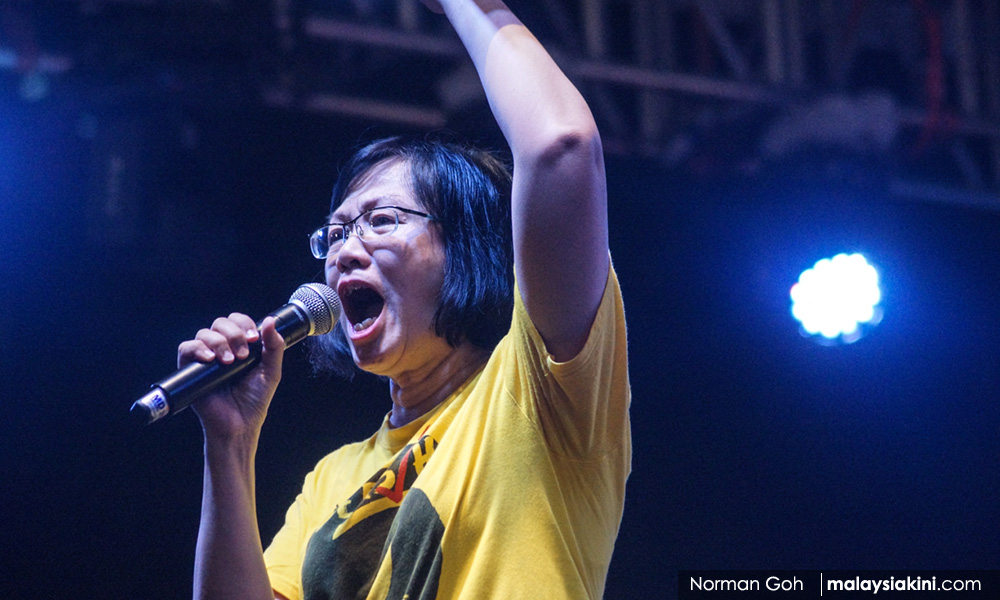 "This will show that you are ready as the government in waiting. I hope to hear from Harapan tonight about its policies that will strengthen our institution, free our judiciary, defend civil liberty and abolish regressive laws," she adds.
Meanwhile, activist Hishamuddin Rais urges for another massive rally before the next general election.
"If we want to win in the next polls, we must go to the streets. Malaysians have no choice but to vote for Harapan," he stresses.
"This time we will win. If we do not win, we would have been cheated. Be aware of your rival, he is none other than Najib Abdul Razak."
If Najib continues to rule, Hishamuddin says, then China will be ready to take over Tanah Melayu.
9pm - Padang Timur: Amanah deputy president Salahuddin Ayub claims Najib is suffering from a chronic illness.
"I've been checking the dictionary, turns out there is an illness called kleptomania.
"Najib is a kleptomaniac. Najib is ill... he is actually a leader who has a sickness, who compulsively steals and robs the people's money," Salahuddin tells the crowd.
Kleptomania is a psychological disorder in which those who suffer it are compelled to theft.
8.55pm - Padang Timur: Pakatan Harapan chairperson Dr Mahathir Mohamad return to the rally venue donning a red anti-kleptocracy T-shirt.
The former prime minister, who is slated to speak by 10.25pm, waves to the crowd as he walks on stage.
Earlier, Bersih chairperson Maria Chin Abdullah arrived at Padang Timur.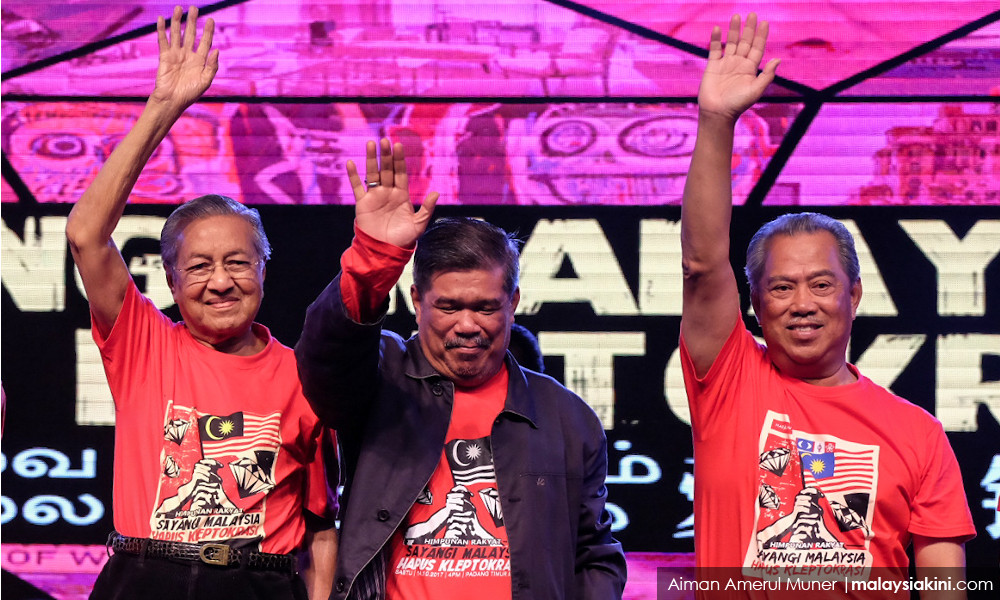 8.35pm - Padang Timur: In his speech, DAP acting president Tan Kok Wai reveals that today is Amanah president Mohamad Sabu's birthday.
He urges the audience to donate generously to the donation drives that Mohamad launched, and to go further to topple the BN-led government.
"He hasn't told me and I haven't asked him, but I know his greatest hope is to topple the oppressive BN government," he says.
Meanwhile, Bersatu deputy president Mukhriz Mahathir claims that Malaysia has been weakened by a kleptocratic prime minister, and is being preyed upon by other countries to further their economic and geopolitical interests.
"When they see a weakness and that a prime minister is weak and begging here and there, they would come in and demand all kinds of things.
"And geopolitics is very dangerous because it involves matters of sovereignty," he says.
8.30pm - Padang Timur: As the rally prepares to kick-off another round of speeches, the crowd has increased to over 5,000 people.
Some are sitting on the damp field while others are packing the bleachers facing the main stage.
PKR veteran Syed Hussin Ali says he is happy with the turnout, despite an initially higher estimate by the organiser.
"There seems to be a good support for the rally. Shows that people are angry with 1MDB," he says.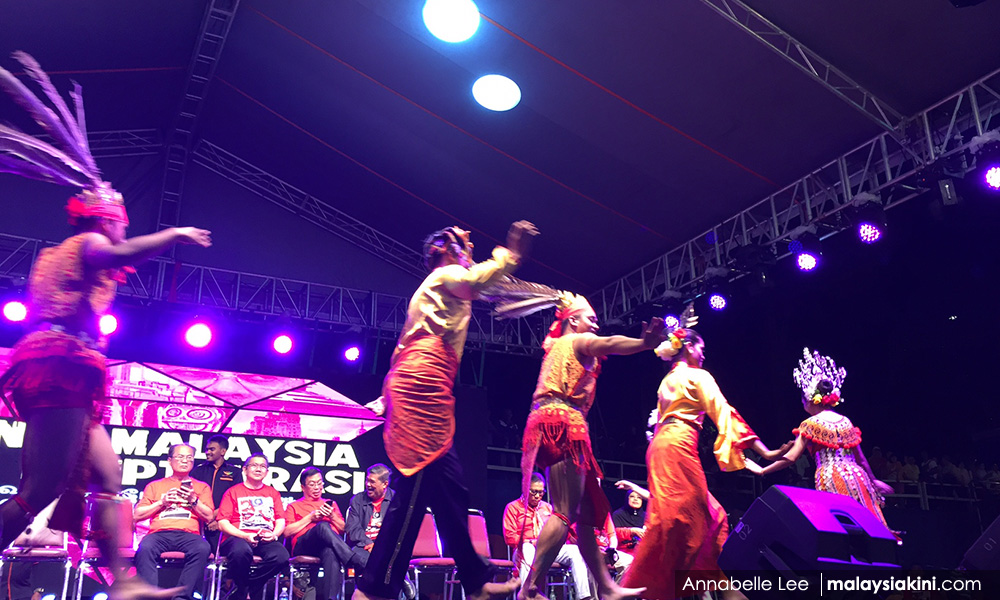 On criticisms that the overall festive atmosphere can downplay the rally's main message, Syed Hussin says it's good to have a mix of performances, games and speeches by leaders.
In one of the tents, corruption watchdog C4's Cynthia Gabriel says they sold all 100 premium sets of its Monopoly-inspired 1MDB-linked board game, Kleptopoly.
Visitors are also given a chance to try their hand at the game.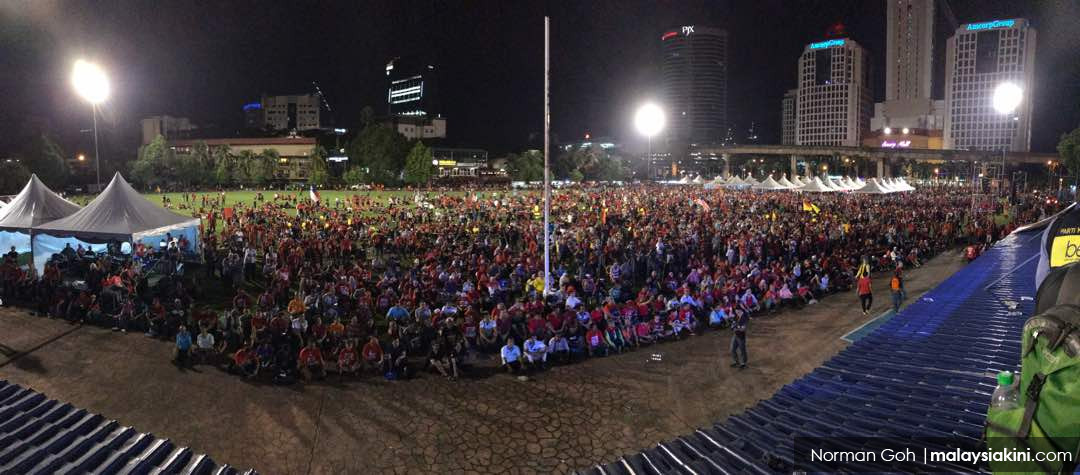 8pm - Padang Timur: The second half of the night's programme is kicked off by a political message-imbued rap performance led by Selayang municipal councillor Edry Faizal Yusof.
Performing on stage, Edry spits the rhyme, "Bangkit kawan bangkit" and "Lawan tetap lawan".
It is followed by a performance of Sarawakian and Sabahan dances including the Ngajat, Datun Julud and Kuda Pasu.
Earlier during the break, some rallygoers took time to learn more about the 1MDB scandal that triggered today's rally.
Several tents had been put together as an improvised exhibition space for posters explaining the scandal, and there is a small but steady stream of visitors despite the soft muddy ground in the area.
One visitor, Muhamad Shamsuddin, 55, from Klang says the exhibition is a good effort to explain the scandal, but setting it up in an anti-kleptocracy rally amounts to preaching to the choir.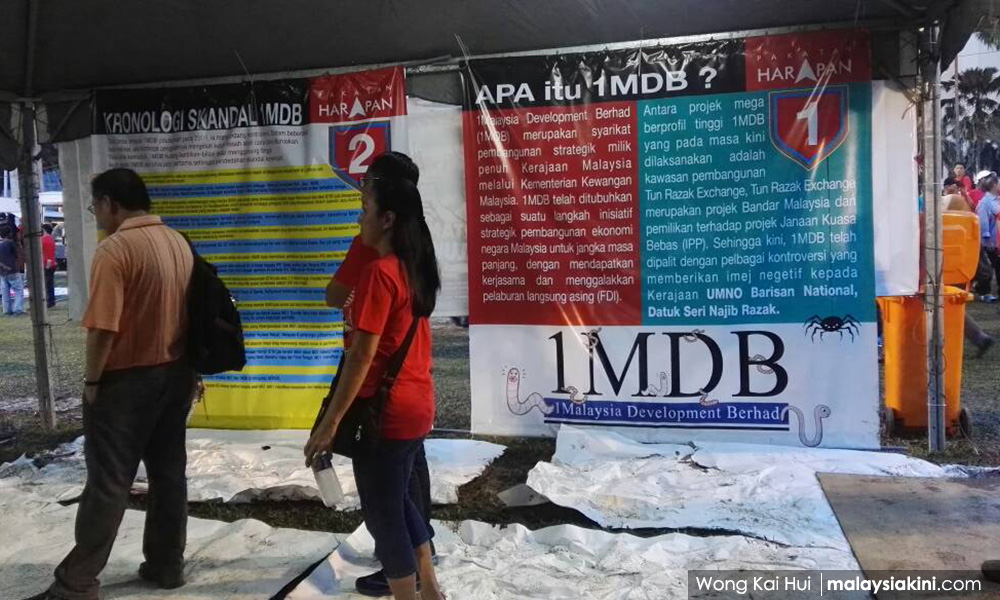 "The people who come here already understand (the scandal). They have already read it on the Internet and social media.
"They should do this in public such as shopping malls and night markets," he says.
However, another visitor, Wan Mohd Riduan, 30, from Kajang, says he found the exhibition helpful in explaining what he vaguely understood.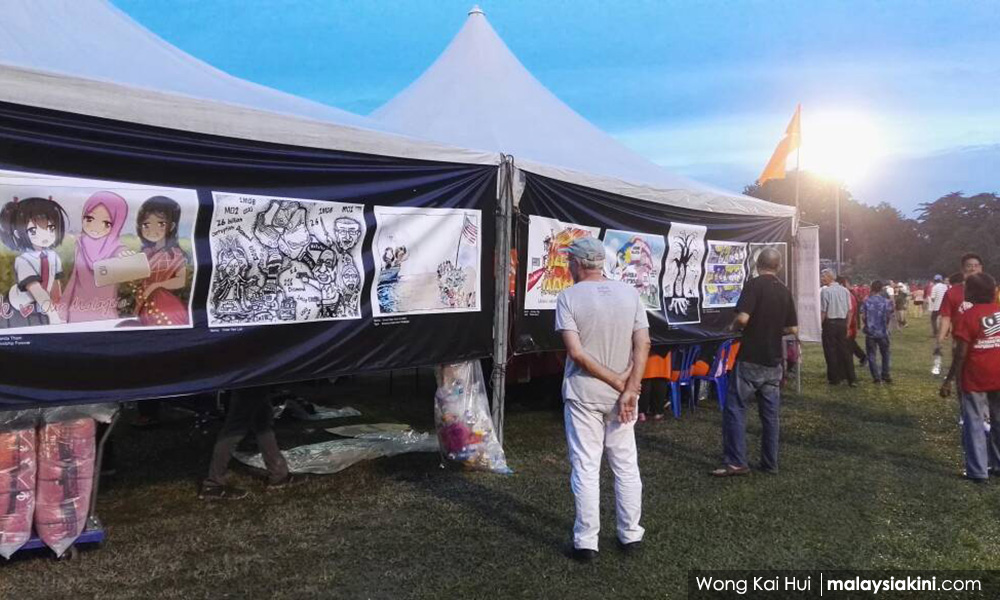 "(I'm taking pictures of the posters) to read it later. If I just read it here, it may not enter my head.
"So if possible, I'd like to get these facts and study them," he tells Malaysiakini.
7.50pm - Padang Timur: NewGen party is seen on the field holding up banners that include its logo alongside that of the four other Harapan component parties.
The party previously applied to be the coalition's fifth member but the approval has yet to be given.
"We are in the process of being in the coalition.
"We will be called for a meeting soon, perhaps after Deepavali," says president Rajaretinam Armuggan, adding that they are expecting 500 people from their party to attend the rally.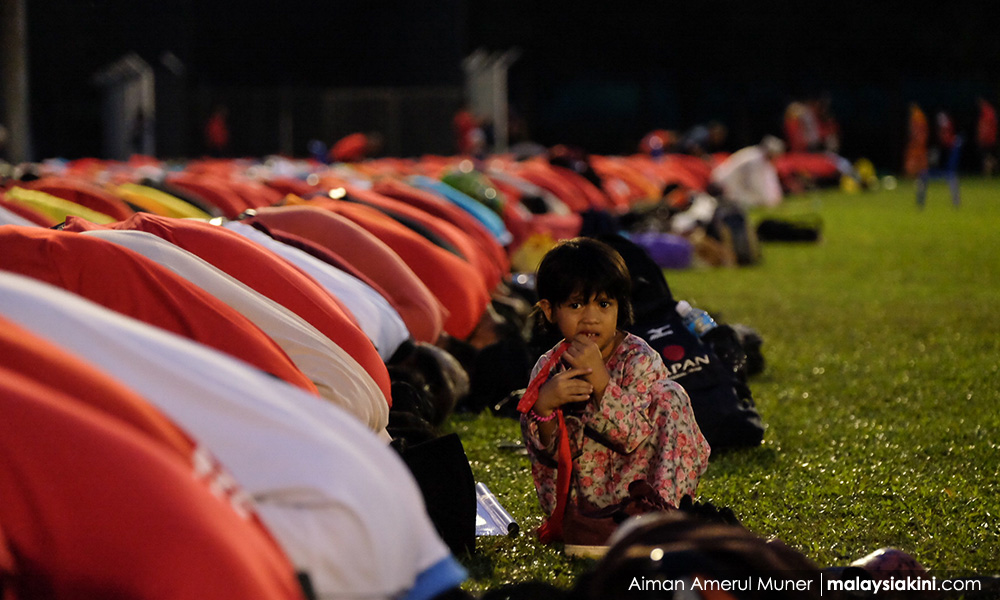 7.00pm - Padang Timur: Rally organisers call for an hour's break. The programme will resume at 8pm.
6.50pm - Padang Timur: Bersatu vice-president Abdul Rashid Abdul Rahman says 99 percent of the plans implemented by BN was meant to cheat the people.
"Don't be surprised (at what I'm telling you). I am the former Election Commission chief, but I'm standing in front of you now.
"Why? Because I am fed up with the government leaders, who are also my former bosses.
"(I am sure) these bosses are 99 percent cheating. Most of the programmes organised were meant to cheat and win their hearts. They give little but gain a lot. They took away the people's right by cheating, stealing and robbing," he says.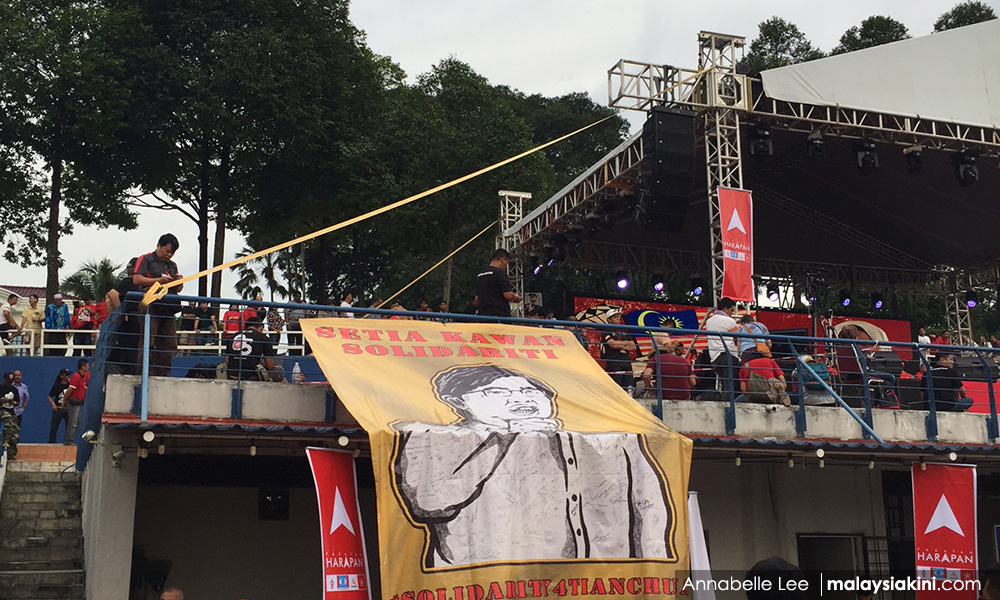 6.45pm - Padang Timur: As dusk sets, it is clear that there are very few youths who are part of this rally and the Padang Timur looks mostly like a gathering of elders.
A woman in her sixties, who requested anonymity because she is a civil servant, tells reporters that Pakatan Harapan did not manage to persuade the youths.
"In my opinion, Harapan failed to tell the younger people what they can get from them, so they are not interested to attend this kind of rally.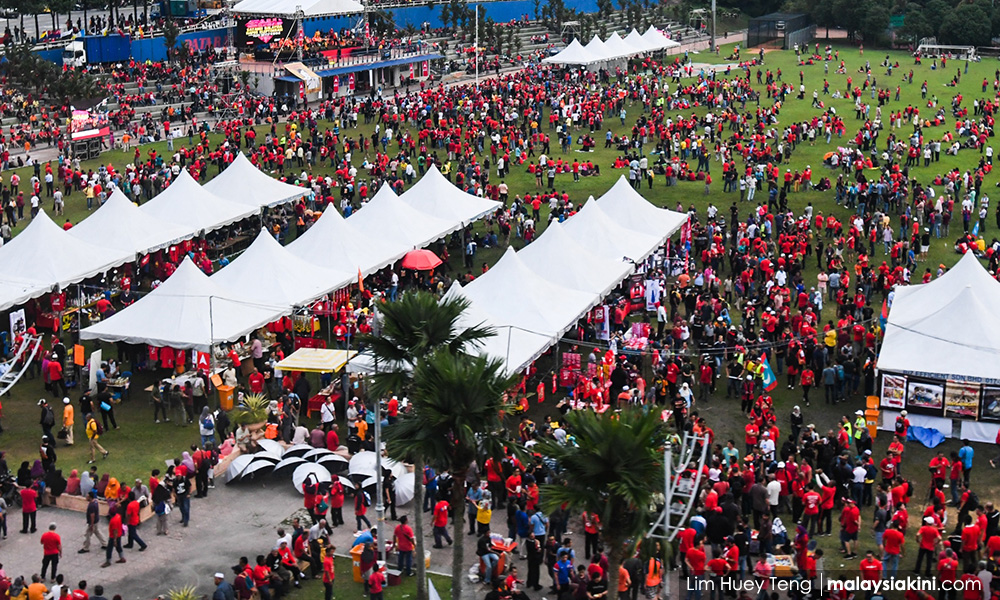 "Unless you are a civil servant, otherwise you don't see what you can get from the government, the youngsters nowadays are not interested in politics," she says.
However, a young couple from Kuala Selangor disagreed that youths are increasingly apolitical.
Aw Yeong Shi, 34, who says she has been part of many rallies for over the past five years, adds that the enthusiasm of youngsters is high, but many feel disappointed with the lack of change.
"Some of my friends joined the rally in the past few years, but they are disappointed as they didn't see any changes so they are not attending anymore.
"I think this is our duty as a citizen. We should be concerned about our country and don't give up easily," she says.
6.40pm - Padang Timur: For veteran Reformasi activist Nashita Md Noor (photo), having her former enemy - Dr Mahathir Mohamad - now lead the opposition is a bitter pill to swallow.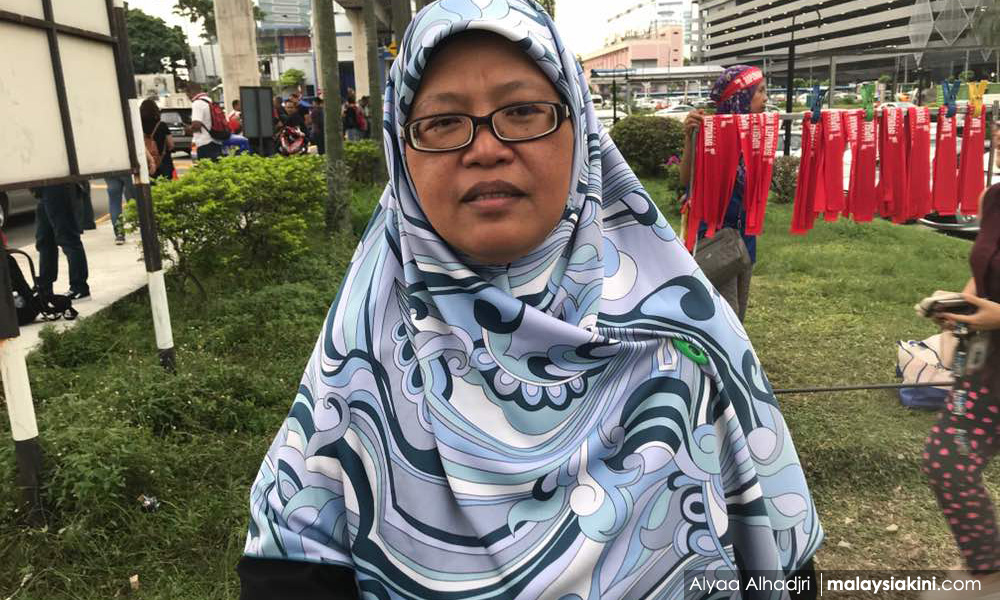 In fact, she was initially reluctant to join the rally today.
"I still can't accept him. But after talking to a few friends, slowly I'm beginning to have a new perspective," she says.
However, the veteran activist notes that the rally today is a far cry from the atmosphere during the Reformasi era.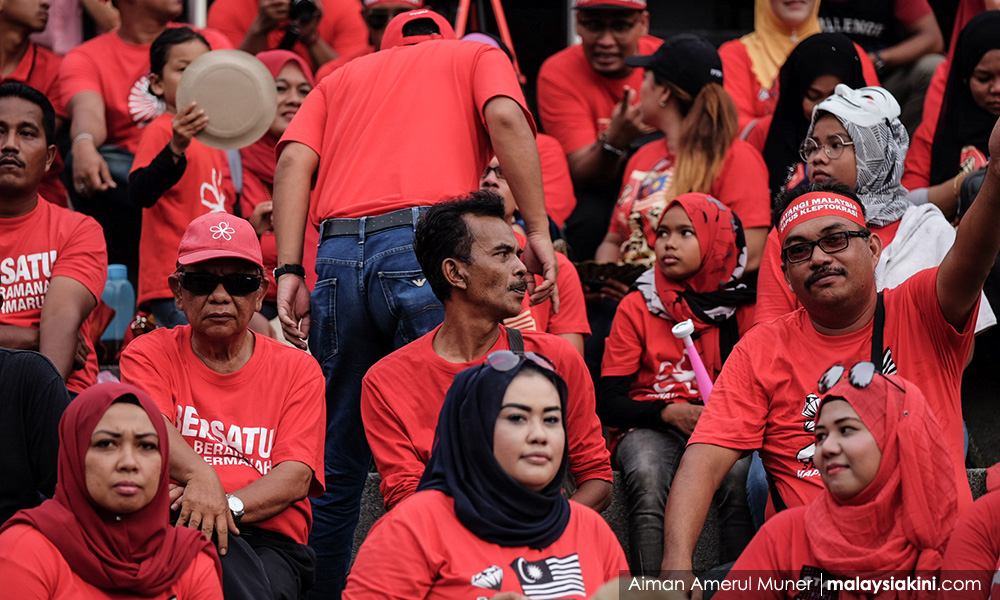 "The spirit of today's rally is no longer the same. It's more like a carnival now," she says.
6.20pm - Padang Timur: "Stop crying, women, fight!" says Pakatan Harapan women's wing chief Zuraida Kamaruddin in an impassioned speech.
Zuraida says women who are distressed over GST and high cost of living must stop "crying" and assert themselves by joining the fight against BN.
"I am saying, there is no need for women to cry, (stand up and) kick Najib and BN. My sisters, this is the best time to take over (Putrajaya)," she says.
"In 1998, we have the father of reformation Anwar Ibrahim. Now, we have new fighters. Who? Mahathir Mohamad, Muhyiddin Yassin, Mukhriz Mahathir and all the Bersatu members."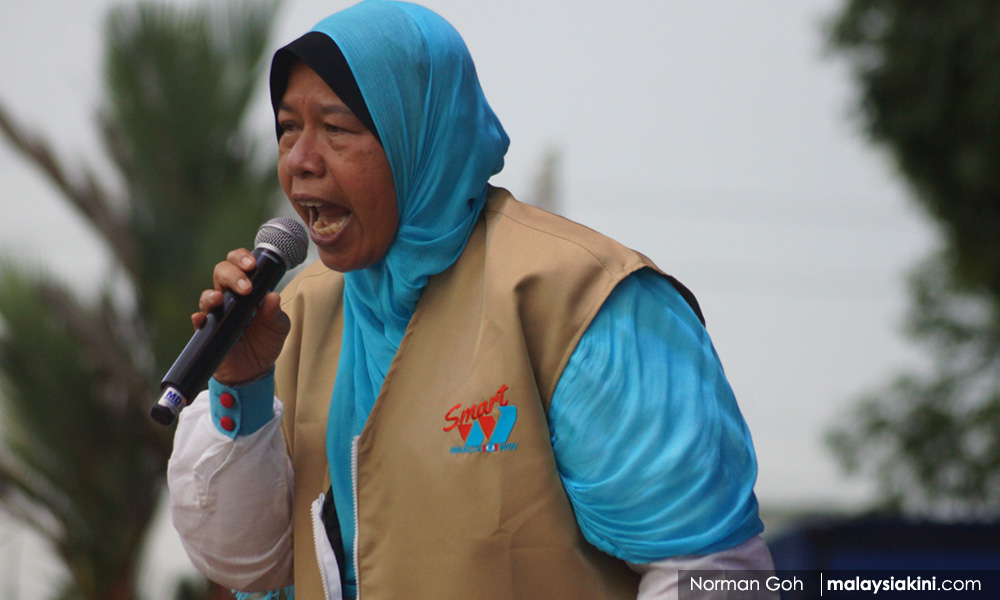 6.15pm - Padang Timur: While no major rally is ever short on interesting antics to mock their political opponents, one, in particular, seems very popular with rally-goers.
The man is Muar PKR chief Yatim Sarpan, 62, who has a placard with the words "BN Umno steal people's money" in English, Malay and Chinese languages.
However, it is the money dangling on two strings from the bottom of his placard that is drawing the most attention - about RM70 worth of RM1, RM5, and RM10 notes.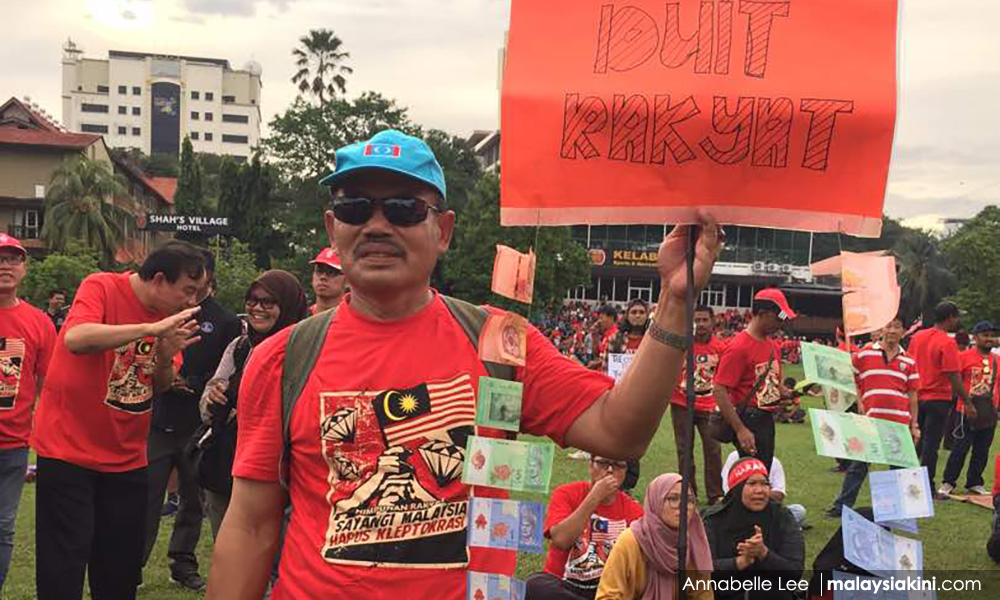 Wherever he went, people will ask for a photo with him and his "money tree" placard, or hold the placard for themselves.
"People often say that Umno and BN steal money, so my idea is to show people's money, and the words.
"Many people came (to take photos). They said my idea was the best," he chuckles.
When asked about the Chinese text, he said he had asked a friend to write the words, and he imitated it.
6.10pm - Padang Timur: It is DAP women's wing leader Chong Eng turn to speak and she promises that Pakatan Harapan will do more to protect women if the coalition comes to power.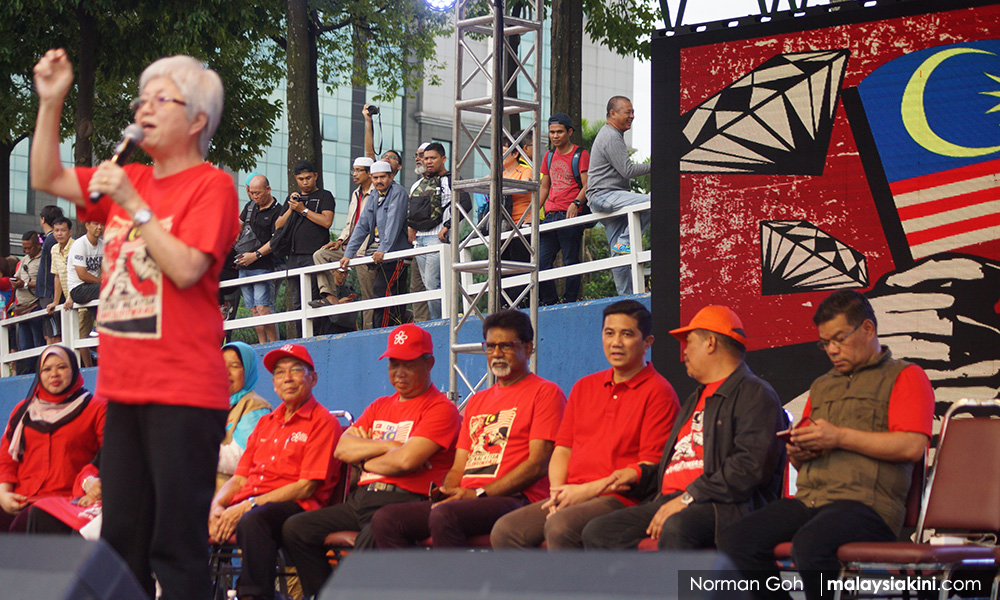 Among others, she said Harapan intends to make it harder for people who try to take on second wives.
"We will compel those who take on a second wife in Thailand to seek approval from their first wives upon husband's return," she says.
Many women in the crowd appear to smile in approval when Chong says this.
6pm - Padang Timur: Pakatan Harapan chairperson Dr Mahathir Mohamad takes leave from the stage. He is scheduled to return after his break for the latter half of the rally.
When approached, Mahathir says he is happy with the turnout so far.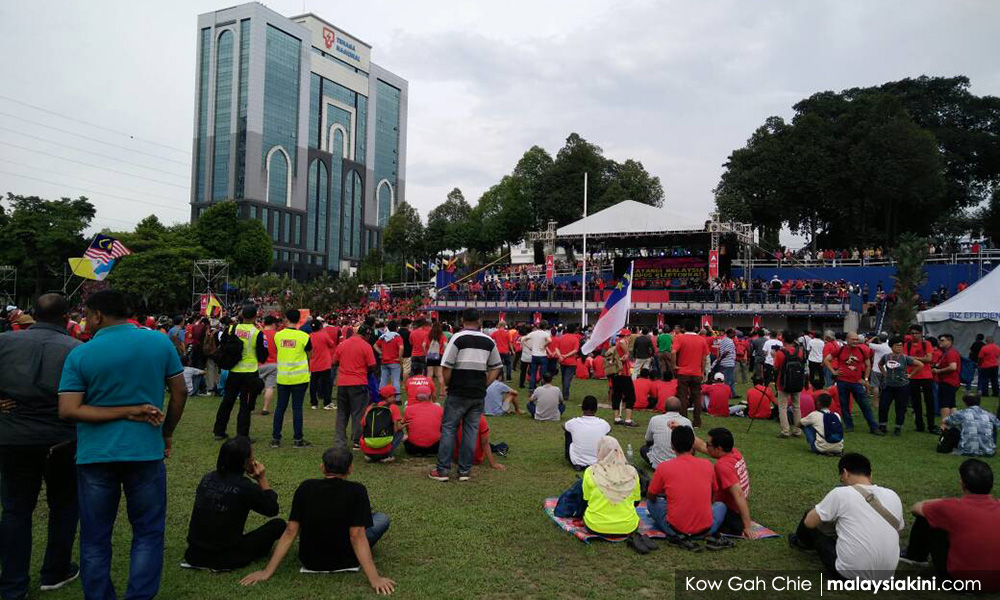 "It is about 10,000, but I can't count," he says.
When pressed if he expects the 100,000 target to be met, the 92-year-old smiles and says "we'll see".
5.50pm - Padang Timur: Bersatu president Muhyiddin Yassin gets a warm reception from Pakatan Harapan supporters as he navigates through the field.
Many are seen asking the former deputy prime minister to pose for photographs.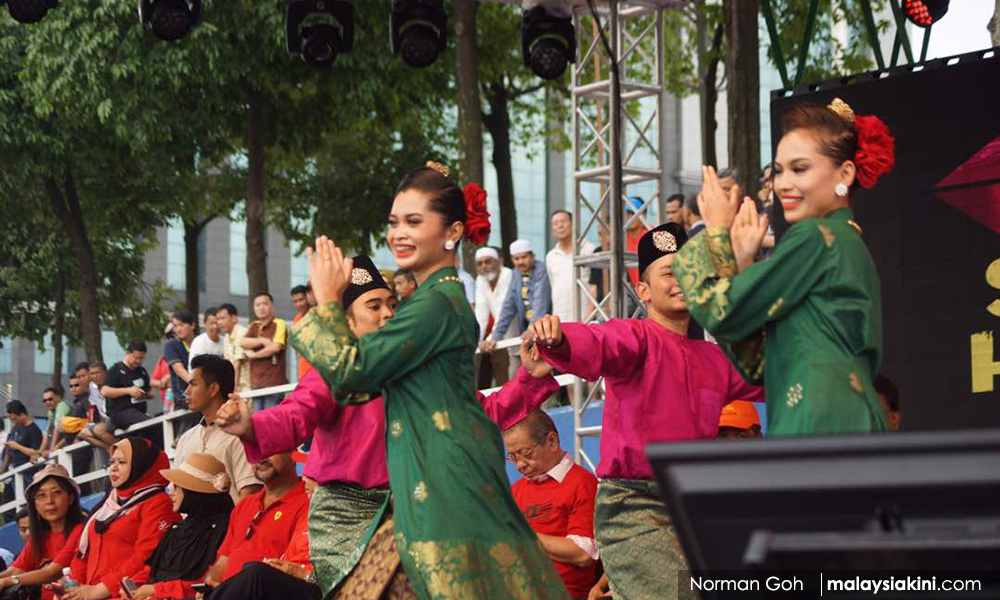 Meanwhile, there are performances on stage, including the zapin - a Malay traditional dance.
A group of female PKR members from Penang are seen dancing in their own zapin circle on the field.
"Our group had 20 people. We have been here since 1pm. We are ready to party," says Rahimah Adnan, 42.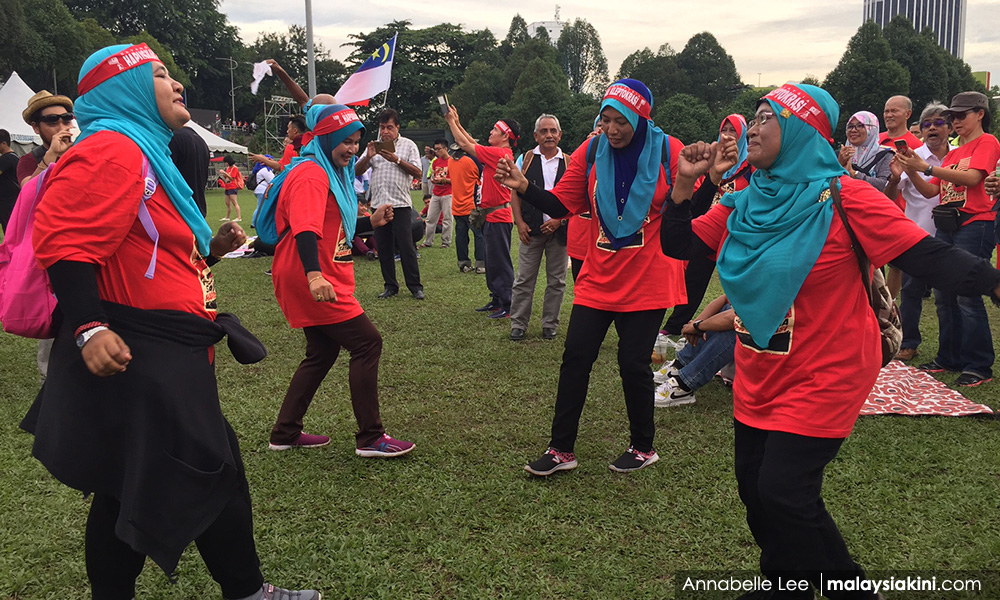 5.45pm - Padang Timur: More people are trickling into Padang Timur as the weather cools. There are approximately 3,000 people on the field now with more milling around in the vicinity.
5.35pm - Taman Jaya LRT: Heeding the organisers' advice to use public transportation, one group of rally-goers from Kuala Terengganu left their cars in Kuala Lumpur before heading to Padang Timur by rail.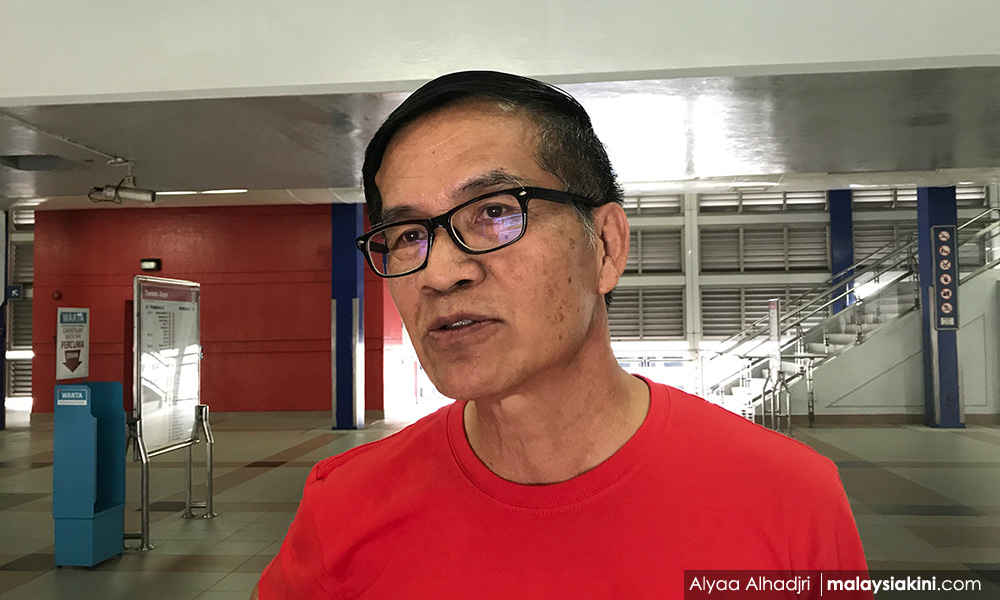 "I have never missed a single major rally since the first Bersih," says Ng Chai Hing (photo), 58, from Kuala Terengganu.
"We came in two cars. All eight of us. Just now we took the train from Masjid Jamek."
Osman Salleh, 58, who is also from Kuala Terengganu, says age is not a problem for him and his middle-aged rally companions.
"We may be old but we will still come to support Harapan," he says.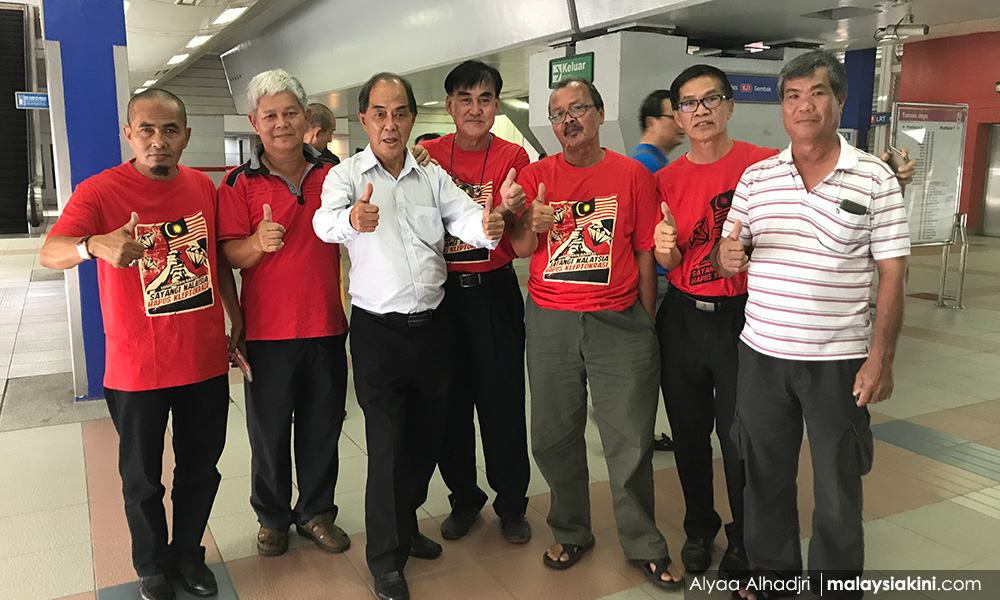 Since 5pm, almost every train that arrives at the Taman Jaya LRT station will see a large number of rally-goers disembarking.
5.30pm - Padang Timur: Rally organisers are urging Pakatan Harapan supporters in the vicinity to come closer to the stage and fill up the field.
Many older participants appear content sitting at the far end of the field, some on their own picnic mats and foldable chairs.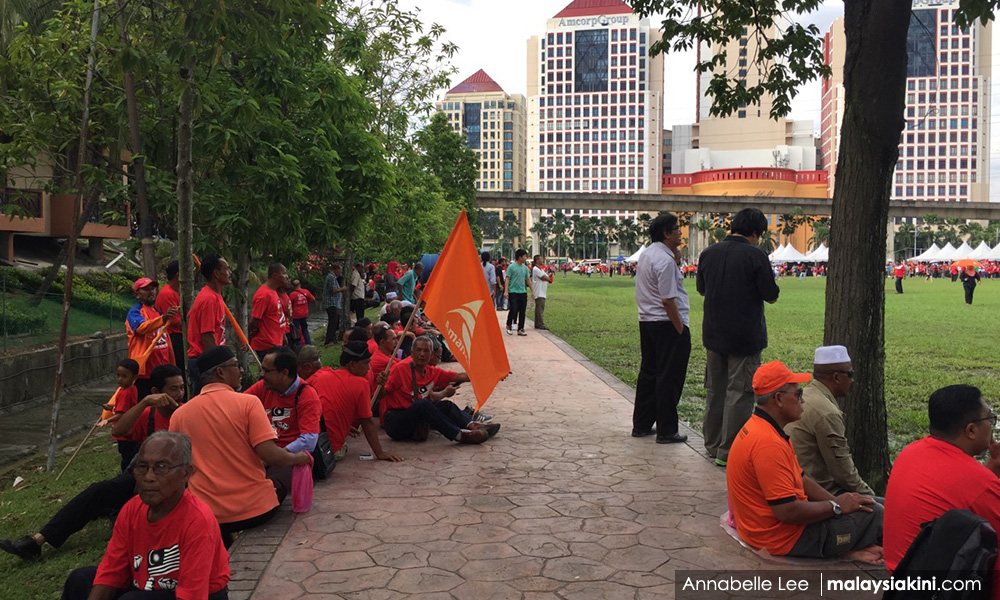 Arif Daseri, 57, who came from Perak in an Amanah-sponsored bus this morning, says it was too hot to relocate just yet.
"It is really hot right now, we will perhaps walk out unto the field later," he says.
5.20pm - Padang Timur: In a fiery speech, People's Declaration coordinator Khairuddin Abu Hassan (photo) vows to "fight" Prime Minister Najib Abdul Razak to his last breath, or until he is convicted and sent to jail.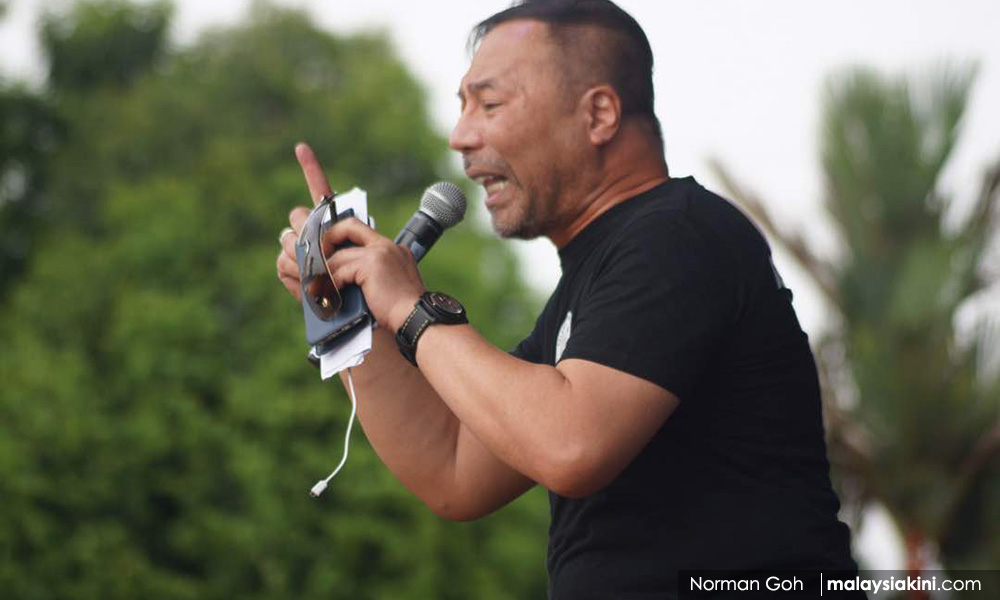 He accused Najib as the person responsible for ruining Malaysia's democracy, political system, economy, and government institutions.
"Therefore I swear that as long as I have life in my body, even if bullets pierce my skin, even if cement covers my limbs, I will fight Najib to the end," he says.
For the record, Najib had repeatedly denied wrongdoing with regards to 1MDB related matters.
5.15pm - Padang Timur: A small group of people clad in light blue clothes stands out from a crowd of participants who are mostly clad in red.
Despite many participants flocking to stalls to buy the official rally T-shirts, which cost RM20, Norizan Salleh says she is happy with her shirt, supplied by Ketereh PKR, Kelantan.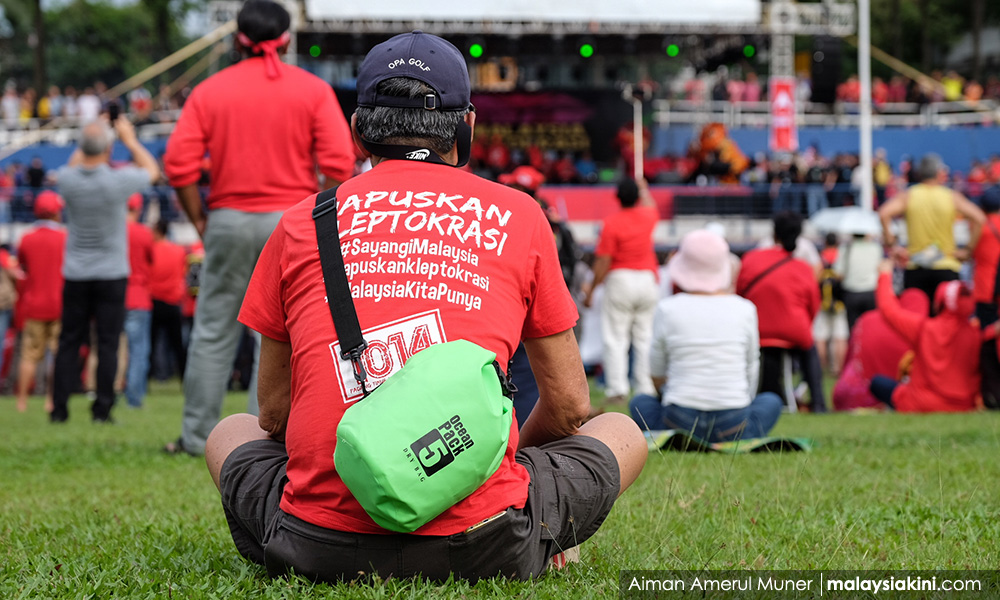 "Nah, I won't be buying the red T-shirt, I'm a strong PKR supporter," she says, adding that her entourage has about 40 people.
She complains that Bersatu, DAP and Amanah flags are outnumbering PKR flags, although this is being addressed.
5.00pm - Padang Timur: Bersatu supreme council member and former journalist A Kadir Jasin believes that the crowd numbers will pick up later because the public is fed up with "kleptocracy".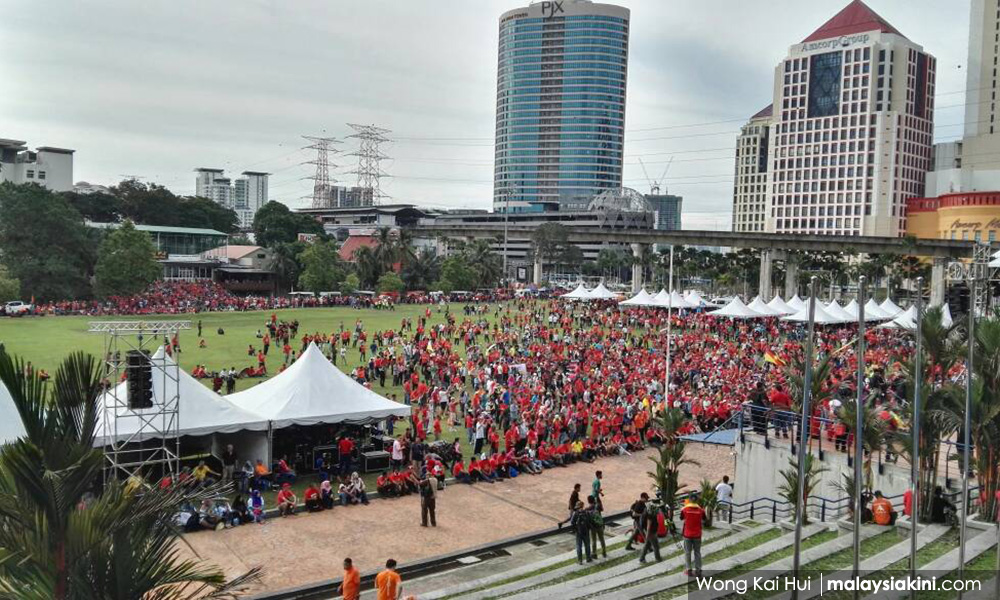 "God willing, more people will join us later. Public participation is important to prove that Malaysians are familiar with the term 'kleptocracy'," he tells reporters.
He says that the public are now aware of the problems with a kleptocracy and will do what they can to stem it.
Meanwhile, PKR's shipment of flag poles is here and volunteers are busy putting up flags.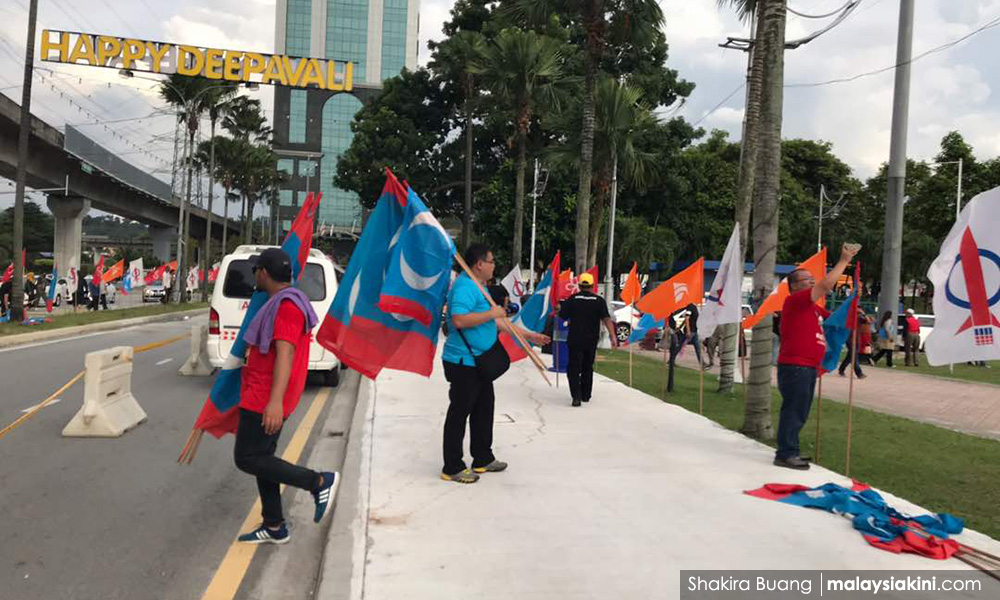 4.40pm - Padang Timur: The first round of speeches kick off with a plea from PKR youth chief Nik Nazmi Nik Ahmad for youths to register as voters.
He says with Anwar Ibrahim, Dr Mahathir Mohamad, Lim Kit Siang and Mohamad Sabu at the helm, Pakatan Harapan stands a good chance at winning the 14th general election, but not without the youth votes.

He points out that there are still three million eligible youths who have yet to register.
"We may resent the Election Commission for making things difficult, but let's not make excuses.
"Go to the post office even if you haven't been to the post office before. Do what you need to do to expel Umno and BN from Putrajaya," he says.
Amanah Youth chief and rally organiser Faiz Fadzil leads the crowd in a round of "Tangkap (arrest) Najib!" chants and says the people can see for themselves the lack of enforcement over 1MDB related matters.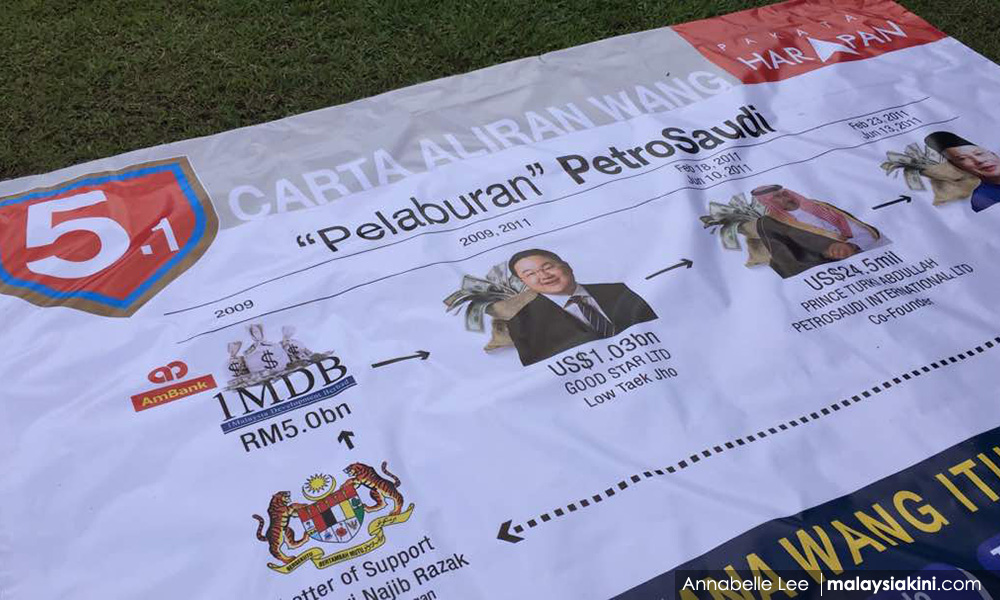 He promises that Pakatan Harapan will get to the bottom of 1MDB-related problems within 100 days after toppling BN in Putrajaya.
Following this, DAP Youth chief Wong Kah Woh says Harapan will make Malaysia the Top 10 "cleanest" country within 10 years should the coalition comes to power.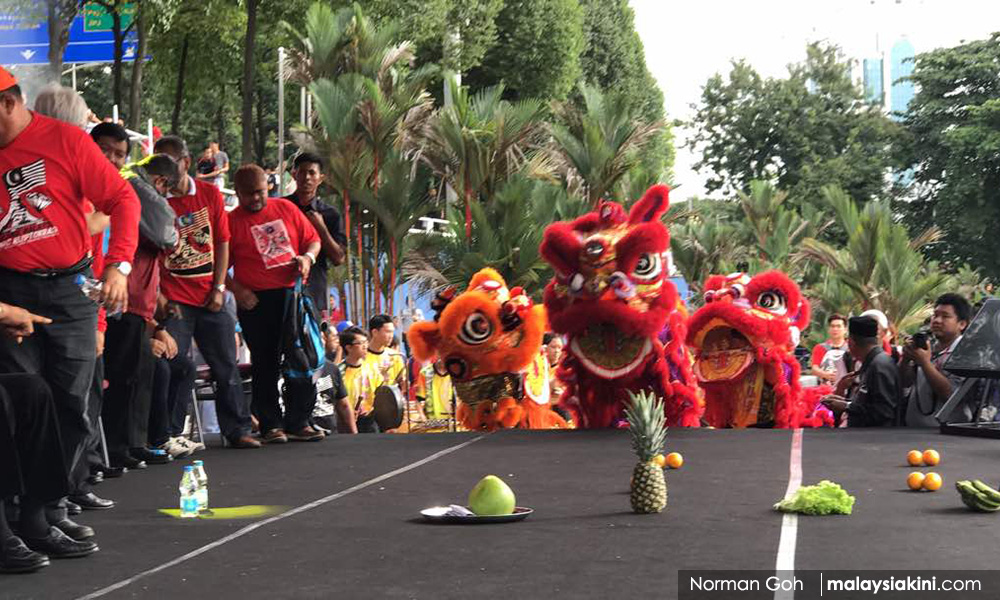 The Harapan youth speeches were followed by a lion dance performance.
4.30pm - Padang Timur: A group known as Sosialis Alternatif is setting up shop on the field to sell their newsletter, but they are no fans of Pakatan Harapan.
The group's representative Mohamad Amerul Zufar says the group's purpose is to oppose capitalism and not support the opposition coalition.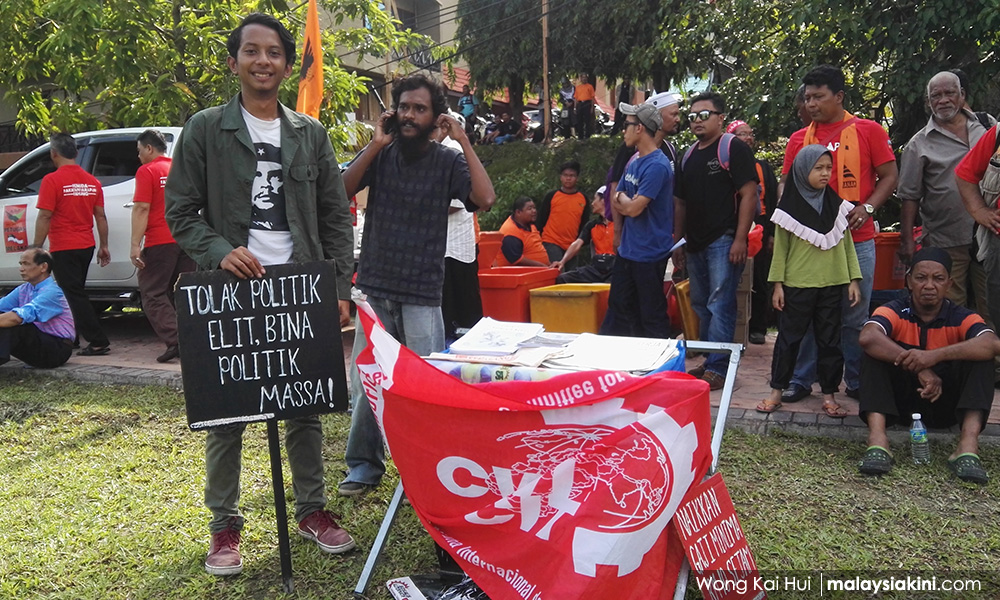 "We are a group of people looking for a political alternative. We support the workers and we oppose capitalism and nationalism.
"For examples, we demand the increase of wages and also lower housing prices. We need to escape from capitalism and embrace socialism," says Amerul.
He says Malaysia's problems will continue even if Harapan were to rule unless the problems of capitalism are addressed.
"Harapan will still cooperate with those foreign companies which exploit our workers. Politicians need to work for people, not for profit," he says.
4.25pm - Padang Timur: Things are officially underway as the rally organisers lead the crowd, about 1,500 people, in the singing of the national anthem.
Amanah president Mohamad Sabu then leads the crowd into chanting "Malaysia kita punya" (Malaysia belongs to us).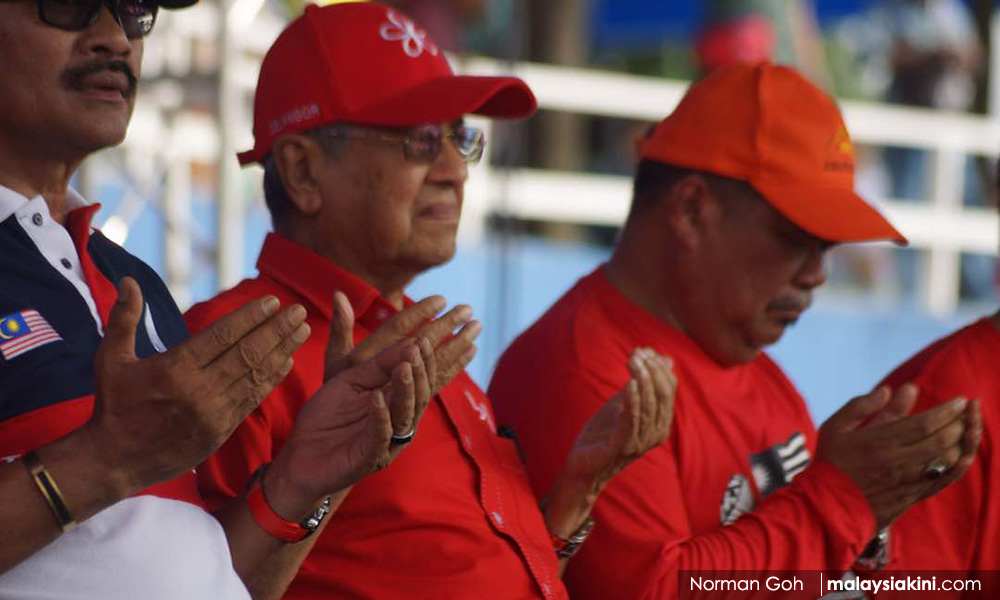 Harapan leaders are slowly filling up the seats on stage.
4.10pm - Padang Timur: The "Anti-Kleptocracy rally" kicks off with speeches by Pakatan Harapan youth leaders.
A few hundred people are following proceedings near the stage, although most are taking cover in shaded areas around the field.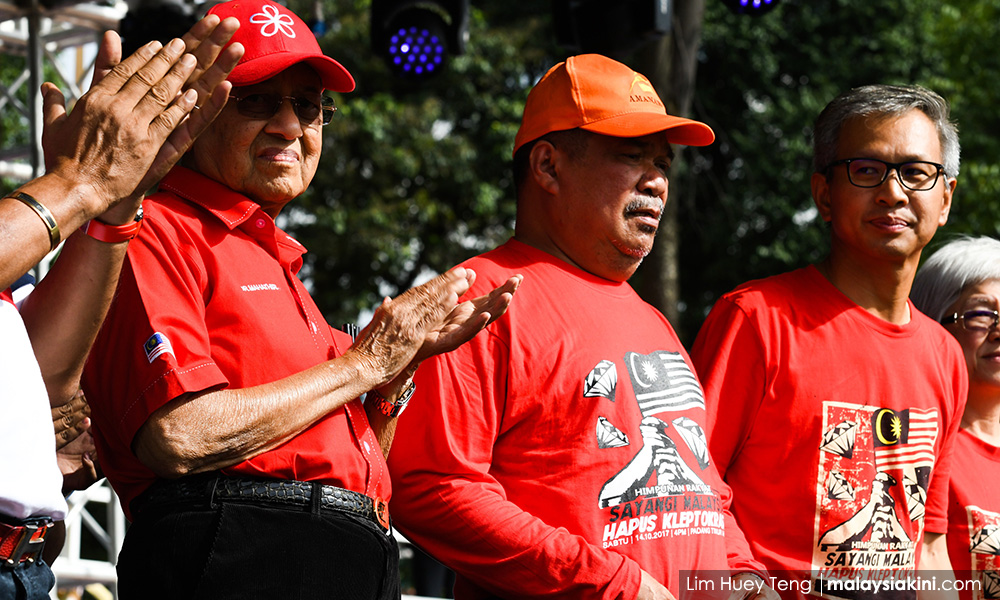 Harapan chairperson Dr Mahathir Mohamad arrives and takes a seat with a handful of top component party leaders on stage.
3.45pm - Padang Timur: It would appear that people that are milling around in the Padang Timur vicinity to be mostly middle-aged or the elderly.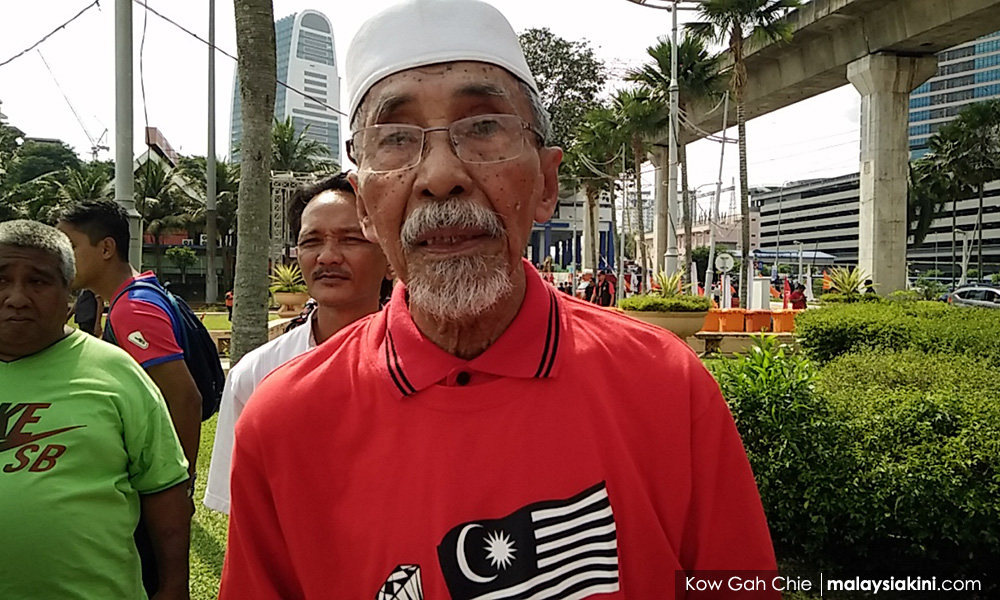 In view of this, Batu Amanah division chief Ishak Surin (photo) says young people must come forth and join the "Anti-Kleptocracy rally".
"It is 'wajib' (compulsory) for people to oppose cruelty, meaning it is berdosa (sinful) if you are not with us.
"Dr Mahathir Mohamad is 92 years old, and he still fights for the country. It will be a shame for those who are younger to not join the struggle," says the 82-year-old activist.
3.30pm - Padang Timur: PKR's flag woes appear to be sorted and a few can be seen now.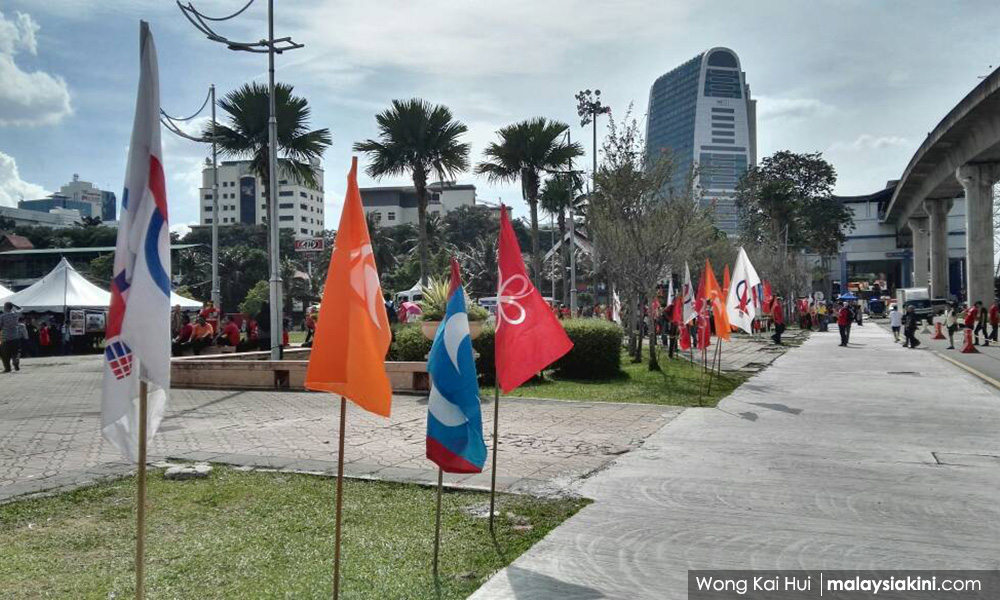 However, still missing is Sungai Besar Umno division head Jamal Md Yunos, who was supposed to set up a fish stall here at about 3pm.
Based on a posting on his Facebook page, Jamal ran a discount fish market in Meru, Selangor this morning before heading to Kuala Lumpur to check on his food stall, which will serve lunch to the poor between Monday and Friday, from this Monday onwards.
3.15pm - Padang Timur: About 70 people disembark from buses near the field.
According to Lim Tze Fei, 45, everyone on the bus are Harapan supporters from Kluang and Mersing, Johor.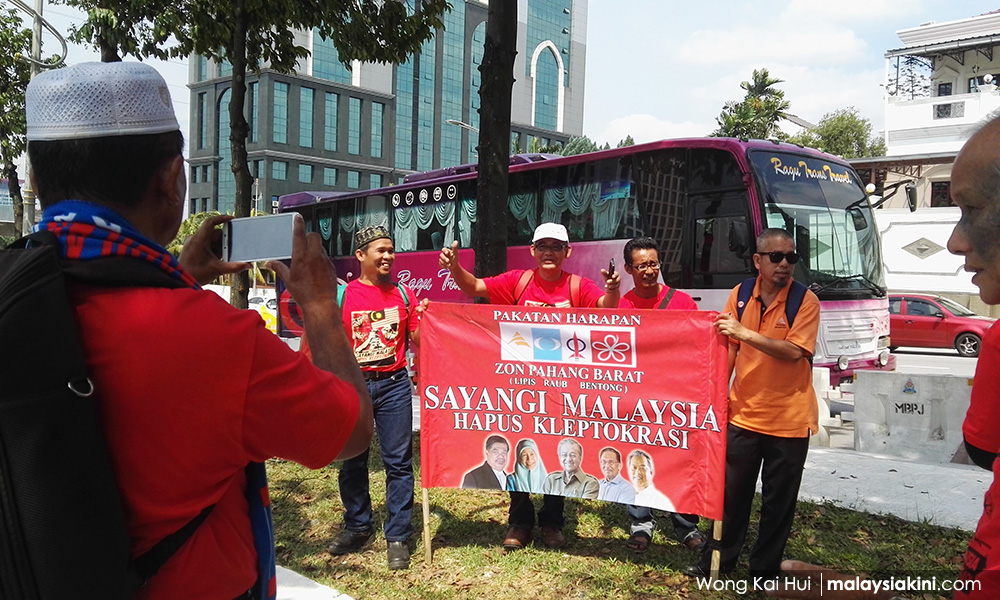 "I took part in many rallies since Bersih 2. Now, our job is to chase away that 'thief'," says Lim.
He says that even though he is critical of Dr Mahathir Mohamad's reign as prime minister, he believes that things will not be the same if Harapan seizes Putrajaya.
"There will be a balance of power. Besides, Bersatu is still a new party," he says.
There is hardly anyone on the field as most people are taking cover from the heat.
3.00pm - Petaling Jaya police HQ: A Federal Reserve Unit (FRU) water cannon and four personnel carriers are seen outside the police station.
The police station is about five minutes drive from Padang Timur.
There is hardly any police presence at Padang Timur.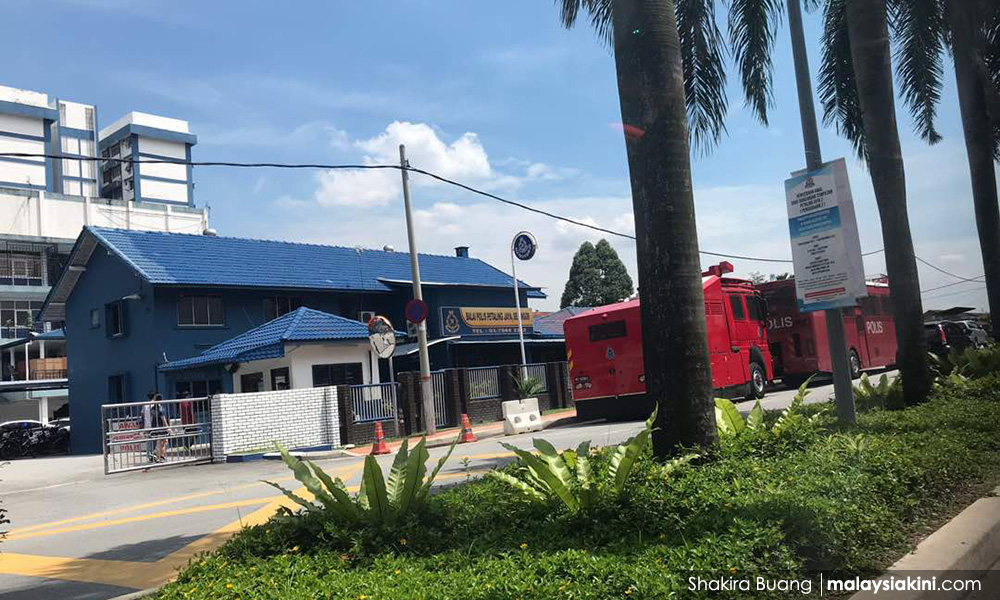 2.40pm - Amcorp Mall: Pakatan Harapan chairperson Dr Mahathir Mohamad will drop by Padang Timur at about 4pm although he will only speak late at night.
"He is having a walkabout and will visit the stalls. He will then need to take leave to rest and come back by about 8pm," says Bersatu's media officer Mohd Ikhmal Abu Bakar.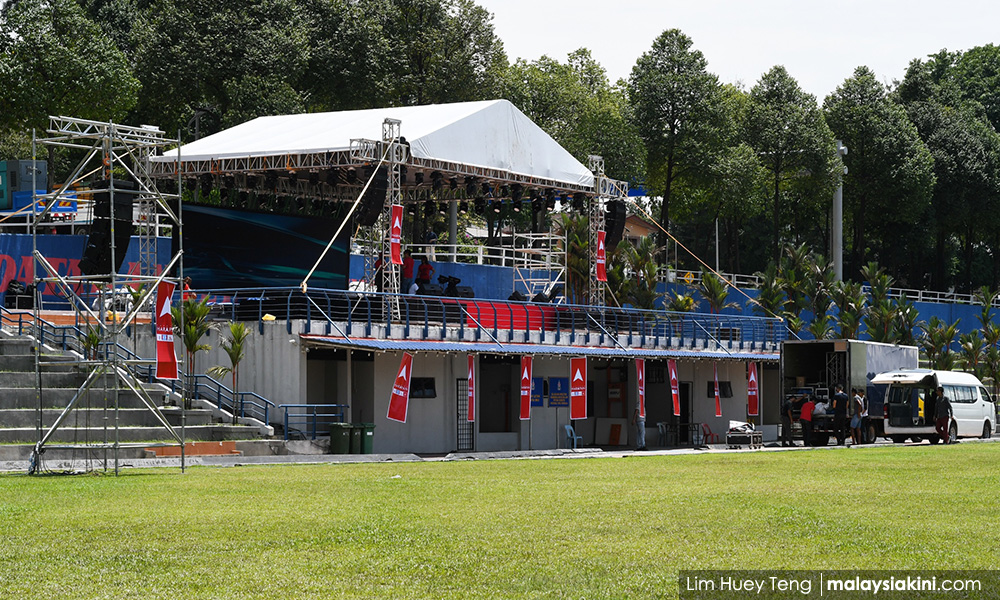 WEATHER UPDATE: Clear skies with temperatures up to 33 degree Celsius.
2.35pm - Padang Timur: Sungai Besar Umno division leader Jamal Md Yunos' promise to set up a fish stall at noon fails to materialise.
Some of his supporters say he will likely show up with the goods at about 3pm.
2.30pm - Padang Timur: The anti-kleptocracy rally appears to have run into its first hitch.
The roads all around the venue are adorned with the flags of Pakatan Harapan component parties, except for PKR, which is conspicuously missing.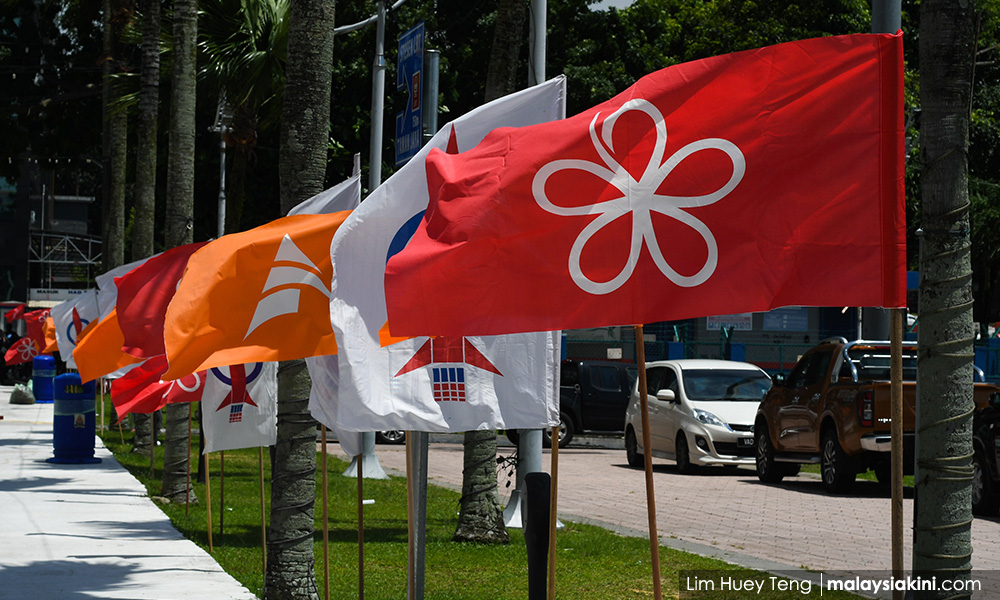 It is understood that the party volunteers had brought the flags, but not the flag poles.
Nevertheless, the event's technical committee director Faiz Fadzil assures that the oversight is being rectified.
"The sticks are on the way. Each party is responsible to bring their own sticks, so maybe there was some miscommunication," he tells Malaysiakini.
Meanwhile, the Padang Timur field appears to be mostly empty apart for stalls selling political paraphernalia, food, and other goods such as car perfumes and sunglasses, and other stalls remain empty.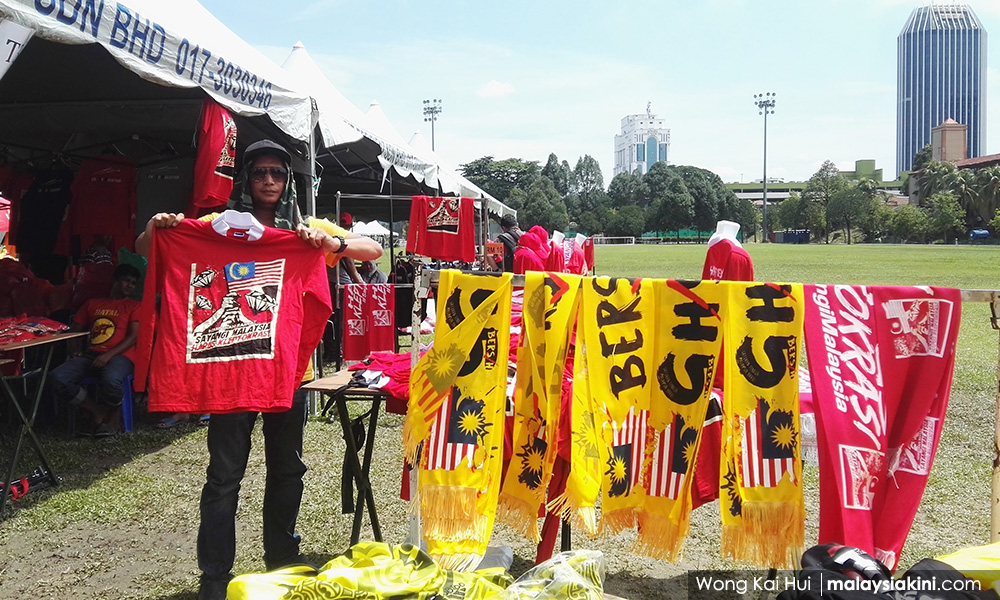 Most would-be participants appear to have opted to seek shelter from the sweltering heat and sun in the nearby A&W Restaurant and AmCorp Mall instead.
At the stage, workers are seen putting finishing touches while songs such as "Just change it", "Ubah," "Gemuruh," and "Keranamu Malaysia" are being played.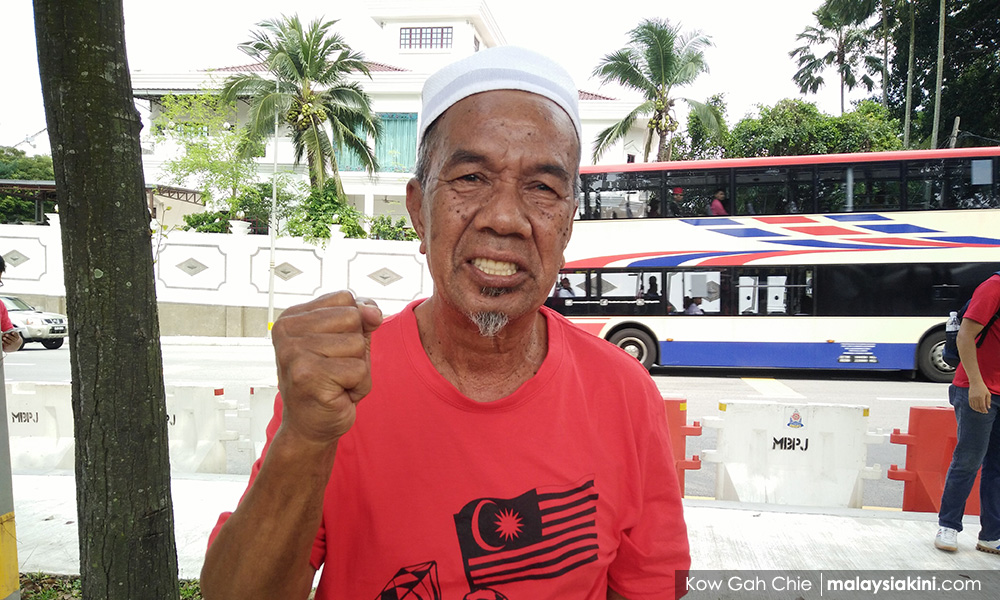 Alwi Idrus (photo), a 69-year-old Bersatu member, says he paid an RM50 bus fare to come all the way from Johor to join the rally.
"Not only me, all of the PKR, Amanah and DAP members who came on the same bus from Mersing forked out our own money.
"I am just an ordinary member, but I came for the sake of the party's struggle," he says.
Alwi joined Umno when he was 16 years old, but left the party in 1996 when Dr Mahahtir Mohamad helmed it.
"I left because he declined to hear the voice of the people, and I came to love him again when he started listening to us," he says, adding that he wants to see Prime Minister Najib Abdul Razak ousted.
2pm: Pakatan Harapan will attempt to stage their first major rally today, dubbed the "Anti-Kleptocracy rally," in protest against the lack of action taken over the 1MDB saga.
The rally is scheduled for 4pm at Padang Timur, Petaling Jaya. Rally organisers have been holding talks throughout the country in recent months in an attempt to mobilise 100,000 people.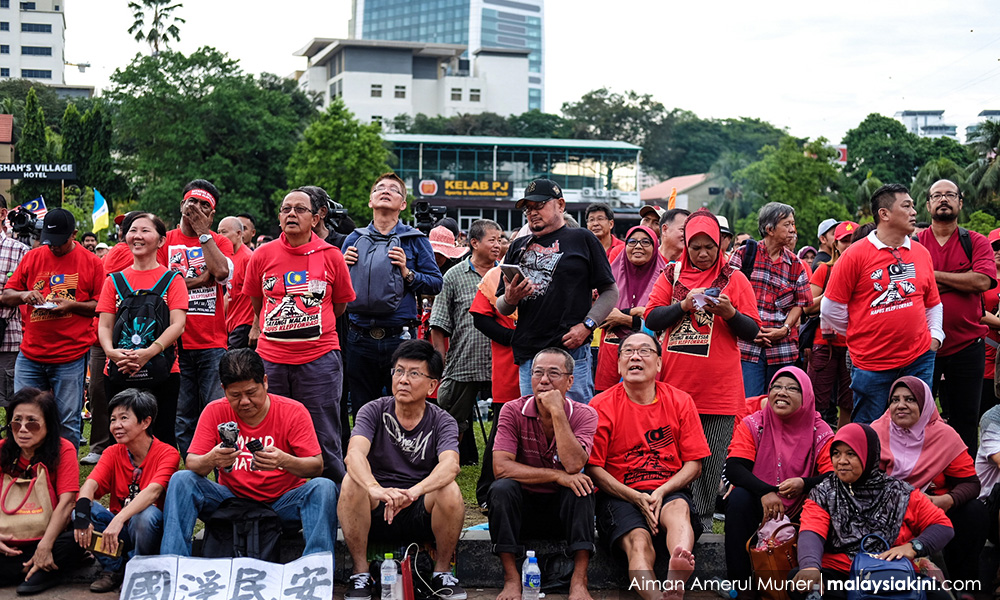 Although the police have disapproved of the event, citing possible traffic congestion as the main reason, the organisers are pressing ahead.
There are also concerns that the event might be disrupted by a group of people, led by Sungai Besar Umno division head Jamal Md Yunos, who intends to sell fish at a discounted price at the rally venue.