MP SPEAKS | Prime Minister Najib Razak is the biggest purveyor of 'fake news' when he dared to sing praises of 1MDB in his blog but has no courage to debate the mother of all scandals in Parliament.
On his blog yesterday, Najib gave us his economic vision for the country ahead of the 2018 Budget announcement on Friday.
However, the entire credibility of his "economic vision" collapsed with the outrageous claim that 1MDB has not only "brought the country good" but "is on track to realise a profit".
1MDB is currently an empty shell, holding absolutely nothing but some RM40 billion of debts. How in the world is 1MDB "on track to realise a profit"? If this is not a brazen attempt by the prime minister to create 'fake news', what is?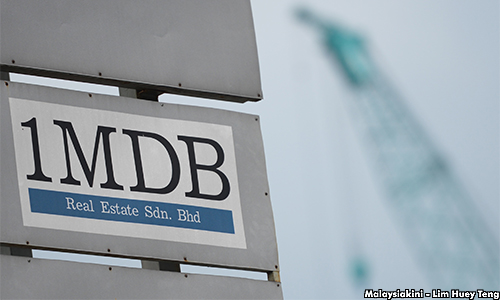 Najib argued that it was 1MDB which solved the lopsided power purchase agreements attributed to the previous BN prime minister.
We are thankful that Najib finally admitted that those independent power producers (IPPs) were allowed to profit astronomically from the BN government of which he himself was part of.
However, Malaysians are still clueless as to how 1MDB apparently "solved" the above injustice.
As far as we are concerned, Malaysians didn't enjoy a single sen in benefit as electricity tariffs have only increased and not decreased since 1MDB started acquiring these IPPs. Worse, the 1MDB's RM12.1 billion misadventure in the power sector resulted in multi-billion ringgit losses when it was forced to dispose of its entire energy interests to a China outfit for a mere RM9.3 billion.
Najib further told Malaysians to laud 1MDB for its corporate social responsibility (CSR) work including its sponsorship of hajj pilgrimages and scholarships purportedly amounting to RM690 million.
What the prime minister failed to tell Malaysians is that the so-called CSR is funded entirely with government-guaranteed debt amounting to more than RM40 billion.
More pertinently, while RM690 million of the debt may have found its way to CSR initiatives, US$732 million, or approximately RM3 billion, found its way from 1MDB to Najib's personal bank account in Ambank between 2011 to 2014. The prime minister has to date failed to debunk this expose by the US Department of Justice (DOJ).
Najib must think Malaysians are fools to believe in all his outrageous lies.
If the prime minister really thinks that 1MDB has been the saviour of Malaysia, then he should immediately lift the ban on sensitive 1MDB questions raised in the august House. Instead, he should table a ministerial statement to 'debunk' all the so-called 'lies' by the members of the opposition and allow for a full debate on the 1MDB scandal.However, if Najib chooses not to be accountable to Parliament, then he will prove himself to be the most cowardly prime minister in the history of Malaysia who relies on the BN-controlled media to propound his 'fake news'.
---
TONY PUA is member of parliament for Petaling Jaya Utara and DAP national publicity secretary.
The views expressed here are those of the author/contributor and do not necessarily represent the views of Malaysiakini.