KL hit by flash floods following afternoon downpour
Heavy rain in the federal capital this afternoon caused flash floods to occur in several parts of the city.
Twitter user Fia Hafiz shared pictures of the floods at the Federal Highway near Bangsar, in which muddy water can be seen flooding one side of the highway.
KL Traffic Update on its Twitter page told motorists to avoid the Federal Highway "at all costs".
Road Transport Department (RTD) and police's "Info Roadblock", on the other hand, confirmed that flash floods had indeed occurred at Bangsar South.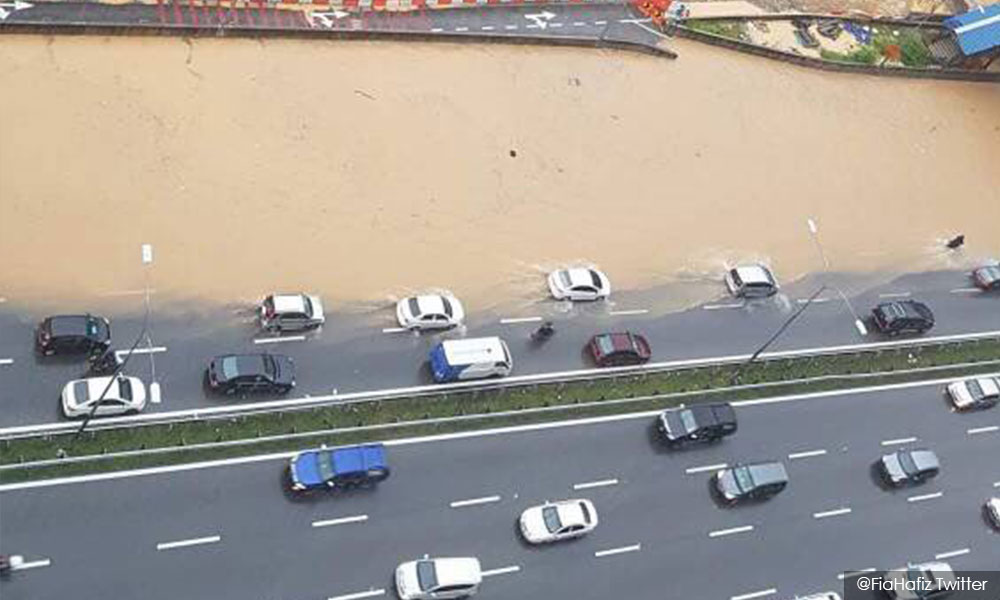 However, water in the area began receding as of 4.22pm, said Info Roadblock on its Facebook page, citing a report from crew stationed in the area.
Meanwhile, Lembah Pantai MP Nurul Izzah Anwar, on her Facebook page, cited her visits to the area and confirmed that complaints have been lodged with the Kuala Lumpur City Hall (DBKL) to repair the road and irrigation system at Kampung Pasir.
"The question is, where is DBKL when the decision to allocate RM32 million for Lembah Pantai was made in the 2017 DBKL budget to improve the water drainage system, yet flash floods still occur?"
Natural Resources and Environment Minister Wan Junaidi Tuanku Jaafar in August had said that the problem of flash floods in Kuala Lumpur will be resolved when the River of Life project is completed late next year.
Wan Junaidi said he is confident that the RM4.4 billion project and the existing Stormwater Management and Road Tunnel (Smart) project would be able to tackle the flood problems.
Apart from widening and dredging the two rivers at the heart of Kuala Lumpur, the project also entails cleaning the rivers of garbage and rehabilitating the rivers and river banks.