A businessman who holds the "Datuk Seri" title was slapped with four charges in the Ampang Sessions Court today in relation to the case where three People's Volunteer Corps (Rela) was assaulted while carrying out their duties at a temple in Kampung Baru Ampang last week.
Liow Soon Hee, 29, pleaded not guilty to all the charges before Judge Azrul Darus.
On the first charge, Liow was accused of voluntarily causing grievous hurt to Lee Weng Poh, 27, at the compound of the Kou Ong Yah Temple, Jalan Merdeka, Kampung Baru Ampang at 6.30am on Oct 27.
For this, he was charged under Section 325 of the Penal Code, which carries a jail term of up to seven years and a fine, if convicted.
As for the second, he was charged with intentionally assaulting a public servant, Melvin Cheong Mun Khai, 21, who was discharging his duties as a Rela member at the same place, date and time.
The charge under Section 353 of the same code can earn him up to two years jail or fine or both, if convicted.
For the third and fourth charges, Liow was alleged to have voluntarily caused hurt to Leong Jun Jie, 21, and Melvin at the same place, time and date, under Section 323 of the Penal Code which carries a maximum jail term of one year, or a fine of up to RM2,000, or both, upon conviction.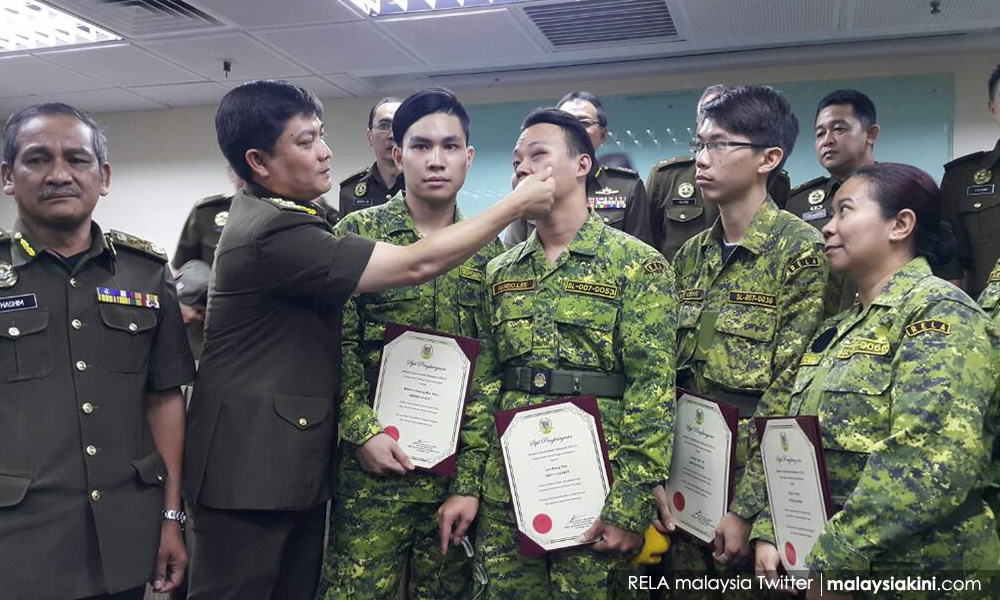 Deputy Public Prosecutor Nadiah Malek Fauzie offered RM10,000 bail for the first charge, RM5,000 for the second charge and RM5,000 each for the third and fourth charges in one surety.
He also appealed to the court to set an additional condition to prohibit the accused from harassing the victims or the prosecution witnesses.
Lawyer Geethan Ram Vincent, who represented the accused, appealed for lower bail.
"The bail is only to guarantee the presence of the accused in the court. We appeal for a reasonable bail," said the lawyer.
Judge Azrul allowed Liow bail at RM7,000 for the first charge, RM4,000 for the second charge, and RM3,000 each for the third and fourth charges in one surety.
The court also set the additional condition to prevent Liow from harassing the victims and witnesses and set Dec 14 for mention.
In the incident, Melvin, Lee and Leong each suffered head, eye and abdominal injuries after being allegedly beaten and kicked by the suspect.
The victims claimed that the incident occurred when they asked the 'Datuk Seri' to move his Toyota Vellfire MPV parked on the side of the main road, as it was obstructing traffic.
- Bernama