Johor Permaisuri Raja Zarith Sofiah is sad that a posting on her Facebook page regarding a seminar to raise awareness on paedophilia has met with lukewarm response from other users.
Taking to Facebook this afternoon, she said the posting on the seminar was only shared twice and garnered 48 "likes".
"But when the post is about a family friend, or meeting a foreign royal figure, everybody will just hit 'like'. So, obviously, no one cares about those men who abuse our children.
"Do we wait until our own child has been abused before we show we care?" she asked.
Raja Zarith said if the seminar does not garner the interest or capture the attention of Malaysians, then the future of children who have been sexually abused is bleak.
"No one cares. Thank you, fellow Malaysians, for showing your unconcern. Obviously, what the children have to suffer or what they go through is of no interest to most people.
"If my next post is of what I had for lunch, I am sure more people are interested in that. Sad," she said.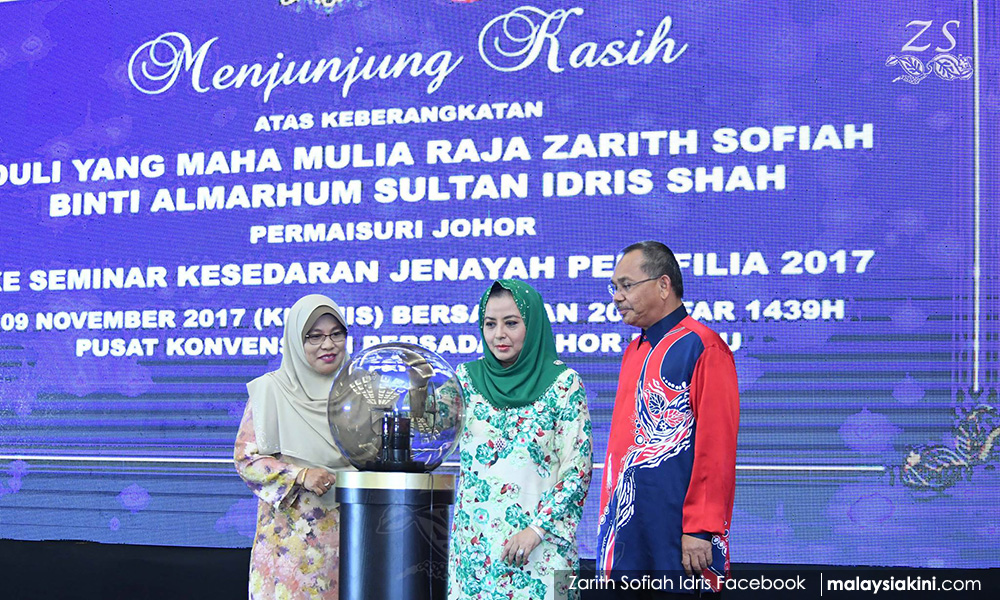 Yesterday, Raja Zarith graced the Johor Paedophilia Crime Awareness Seminar 2017 organised by the Darul Ta'zim Family Development Foundation at the Persada Johor International Convention Centre in Johor Bahru.
Last year, the police revealed that almost 10,000 cases of children falling victim to some type of sex crime had been recorded between 2013 and 2016.
More than 50 percent of the victims were in the 13-15 age group and 91 percent of the perpetrators were known to the victims.
It was also revealed that investigations showed that most victims befriended offenders via social media.
Meanwhile, the police also warned that the number of people accessing child pornography was alarming and worrying.