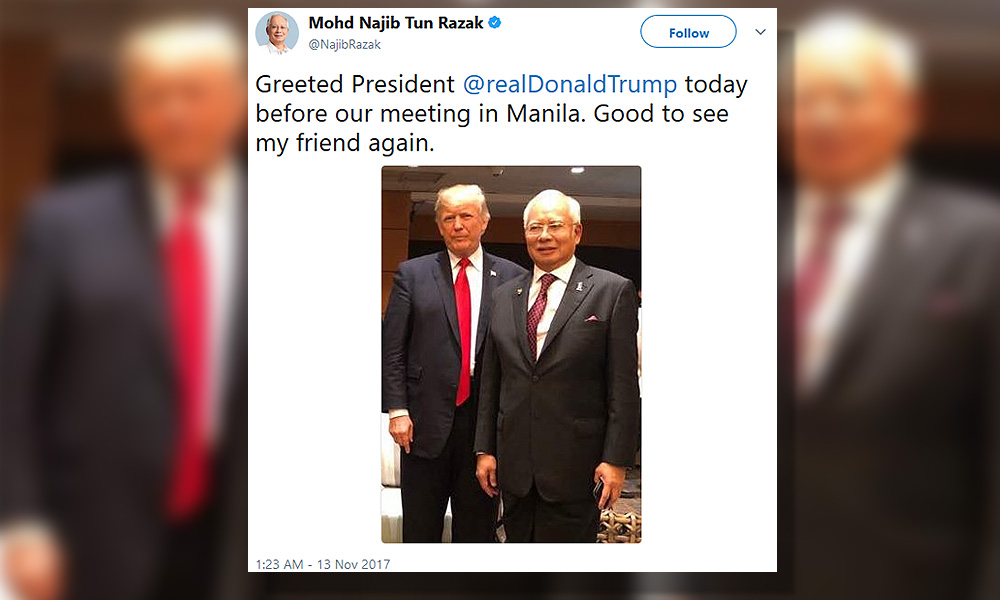 Good to see my friend again, PM tweets photo with Trump
Prime Minister Najib Abdul Razak has posted a photograph of himself with US President Donald Trump on Twitter.
"Greeted President Donald Trump today before our meeting in Manila. Good to see my friend again," read the caption.
Both leaders were at the at the Asean-US 40th anniversary commemorative summit in Manila.
Najib and Trump have always shared close ties, with the prime minister describing the latter as "no stranger to me" when the US presidential election result was announced last November.
It was also reported then that Trump and Najib were "golfing buddies."
A spokesperson for the Prime Minister's Office had told the BBC that Najib had a signed photograph of Trump and himself on his desk.
Trump had inscribed the photograph "To my favourite PM."
In September this year, Najib met Trump at the White House and the prime minister later revealed how the US president insisted on giving him a personal send off.
It was reported that one of Trump's aides had wanted to arrange a handshake photo-op outside the president's office.
"Trump said 'No, I want to send him to the car,'" said Najib.
At the Manila summit today, Trump praised Najib for carying out an excellent job with regard to Malaysia's role as country coordinator for Asean-US dialogue relations.
"I also want to thank Prime Minister Najib for the excellent job you have done as coordinator. I appreciate it very much…I really appreciate it, you did coordinate very well with us," he said.