The High Court here was today told that accused Doan Thi Huong, a Vietnamese national who was charged with the murder of Kim Jong-nam. half-brother of North Korean leader Kim Jong-un, was detained by police in an Uber car two days after his death.
Sepang district headquarters CID intelligence and operations officer Inspector Husny Hussein said her detention was notified by a Kuala Lumpur International Airport 2 (klia2) policeman who later brought Doan to the police station in the low-cost career terminal.
"On Feb 15, 2017, I received information that a Vietnamese woman (Doan) who was believed to be involved in a murder case had been taken to the klia2 police station. After receiving the information, I went to klia2 with four personnel to arrest the woman.
"I was told the woman was in an Uber car without the driver present when she was picked up by policemen there. They (klia2 policemen) took her to the station for questioning.
"My personneI and I detained the woman and took her to the Sepang police headquarters," he said when examined by deputy public prosecutor Muhamad Iskandar Ahmad.
The 17th witness said as soon he had seen the woman, he found her to have the same image as a woman who attacked Jong-nam who was using the alias Kim Chol, as shown in a closed circuit television (CCTV) recording.
"I saw the woman and made a comparison (to the images on the CCTV recording). She had the same face and body with the woman on CCTV. Then I proceeded to arrest her and seized a blue and white Dior bag and her shoes. After lodging a report, I handed her over to investigating officer ASP Wan Azirul Nizam Che Wan Aziz at 6pm," he said.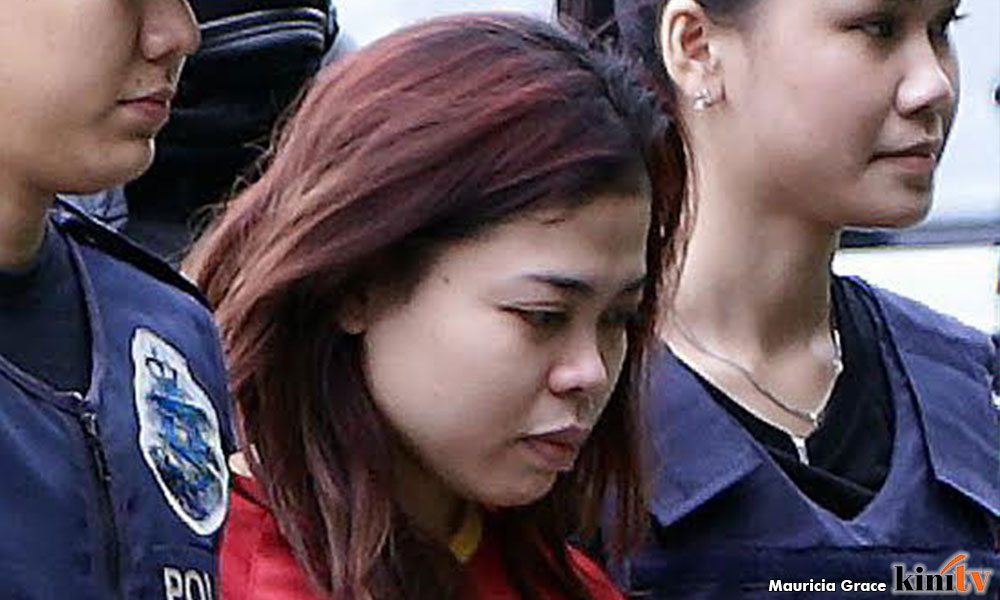 He was testifying in the trial of Indonesian national Siti Aisyah (photo), 25, and Doan, 28, who were charged with four others still at large with the murder of Kim Chol, 45, at the departure hall of klia2 at 9am on Feb 13.
When cross-examined by counsel Hisyam Teh Poh Teik, representing Doan, that his client did not attack Kim Chol until he was dead, the witness said he was not sure.
Hisyam: Wasn't what was done by Doan a prank'?.
Husny: I do not know.
Hisyam: I am saying Doan went to klia2 on Feb 15 to meet a Mr Y for the purpose of producing a prank video?
Husny: Don't know.
The 18th witness, Sergeant Shamsul Bahrin Abdullah, 42, who is attached to the klia2 police station, said Kim Chol had with him money in various foreign currencies including 1,240 pieces of US$1,000 notes.
He said on Feb 13, 2017, at 12.30pm, he was at the klia2 police station administration office when he received information from the complaints counter on a death case at Putrajaya Hospital.
"I was informed that the victim was a man who died while on the way from klia2 to Putrajaya Hospital. I later went to the hospital's Emergency Department.
"Upon arrival, I was shown the body of the deceased on a stretcher covered with white cloth. I inspected randomly the deceased who had a plump body," he said
Shamsul Bahrin said he was shown a passport in the name of Kim Chol as well as the deceased's personal effects by hospital staff.
"I saw the hospital staff were examining the deceased's items. I saw a pair of glasses, some foreign currencies, clothes, two mobile phones, a Nokia and an iPhone, a Dell laptop, rings and necklaces, medicines, shorts, denim pants, T-shirts, cap, underwear, socks, wallet, shaver, phone charger, and perfume.
"All the items were handed over to me and later kept in a metal safe at Sepang police district headquarters. Earlier, I had also informed Klia police station chief ASP Awang Adnan and his deputy, Supt Zulkifli Adam Shah about the case," he said.
The trial before Justice Azmi Ariffin resumes on Nov 27.
- Bernama