The High Court in Shah Alam was today told that Kim Jong-nam, who was poisoned to death with the nerve agent VX, had 12 glass vials containing antidotes for poisoning in his sling bag when he was at the Kuala Lumpur International Airport 2 on Feb 13.
The bottles containing Atropine, an antidote for poisons including VX and insecticide were found in the sling bag used by Jong-nam, who was using the alias Kim Chol, by police.
Malaysian Chemistry Department alcohol and toxicology clinical unit head Dr K Sharmilah, 38, who agreed with a suggestion by counsel Gooi Soon Seng representing accused Indonesian national Siti Aisyah (photo), that the bottles containing Atropine together with 12 other exhibits were received by her from the police on March 10 for toxicology tests.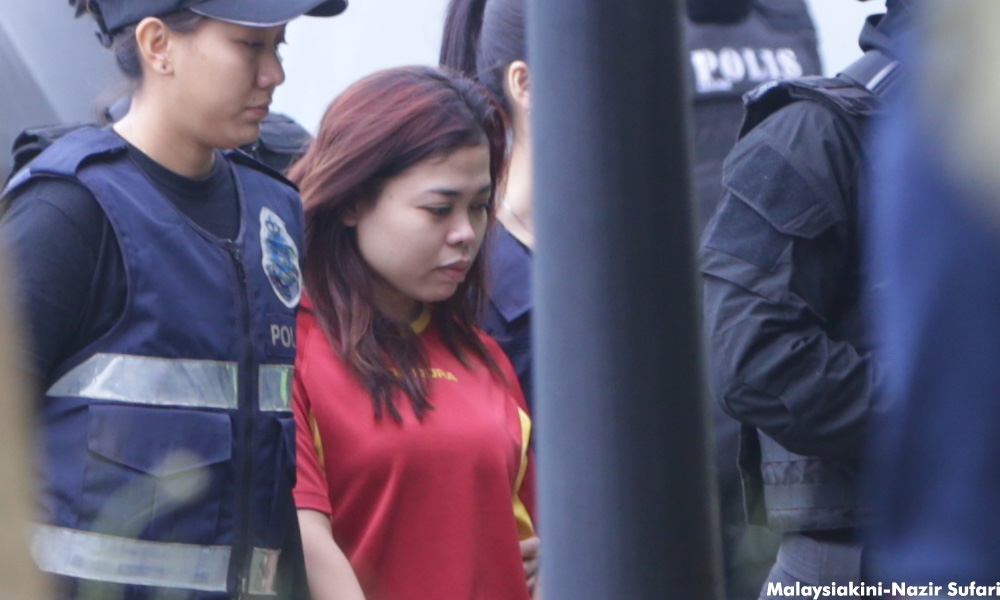 To a question a by Gooi, the prosecution's 23rd witness said she did not know if the bottles were labelled in the Korean language.
She was testifying on the 22nd day of the trial of Siti Aisyah, 25, and Vietnamese national Doan Thi Huong, 28, who are charged together with four others still at large with murdering Jong-nam, 45, at the Departure Hall of KLIA2 at 9am on Feb 13.
Sharmilah also agreed with Gooi that insecticide could also cause death with the same symptoms as VX poisoning.
"However, use of insecticide to kill a person requires a viscosity rate that is different from VX," she said.
During re-examination by deputy public prosecutor Mohd Fairuz Johari, Sharmilah said that just 10mg of VX was needed to kill a person via skin absorption.
She said that if compared with phorate, the most toxic insecticide among organophosphates, a person would need at least 72,000mg of phorate to cause death via skin absorption.
On the analysis done on Jong-nam's blood specimens, Sharmilah said the blood contained a mixture of medication for treating gout, high-blood pressure and pain.
"All the dosages detected were not detrimental to the health of the victim," he said.
Operations officer at the Selangor police Criminal Investigation Department Nasrol Sain Hamzah said efforts to track down three other suspects in the murder of Jong-nam were unsuccessful after all of them were found to have left their hotel during a raid.
"The search for the three of them was done at the Concorde Hotel, Kuala Lumpur after receiving information from the second accused, Doan Thi Huong," said the 24th prosecution witness.
He said Doan was at her room at the Sky Star Hotel in Sepang where she handed over a T-shirt with "LoL" written on it, which she had worn on Feb 13, the day Jong-nam was attacked with the lethal VX nerve agent.
The trial before the judge Azmi Ariffin continues tomorrow.
- Bernama