The Human Rights Commission of Malaysia (Suhakam) has approached its Thai counterpart to obtain answers on the Wang Kelian mass graves find, after hitting a brick wall in doing the same with Malaysian authorities.
In a statement today, the commission said it commenced an investigation into the tragedy soon after the discovery of mass graves was reported in 2015, during which it interviewed the mostly Rohingya survivors of death camps located in Alor Setar, Kedah, and Bagan Ajam, Pulau Pinang.
Suhakam had also conducted interviews with police officers investigating the matter, as well as the assemblyperson of Bukit Kayu Hitam, Kedah.
However, the commission said its investigation is taking longer than expected, due to difficulties in obtaining information from enforcement agencies, especially the police.
"Given the delay in the criminal investigation that we believe may further endanger the lives and wellbeing of more victims of trafficking in the country, Suhakam has approached the National Human Rights Commission of Thailand for cooperation.
"Suhakam has also requested information on the criminal investigation from the Home Ministry, to which no reply was received. No information on any progress made in the investigation thus far was supplied to Suhakam.
"Despite these limitations and the many difficulties generated by the passage of time, Suhakam would like to assure the public that we will leave no stone unturned, and will exert all means to get to the bottom of this horrifying incident," it said, adding that the report on the matter will be made available to the public and to the authorities.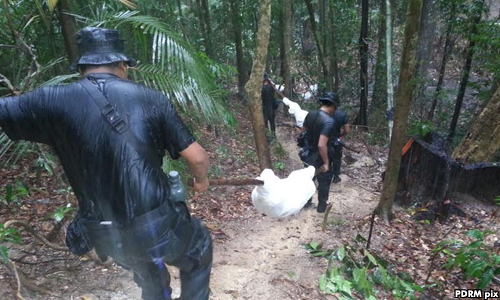 Suhakam expressed concern that the lack of progress in criminal probe in the tragedy may result in impunity for the perpetrators.
"We urge the authorities to ensure that the ongoing investigation is conducted with due diligence by competent officers, as the government cannot afford to be seen as sharing responsibility in the tragedy by omission, neglect and/or incapacity to act."
Yesterday, English daily New Straits Times (NST) ran a report headlined "Was there a cover-up in Wang Kelian?" which referred to the 2015 discovery of mass graves.
Its extensive report alleged of a subsequent cover-up, which involved destroying evidence, as well as redacting reports and other documents during the course of the investigation.
On May 1, 2015, Malaysian authorities were alerted to the human trafficking camps and mass graves by their Thai counterparts.
They checked the Malaysian side of the border, and eventually discovered 139 graves on May 24, together with some two dozen similar-looking camps.