Anwar Ibrahim's lawyer has criticised Deputy Home Minister Nur Jazlan Mohamed for describing his client as a "convict" in response to the prisons authorities barring Dr Mahathir Mohamad from visiting the incarcerated former opposition leader.
"If he is just a convict, why did the prime minister of Malaysia visit him?" asked N Surendran.
Last November, both Prime Minister Najib Abdul Razak and his deputy Ahmad Zahid Hamidi visited Anwar after he underwent an operation at Hospital Kuala Lumpur.
Branding Nur Jazlan's description as a "shameful and desperate act by a junior minister", Surendran also claimed that it revealed Umno's fear of Anwar.
"That Umno feels the need to vilify him as a convict only reveals Umno's great fear of Anwar as a political opponent," he said.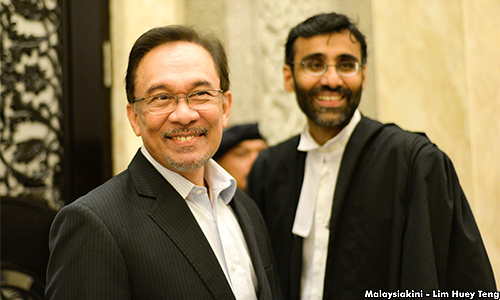 Furthermore, Surendran claimed that nobody in Malaysia considered Anwar to be a "convict", but rather a prisoner of conscience.
"His conviction and imprisonment have received widespread condemnation, both within our country and throughout the world.
"Nations, organisations and distinguished persons worldwide have deemed his jailing wrongful and called for his unconditional release.
"Even the United Nations, through its Working Group on Arbitrary Detention, has labelled Anwar's jailing as arbitrary and urged his release," he added.
Therefore, Surendran said, it was laughable for Nur Jazlan to ignore all this.
He also pointed out that Anwar continues to be one of the biggest factors and influences in all projections and discussions related to the 14th general election.
"To have denied Anwar the visit from Mahathir was petty and objectionable; to try and justify this by calling him a convict, is worse," he added.
Commenting on the decision of the prisons authorities to disallow Mahathir's visit yesterday, Nur Jazlan reportedly said that Anwar, being a "convict", was still subjected to prison rules.
Anwar is currently recovering from his operation at the Hospital Rehabilitasi Cheras in Kuala Lumpur.
The former opposition leader is serving a five-year prison sentence for a sodomy conviction, which he claims was fabricated by his political rivals.