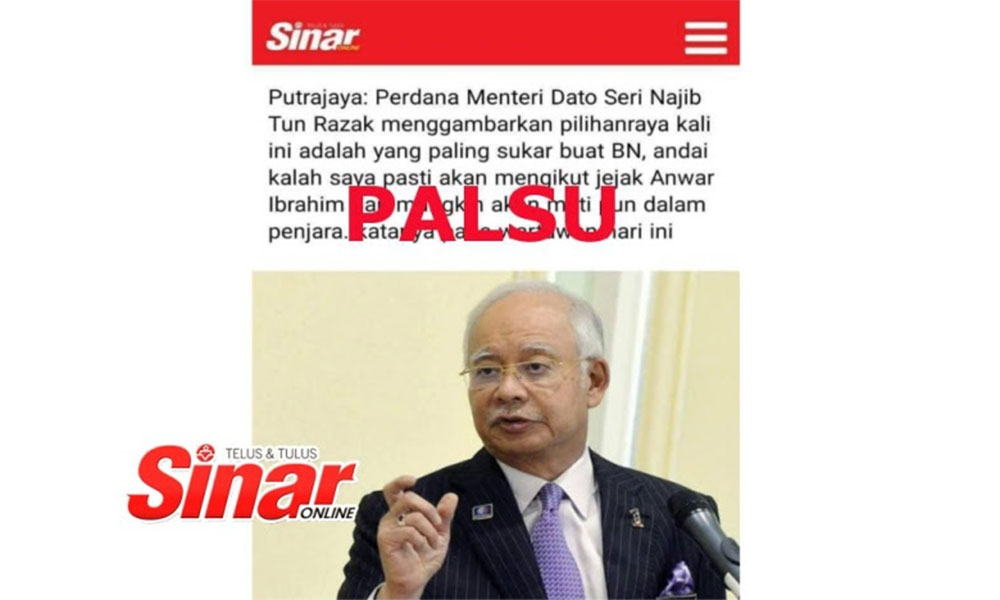 'Najib to land in prison' is fake news: Sinar Harian
Sinar Harian has denied a news report attributed to the publication which claimed that Prime Minister Najib Abdul Razak would be imprisoned if BN is defeated in the coming general election.
The daily said the news, which had gone viral on social media, featured a photograph of the prime minister and quoted the latter as stating, "If I lose, I would definitely follow the way of Anwar Ibrahim and perhaps die in prison."
Anwar, the former opposition leader, is currently serving a five-year prison term for a sodomy conviction.
Sinar Harian chief editor Norden Mohamed said those behind the false news wanted to implicate the publication.
"The writing style is not the style (house style) of Sinar Harian.
"The news does not have a dateline, date or the Sinar Harian watermark on the photograph," he told Sinar Harian Online.
The publication said its masthead is often used for fake news which later becomes viral on social media.
Therefore, Sinar Harian advised social media users to be cautious and to determine the veracity of the articles.
Both sides of the political divide in Malaysia have been victims of fake news and allegations.
On Jan 3, Najib launched BN's official portal for the polls, which would among others, counter fake news about the coalition.