COMMENT | Malaysia needs bold reforms – including Women-Only Additional Seats – to achieve the minimum 30 percent women representation in politics, and we call upon Prime Minister Najib Abdul Razak to commit to this critical step.
Malaysia is shamefully backward in gender inclusion in the world – including in Southeast Asia. With only one woman among every nine parliamentarians, Malaysia is only better than Burma (Myanmar), Brunei and Thailand in the region.
Our country needs a quantum leap and JAG urges the prime minister to consider a bold move to introduce women-only additional seats for Parliament and state legislatures.
The National Conference on Gender and Electoral Reform (NCGER), which concluded on Nov 24, 2017, adopted two proposals:
(a) For legislatures with 20 percent or more but less than 30 percent women, the legislatures should be expanded to have 30 percent Non-Constituency Seats (NCS) with a 50 percent women quota, thus ensuring that there would be a minimum 15 percent women presence.
(b) For legislatures with even less than 20 percent women, the legislatures should be expanded to have 20 percent NCS but all reserved only for women, thus ensuring that there would be a minimum 20 percent women presence.
The conference was organised by the Institut Wanita Berdaya, Selangor.
NCS are like party-list seats in countries with Party-List Proportional Representation (List-PR) systems, which normally represent special issues or interests, instead of local issues.
As issues affecting women – like gender-based violence and harassment, childcare, or socio-economic empowerment – are often state-wide or nation-wide in nature, they would be better articulated by women leaders and activists working on these specific issues; rather than by local constituency representatives.
Additionally, women's perspectives must be represented in mainstream issues.
While Malaysian voters cannot vote directly for parties, the NCS can nevertheless be allocated to all parties based on their vote share in the first-past-the-post (FPTP) elections. Hence, NCS will not only increase women's representation as a whole, but will also highlight women's voices in every party.
Importantly, NCS and the women-only seats can have an immediate effect. Following the NCGER's proposal, our Parliament, which currently has only 24 (10.8 percent) women members, should add 55 of the seats, which will make these 55 seats a 20 percent in the enlarged House of 277 seats.
Had we had women-only seats in the 13th general election (GE13), we would have had 24 women constituency MPs and 55 women-only seats parliamentarians, who would constitute 28.5 percent, very close to the minimum 30 percent global benchmark set in the 1995 Beijing Platform for Action.
With this 20 percent women-only seats formula, Penang, Johor, Perlis and Pahang would have reached 30 percent in GE13. Even for Terengganu, where not even one woman was elected, there would be 20 percent women members representing state-wide interests. All seven other states would score higher, from 24.4 percent to 29.7 percent.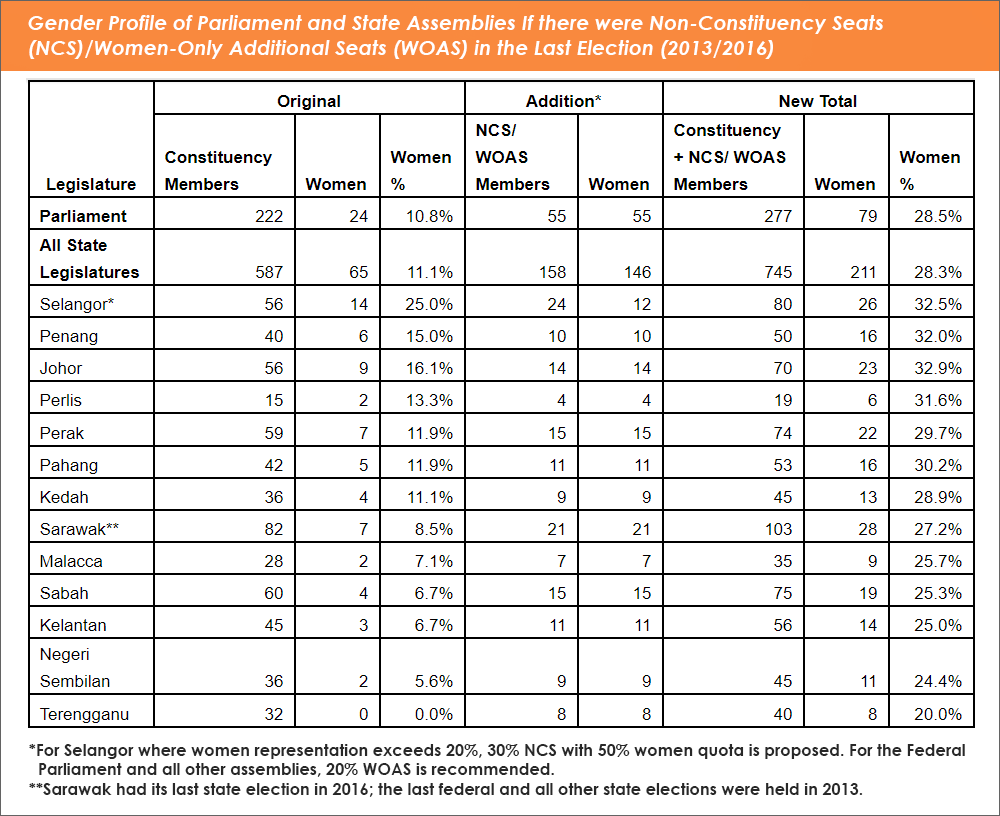 For Selangor, which currently has 14 (25 percent) women assemblypersons, the 30 percent NCS formula with 50 percent women quota would have added 24 NCS members, with 12 being women. This would increase women's total to 26 in the 80-member assembly and their percentage to 32.5 percent.
We reiterate that as real decisions are made in the Dewan Rakyat and the state assemblies, rather than the Dewan Negara, introducing women-only seats/NCS in the federal and state elected houses would be much more meaningful than the 30 percent appointment in the Dewan Negara.
JAG urges the prime minister to introduce this bold reform as a groundbreaking legacy of his rule in government.
---
The Joint Action Group For Gender Equality (JAG) comprises:
All Women's Action Society (Awam)
Perak Women For Women (PWW)
Persatuan Kesedaran Komuniti Selangor (Empower)
Sabah Women's Action Resource Group (Sawo)
Sisters In Islam (SIS)
Tenaganita
Women's Aid Organisation (WAO)
Women's Center For Change (WCC)
The views expressed here are those of the authors/contributors and do not necessarily represent the views of Malaysiakini.