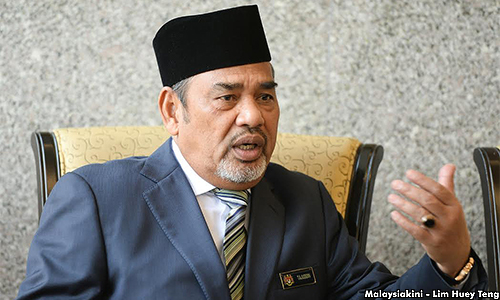 Umno shouldn't harp on 'Dr M as PM' issue, says Tajuddin
Umno leaders need to be professional and not harp on the issue over Dr Mahathir Mohamad's selection as Pakatan Harapan candidate for prime minister, said Umno Supreme Council member Tajuddin Abdul Rahman.
He said there was no point highlighting the matter as it would not benefit the party but only work to the former premier's political advantage.
"The general opinion is Mahathir is not a suitable candidate for the prime minister's post based on several factors, including his age.
"If we are aware of this why should we blow up the matter? There is no point as it will only work to his political advantage," he told reporters after attending Seberang Perak Youth Land Scheme 45th anniversary celebrations in Pasir Salak today.
At the Pakatan Harapan 2018 convention in Shah Alam, Selangor on Jan 7, Mahathir was named as the opposition's candidate for prime minister if the coalition wins the 14th general election (GE14).
Tajuddin, who is also Pasir Salak MP, said Umno leaders should face GE14 with the strength that had been built by highlighting on the progress that had been brought about if they wanted to continue to be given the mandate to rule.
"We have to show our successes in defending the people, developing the country and protecting the Islamic religion, instead of resorting to malicious attacks which is against Malay culture and values," he said.
Commenting on BN's chances of winning GE14, Tajuddin said the people should be wise in making their decision and not allow their emotions to rule when selecting leaders to ensure Malaysians would continue to live in peace and harmony.
"I have been in Umno for a long time and have gone through a lot so I hope the people would give due consideration in determining their future and that of the nation," he said.
Harapan's 'confused leaders'
Meanwhile, Minister in the Prime Minister's Department Shahidan Kassim said that Harapan had failed to find the right candidate for interim prime minister due to the confusion among its leaders.
He said such a situation also showed that the plan by Harapan to make Mahathir the prime minister would not materialise.
"They need to have strong support and trust from the people if they want to form a government. (In fact), their leaders should agree with each other," he told reporters after handing over donations to 250 top students in the Arau parliamentary constituency today.
Shahidan, who is also Perlis Umno Liaison Committee chairman, said the present BN-led government had been people-oriented, and that the people now had become wiser.
"If we look at the division of Harapan seats, it is obvious that they (the leaders) themselves do not want him (Mahathir) to become the prime minister," he added.
- Bernama